THE HONEYMOONERS
by Billy Ingram
Did you know the Honeymooners was a sketch on Gleason's 1950 Dumont Network show Cavalcade of Stars before becoming a half-hour sitcom on CBS?
These sketches, ranging in length from seven to thirteen minutes, proved so popular that they became a regular feature on The Jackie Gleason Show after the series moved to the CBS network in 1952; eventually these routines ran for a half-hour or even the entire hour.
Gleason ended his variety show to do The Honeymooners half-hour sitcom in 1956 but returned to the hour-long musical comedy format after only one season. The adventures of Ralph Kramden, Ed Norton and their long-suffering wives continued on The Jackie Gleason Show intermittently for another season but ended when Carney left the series in 1957.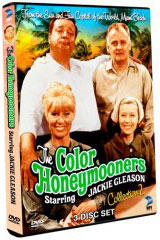 In 1966 the sketch was revived and continued until Gleason's program was dropped by CBS in 1970; by that point every few weeks there was a Honeymooners hour-long musical extravaganza that incorporated plotlines from classic Honeymooners of old.
These are the Honeymooners I enjoyed as a kid growing up watching the Gleason show with my family.
CBS was actually willing to renew the Gleason show if he would do a Honeymooners hour every week but the star declined; it would have been like doing a Broadway musical every week.
There was a 1973 CBS special and four hour-long specials on ABC in the mid-1970s where Audrey Meadows returned as Alice. These are now being released on DVD along with other color Honeymooners sketches that haven't been previously released.
The one constant in all those years - Gleason always played Ralph and Art Carney always played Ed (although the Nortons were not in the very first few Honeymooners sketches, Carney appeared as a police officer in the first one).
Alice and Trixie were portrayed by several actresses, Pert Kelton was the first. Gleason loved working with Kelton but when his show moved from Dumont to CBS in 1952 the network blacklisted her as a suspected communist, this prompted a reluctant recasting.
Audrey Meadows was hired in 1952 and played the role until the sketches ended in 1957. Meadows played Alice once more on a 1966 Gleason hour; Sheila MacRae took on the role after that when the Honeymooners once again became a semi-regular feature on the program in 1966.

The first Trixie was Broadway great Elaine Stritch, she was replaced after the initial outing by Joyce Randolph who was also seen in the CBS sitcom. Jane Kean assumed the role of Ed Norton's wife in the 1960s and Pert Kelton even turned up as Alice's mother in some of those 1960's color sketches.
Here's one of the early, Dumont Honeymooners sketches with the original cast including Pert Kelton and Joyce Randolph. Remember this was the early-1950s when television was brand new, this plotline has been played out on every sitcom since then - and for decades before on radio, no doubt.
Here's a 1952 sketch with Audrey Meadows, by now Gleason had really hit his stride. Notice there is no Ed Norton in this routine.
Now to compare and contrast - the opening to one of the color Honeymooners hour-long musicals.
More About The Color Honeymooners