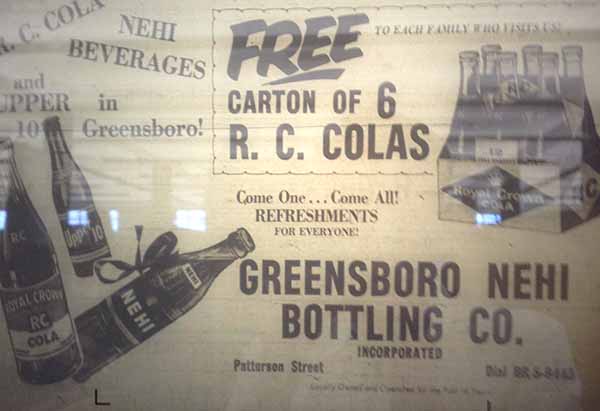 Greensboro's Soda Pop History
by Billy Ingram
Greensboro, NC was, at one time, a soda pop distribution point for the entire Southeast region.
North Carolina's very first Coca-Cola franchise was located in Greensboro, on South Elm Street, beginning in 1902. Not long after, Pepsi-Cola was being bottled, crated, and trucked from nearby Lewis Street.
By the 1940s, Nehi was bubbling on Battleground, 7up being bottled over on Walker, Orange Crush on Westover Terrace, Canada Dry Ginger Ale on West Market, and Dr Pepper ("Drink a Bite to Eat at 10, 2, and 4 o'clock") on Lee Street.
Greensboro has been home to Nesbitt's Orange, Lime-Cola, Chero-Cola, Gin-Gera ("It Gingers You Up"), Upper 10, Pal Ade, Mint Cola, Big Frosty, Necto, Tru-Ade and Tru-Ade Grape.
In 1957, Greensboro was selected for the world's most modern Pepsi bottling operation. Superstar motion picture dominatrix Joan Crawford stilettoed into position on Spring Garden near Holden to cut the ribbon in person.
Opening day was quite the spectacle, Joan Crawford was flanked on either side by actual WWII ack-ack guns (originally intended to be fired but the blanks didn't show up in time) as well as the combined Army, Navy and Marine Corps Color Guards.
Lesser known was Greensboro's hometown brew, Good Luck soda, sold from the mid-1930s into the 1950s.
Good Luck Bottling began their operations on Davie Street with 3 Centa cola. With every other bottle of pop selling for a nickel, 3 Centa had a huge price advantage over the competition. In the 1930s, 2 cents was a fair amount of money, a dinner out could be had for a dime.