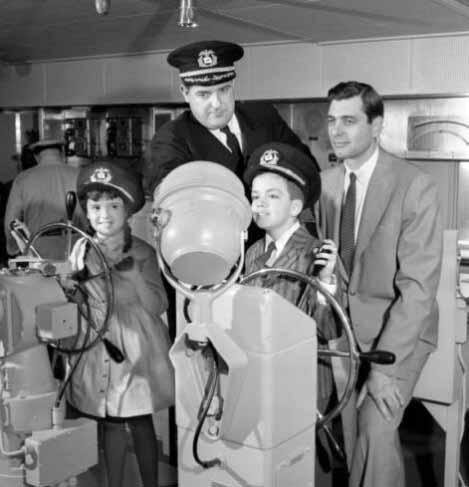 Sonny Fox (right) as host of "Let's Take a Trip"
Remembering The Wonder Man
of Wonderama Sonny Fox
by Kevin S. Butler

Sadly, Sonny Fox, the last adult host of WNEW TV Ch. 5 NYC's popular Sunday morning kids' TV variety show "Wonderama," died on January 24, 2021. He succumbed to Covid Pneumonia at the age of 94.
Born Irwin Fox in Brooklyn, New York on June 17, 1925 to a textile cutter and an agent for a theater booking service. The young man was bestowed his famous nickname 'Sonny' by his mother.
He graduated from James Madison H.S. and in the winter of 1942 he was being groomed for a career in the texturing industry by enrolling in North Carolina State University. But Sonny's application for enrollment in NCU's textile courses would not be approved for six months so instead he matriculated to New York University where he became involved with the school's radio drama and scriptwriting workshop.
Finding the courses in the audio media more interesting, he changed his major to radio. Following his studies at NYU, Sonny's mother got him his first radio job through the mother of radio and TV game show host, producer and creator Allen Funt.
At first Sonny's father Abe Fox was reluctant to allow him to become involved in a radio reality program. Both he and his wife Gertrude felt that they should consult Mr. Funt's mother about this career change. Abe had worked for a time on Funt's programs. After discussing the matter with Mrs. Paula Funt the Fox's saw that this is best career choice for their son.
His radio career was interrupted by the advent of WWII when he turned 18, Sonny Fox was recruited for the US Army and was sent to Europe to serve with an infantry division. In the winter of 1944, Sonny and his platoon were captured by Germans and imprisoned in a POW Camp.
He was able to survive with the advice from one of the soldiers who told him not to give into the enemy.
Liberation finally came in the spring of 1945 when General George Patton's platoon helped the prisoners escape and he returned to the states where, after a brief visit with his family and being discharged from the Army, Sonny began his career in radio as a gag writer, idea man and tape editor for Allen Funt's reality program "Candid Microphone."
Following his stint with Funt, Sonny worked briefly for Arch Oboler, again as a tape editor. His most successful stint in radio began in 1950 when Fox became a UN correspondent for "The Voice of America" where he interviewed diplomats at the United Nations.
In the summer of 1952 he became a war correspondent in Korea where Sonny Fox interviewed members of the international military serving there along with various locals. Prior to his return to America he met and later married Ms. Gloria Benson.
Upon his return to the USA, Sonny had hoped that the heads of CBS TV would assign him to the news department and he would become an anchorman. Ted Church (then the head of the network's news division) recommended him for the news desk. but the assignment never came to fruition.
While the couple were in St. Louis, Mo. a local educational TV station KETC was looking for a host to emcee their new children's series "The Finder" which would introduce young viewers to places and events that were popular in St. Louis. Sonny was reluctant to audition for the program mainly because his expertise was as a newsman and scriptwriter in radio not on television - and he had never hosted a children's series.
The need for steady work changed his mind and with the help of a musical entertainer (who taught him some basic chords on the guitar and how to play the tune 'Froggy Went A-Courtin'') and with the addition of a bird puppet named Henry the Humming Bird.
Sonny won the audition and became the host of "The Finder," kids' TV's first news magazine and travelogue. Acquiring a car from the Corvette company, The Finders trekked through the 'Show Me State' to locate and talk about Spelunking (the investigation of caves), to the history of Tocobaga Indians from Columbia, and the story of circus clowns. Sonny also presented the story of the 1870 riverboat race between "The Natches" and "The Robert E. Lee."
He also gave his young viewers a tour of the Lindbergh Museum to talk about his famous non stop flight from the USA to Paris, France in 1928. That Lindbergh Museum live telecast and KETC were written up in Newsweek magazine.
That Newsweek article came to the attention of CBS TV's vice president of public affairs Irving Gittlen. Gittlen was creating a Sunday afternoon news magazine / travelogue for the network but they had difficulty in finding the right person to host the program. After talking with the author of the Newsweek profile, he made arrangements for Sonny and his wife to come back to NYC for an interview.
Impressed by his resume and his work on "The Finder," Mr. Gittlen hired Sonny to host "Let's Take A Trip." The series debuted on the CBS TV network on Sunday afternoon April 17, 1955.
Unlike "The Finder," Sonny went to faraway locales outside of the New York City viewing area with two kids joining him on their weekly excursions. For instance, Ginger MacManus and Brian (Pud) Flanagan joined Sonny on a trek to the Independence, Mo. home of President Harry S.Truman and to a Boy Scout Jamboree.
They also visited The American Ballet Theater studios and its director George Balanchine. There was a show filmed at Ebbets Field, home of the Brooklyn Dodgers where the two kids got a lesson in pitching from baseball great Casey Stengel; and on another show a visit to the the puppet studios of Bil Baird.
Eventually, Ms. Macmanus outgrew her role on the series, both she and Mr. Flanagan were replaced by Joan Terrace and Jimmy Walsh. Ms. Terrace and Mr. Walsh continued to "Take A Trip" with Sonny until the network execs ended the series on Sunday, February 23, 1958.