NBC / 1953 - 1957
Wednesday and Friday nights
Just a bunch of regular guys standing around singing songs for fifteen minutes at 7:30 in the evening, that's the appeal of this simple musical production.
Surprisingly good series because of the host's easy style and pleasant voice. Bright arrangements and classic tunes made this show a must-see.
This clip is from one of the first episodes.

CBS / July - September 1956
Monday Nights at 8:30
The half-hour summer replacement show for December Bride (sponsored by Maxwell House Coffee) starred mellow crooner Vic Damone in a mostly musical format, with Tutti Camarata's Orchestra and Vic's entertainment industry friends as guest-stars.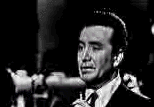 Vic Damone had a summer variety show in 1957 also - with the back-up group the Spellbinders and orchestra leader Bert Farber - then again in 1967 and 1971 substituting for Dean martin.
Damone made headlines in the Sixties when he married Dianne Carroll ('Julia') - it was very rare for an inter-racial couple to go public in Hollywood in those days.
This clip (the opening number) is from the last summer show in 1956 with Guest Spring Byington (December Bride).