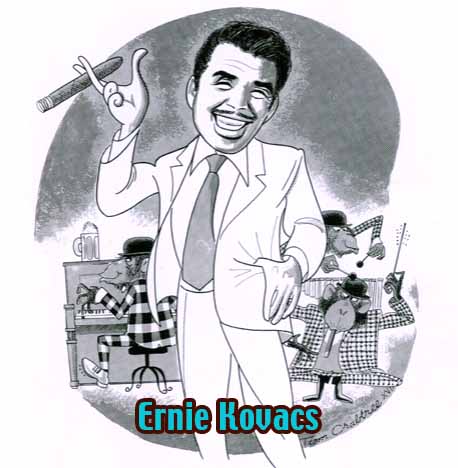 by Kevin Butler
This past January 23, 2020 marked the 101st birthday of TV comedy's brilliant pioneer: Ernie Kovacs.
He was a man who created and presented visual comedy, character skits and a sense of satire that had never been seen before during the early days of the medium.
Born in Trenton, New Jersey to a successful bootlegger and a difficult mother, Ernest Edward Kovacs was always being bestowed gifts from his dad who spent funds from his business on his son. Despite her tough attitude Mary Kovacs had a delightful sense of humor and she would take Ernie to the local movie theater to watch the cinematic antics of Charlie Chaplin and Buster Keaton.
Seeing these films inspired him to perform in grade school productions. Unfortunately, these happy days didn't last. When Prohibition was repealed, Andrew Kovacs' business closed. He tried to start over as a restauranteur but Ernie's dad wasn't meant to run an eatery. His parents separated and Ernie's grades in school began to fall until the young man's talents as an actor came to the attention of his high school drama teacher Harold Van Kirk.
Impressed with Kovak's abilities as a performer, Mr. Van Kirk arranged an audition for the young man with a summer stock theater company in the East Hampton section of Long Island, New York. Ernie won the audition, he would perform with the theater company for two seasons. In one show, "Arms & The Man" Ernie would appear with another soon-to-be veteran of TV, Ruth Enders, the wife of kid TV's first educator Paul Tripp aka "Mr. I Magination".
Following his stint in summer stock, Mr. Van Kirk obtained a scholarship for his talented apprentice for The School Of The Theater. Kovacs would appear in a small number of stage productions at the school but, during his stint with the East Hampton theater, Ernie was introduced to gambling via the company's weekly poker games.
This bad habit would create serious problems for poor Ernie, those late night hours and neglect of his diet led to serious respiratory problems. Unable to go to a proper hospital, Ernie ended up in a medical center for patients who were destitute. Adding to his problems, a mix up in his medical records landed him in the TB ward which would have endangered his life had it not been for Mr. Van Kirk learning of his protege' dire situation. Angered by the stupidities of the hospital staff, he took Ernie out of that medical center and sent him to a private sanitarium in New Jersey.
Eventually. Ernie regained his good health but he was unable to find any acting jobs. For a time, he worked in a drug store as a cigar salesman. When America entered the Second World War, Kovacs tried to enlist but his respiratory problems classified him as 4F. Denied a chance to fight in the war, he was able to secure a job with radio station WTTM as a staff announcer.
For a time, Ernie worked as a newsman where the station execs at WTTM felt that was better suited to host a music program. Uncomfortable as a DJ, he began to add comedy skits to his format and eventually Ernie's show became popular with the listeners in Trenton.
Along with obtaining a successful radio comedy series, he also met a talented dancer Betty Wilcox. They were married and would have two daughters, Betty Jr. and Kippie.
During his years with WTTM Radio, Kovacs was also hosting a TV show in Philadelphia, not a comedy but a cooking series, "Deadline For Dinner". Ernie was ill suited to play the role of a video gourmet so he began to create and perform comedy skits and visual gags that have never been seen in a media that was primarily visual radio. He also began to add other elements to his format which made him a popular personality with his viewers.
Before long, NBC TV invited him to serve as a summer replacement for "Kukla, Fran and Ollie." Ernie moved into the weekday morning time slot and his program Kovacs Unlimited became a hit. Despite this TV success, Ernie's marriage to his wife Betty was in trouble. She was unhappy at the thought of giving up her career as a dancer to became a mother; the constant interference from Ernie's mother didn't help. Betty also neglected the needs of the girls so Ernie and his mom tried to take care of Betty,Jr. And Kippie.
After five years of this difficult situation, Betty Kovacs abandoned her husband and their children. Ernie's mother moved in to care for the girls while he worked on developing new techniques to further TV comedy on The Ernie Kovacs Show.
He also hired a talented young entertainer as a new member of his cast, singer and actress Edie Adams. Edie joined in the skits with her boss and the cast, it wasn't long before the pair (Ernie & Edie) developed an off-screen relationship.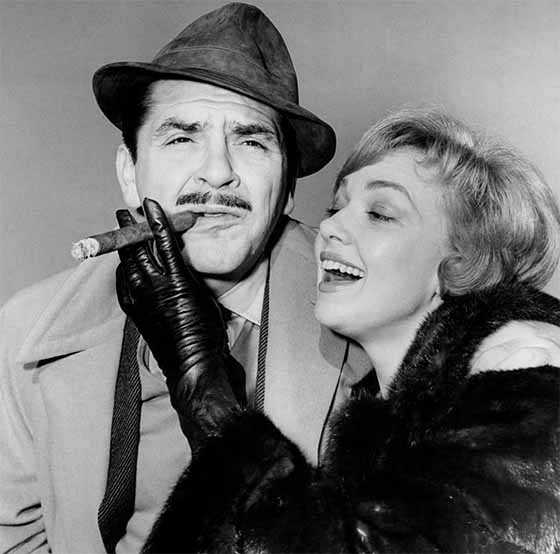 NEXT: Part Two
Television success and a tragic death!
1950's TV Shows / Fess Parker & Davy Crockett / First Sitcom Couple To Share A Bed / Jack Benny Program / Highway Patrol / Betty Hutton Show / 1952 Olympics Telethon / Amos 'n' Andy / Little Rascals & Our Gang / Howdy Doody / The First Batman Movie From 1943 / Who Was the REAL Aunt Jemima? / Freedomland USA / John Wayne Won Lassie in a Poker Game! / Lucy's Sitcom Before I Love Lucy / The Lone Ranger / It's Always Jan / 1950s Shows I NEED To See / Jack Lemmon & Billy Wilder on Marilyn Monroe / So This Is Hollywood / Audrey Meadows Refused To Do This For Jackie Gleason / When Jerry Lewis Ceased To Be Funny / The Plainclothesman / Buck Rogers in the 25th Century / Remembering Tony Dow / First Solo Female Series / Kuda Bux / Was the 1959 Santa Claus Movie Too Christian?!? / When Judy Garland's Daughters First Saw The Wizard of Oz / TV During WWII / Top Ten TV Shows 1950s / Jack Larson's Suprising Life As Superman's Jimmy Olsen in the 1950s / Judy Garland's 2nd TV Special and Las Vegas Debut / Early Network News Broadcasts / Lost Desilu Sitcom: Those Whiting Girls / Lost Superboy Pilot / The Shadow 1954 Pilot / KTLA News / / Kid Show Pioneer Herb Sheldon / Aline Saarinen / Tribute to Sandy Becker / The Adventures of Dr. Fu Manchu / / O.Henry Playhouse / NYC's First Bozo Bill Britten / The Magical Land of Alakazam! / 1950s and 60s Bloopers / TV's First Working Woman / Cannonball - 1950s Trucking Drama / Sonny Fox Kid Shows / Lauren Bacall on Bette Davis / Sunset Boulevard Explained / Abbott & Costello TV Show / The Three Stooges: The Where They Were / The First 'Black' Show - Beulah / Women on TV in the 1950s / The Today Show / Hey Jeannie / The Jeannie Carson Show / TV's First Educator Paul Tripp / Ernie Kovacs / Soap Opera Miss Susan / Adventures of Superman Lost Episode / Bette Davis vs Ronald Reagan / Captain Z-Ro / Obscure Actress Mary Castle / Serious 1950s TV shows / Remembering David Susskind / TV's First Rerun Series / The Ken Murray Budweiser Show / Saturday Morning Serials / Two Variety Shows of the Fifties / Game Shows of the Fifties /1950's TV Wrestling / Greensboro's Soda Pop History / Mr. Adams and Eve / TV's First Star / Oh Susanna! the Gale Storm Show / Bob Hastings / TV's First Star / History of the Laugh Track / The First Interactive Video Game / Designing Winky-Dink / Buffalo Bob Smith / The McKimson Brothers & Animation / Interview with a Show Business Legend / The Soundies / Snaders Telescriptions / Steve Allen Interviewed / Racket Squad / December Bride / The Big Show / Beverly Garland & Decoy / Richard Crenna & The Real McCoys / Roger Muir / Noel Coward's 1955 TV Special / Jon Provost Interview / 1950's TV Shows on DVD / Oh Susanna! The Gale Storm Show / 1950's Old Time TV Thanksgiving / Outrageous 1950's Commercial! / The Real Superman? / Mickey Mouse Club's Cheryl / Gale Storm / Captain Allen Swift / NYC's St. Patrick's Day Parade Telecasts / Julie London / The Goldbergs / 1950's Female Singers / The Dead End Kids / Bowery Boys / Fred Allen / Ed Wynn / Mr. Belvedere Movies / Art Linkletter / The Bickersons / Marty & Live TV / George Gobel & Red Buttons / Barbara Billingsley / Billy Gray Interview / Abbott & Costello Show / The Honeymooners / Three Stooges' Joe Besser / Whirlybirds / Burns & Allen Show