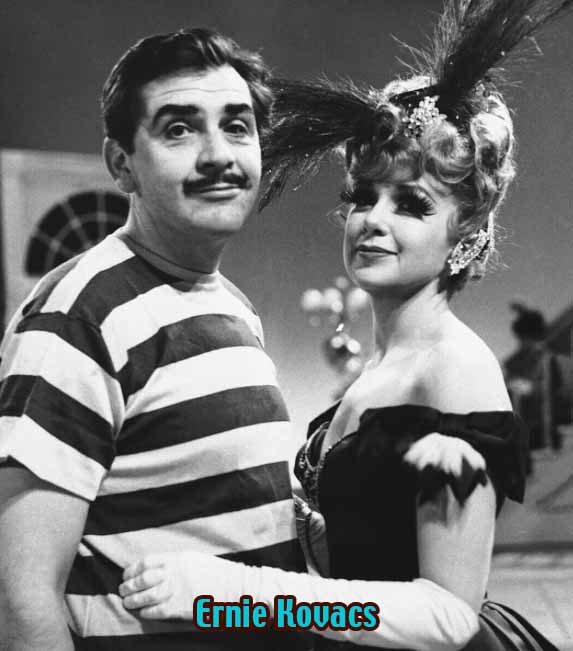 PART TWO / PART ONE HERE
by Kevin Butler
Since The Ernie Kovacs Show was never scripted, Ms. Adams was easily able to adapt to the improvised atmosphere of the program. Oftimes, the acquisition of a unique prop would culminate in the creation of a new character. When according to an interview that Edie gave on Biography's TV tribute to her husband. "Our prop man came in with these weird (eye)glasses and Ernie would comb his hair forward and to the sides and add two spit curls."
Adding a leopard skin sports jacket and a lisp, a martini and a book of non-sense poems, the character of Percy Dovetonsils was born. Cameraman Andy McKay created a brilliant sight gag by attaching an orange juice can and a toy Kaleidoscope to the camera's lens and, as the images of the kaleidoscope spin, polka music made the sequence complete.
When a cow entered the WPTZ TV studios one morning Ernie added two bike horns to the cow's head and some hilarious schtick was presented.
In 1952, NBC TV was considering Ernie to mc their new weekday morning news/variety format the Today show. Ernie hoped that he would get the assignment but the network execs gave the hosting job to Dave Garroway. He not only lost an important job on Today, NBC dropped Ernie's weekday morning show as well.
Undaunted, he joined WCBS TV Ch.2 in NYC to host "Kovacs Unlimited" in 1953. While he was performing on his new series for CBS' NYC flagship station, Ernie's ex-wife returned to try and regain custody of their children. Ernie refused to give up custody of the girls to her and he spent his time working on his series and traveling to a courtroom in Philly, Pa. to fight for the rights of his daughters. Seeing that his ex wife was not a responsible guardian for the kids, the judge awarded custody of Betty, Jr. and Kippie to their father.
There was one stipulation—Ernie's mother was not permitted to help care for the children and the girls' mother (Betty Wilcox) would have visitation rights under proper supervision. Ernie was not happy with the judge's decision but agreed to the terms.
"Kovacs Unlimited" would soon move to a Tuesday night schedule opposite NBC TV's popular comedy/variety star Milton Berle. Despite his skits, which included a brilliant parody of NBC's popular kids TV puppet show "Howdy Doody" (Titled "Howdy Deedee" with former "Howdy Doody" show regular Dayton Allen manipulating and voicing "Howdy Dee Dee"). Ernie's Tuesday night show was cancelled.
He tried another weekday morning series series on WCBS TV but, during the summer of 1953 while Ernie was working on the program, Betty Wilcox kidnapped their girls.
Ernie didn't want to bring in the police, he hired private detectives to try and locate his kids but their efforts were not successful. After several failed attempts to find his kids, he was forced to contact the authorities. Even they were unable to find Betty, Jr. And Kippie.
In the interim, Ernie's weekday morning show at WCBS TV was cancelled, he soon went to the Dumont network to host a late night show. "The Ernie Kovacs Rehearsal" showcased more unique skits and sight gags in an impromptu fashion. During his stint on Dumount, Ernie and Edie created their most famous characterizations "The Nairobi Trio" dressed in long tailed coats, derbies, wigs and ape masks. The couple and a third individual would perform a series of bizarre but funny musical numbers.
Sadly, Kovacs' tenure with this TV network was short lived mainly due to mismanagement by the heads of the network, by the spring of 1955 Dumont was closed down and Ernie's show was again cancelled.
There was one happy note..during this difficult time in the spring of 1955. Ernie's two kids were finally found but not by the police, the FBI, or the numerous private investigators that the comic employed. It was his mother Mary Kovacs who sent out picture postcards of the girls to the residents of Florida.
Ernie and his dad traveled to The Sunshine State where they were happily reunited with the kids and brought them back to NYC. Ernie's ex wife was arrested and charged with parental kidnapping.
When Steve Allen was preparing to leave "Tonight" to host a Sunday night program in the fall of 1956, he invited Ernie to sub for him two nights a week. Kovacs accepted the job and created a funny split screen routine with his guest radio host and satirist Jean Shepherd.
Once again, the NBC TV execs decided not to hire Kovacs to mc their late night comedy/variety series and assigned the hosting job to interview/announcer and comedic storyteller Jack Paar. They did however allow Ernie to do a 90 minute TV comedy special following one of Jerry Lewis' programs.
Ernie accepted the offer but he decided to do an hour long show, instead of 90 minutes. He also performed the show completely in pantomime where he presented another new denizen of his crazy world, "Eugene". Clad in an ill-fitting dress suit and a straw skimmer, the fellow became involved in a series of misadventures
inside of a museum and a men's club.
Even though "Eugene" didn't emerge as a regular series on the NBC TV schedule, Ernie did become a hit with TV viewers and was soon approached by the head of Columbia Pictures, Harry Cohen, to do movies in Hollywood.
He relocated his family to Southern California hoping that the studio would utilize his unique talents in a series of successful film comedies. Unfortunately, Cohen wanted Ernie to play certain types of characters in those films, an obnoxious authoritative martinet or a conman in supporting roles. Thus he was forced to serve as an on camera straight man for Robert Wagner, Doris Day, Jack Lemon, Sir Alec Guinness, and other film stars.
Only once was he given a chance to appear in a different role. He played a well know book author who hired a freelance architect to design and build a house for him in the film drama "Strangers When We Meet" where Ernie worked with Kirk Douglas, Virginia Bruce, Kim Novak, Walter Matthau, and Kent Smith.
While his film career didn't presented his insightful approach to comedy he did developed a wonderful friendship with Jack Lemmon. Jack loved Ernie's comedy style and their pair would appear in some films together and find the time to play poker.
Ernie moved his family to Beverly Hills and redesigned his home to fit his eccentric lifestyle. Ernie's spend thrift ways was making life difficult. As a result, he refused to report or to pay taxes to the IRS.
In order to try and pay his debts, Ernie returned to TV where he hosted two series "Take A Good Look?" (a game show) and "Silents Please" ( where he introduced reruns of classic silent film comedies). Neither show was successful and quickly left the air.
Ernie did find the time to create, produce and present a new series of comedy specials that were pre-taped and featured his surreal sight gags and comedic ideas for ABC. He and Edie also found the time to do guest appearances on other TV specials and series like "What's My Line?', the very last "Lucy/Desi Comedy Hour" and a show set against the backdrop of a circus.
Ernie also did a pilot for a sitcom with one of his comedic heroes Buster Keaton titled "A Pony For Chris" where the pair played a couple of conmen in the old west. Despite these film and TV projects, Kovacs remained in serious trouble with the IRS.
He kept his problems with "Uncle Sam" from his wife and their three kids (by this time Ernie And Edie had a third child, another daughter Mia Susan). In January of 1962, Ernie had completed work on his latest comedy special for ABC and hoped that he would be able to go home and get some rest prior to working on his next project.
But, when he arrived home, he and Edie received an invitation to attend a party at the apartment of filmmaker Billy Wilder to celebrate Milton Berle's adoption of a baby boy. Ernie was not thrilled at having to attend the party. With no means to cancel the invitation, he drove the family's Rolls Royce while his wife drove the Covair
station wagon to the Wilder apartment.
Later that night they both left the party but Edie drove The Rolls Royce while Ernie took the heel of the Covair. It was raining that night in Los Angeles as he headed for the Santa Monica Highway. Ernie lost control of his car and he slammed into a utility pole. His head slammed into the dashboard and he died of a skull fracture.
Edie was concerned about her husband not returning home in the covair. It wasn't until a few hours later when she received a phone call from the police that she found out about the tragedy that took Ernie's life.
The entire entertainment community was devastated. Friends Jack Lemmon, Dean Martin, and Billy Wilder served as pall bearers at Ernie's Funeral.
Ernie Kovacs' 8th and last TV comedy special aired on ABC on January 23,1962. The show earned a special Emmy award for it's electronic work in a comedy special.
When his friends found out about his mounting debts to the IRS, they wanted to produce and host a telethon to help pay back his debts.
His widow refused, instead Edie went on to host and perform in her own TV specials, do commercials for 'White Owl Cigars", perform in nightclubs and appear in films "The Apartment" with Jack Lemmon, Shirley Maclaine, Ray Walston, David White, Willard Waterman, and Fred MacMurray and "It's A Mad,Mad, Mad, Mad World." She also took lessons in accounting and money management to help repay Ernie's debts. Which, after many years, she finally did.
She also regained the right to histelevision work and made them available to her late husband's fans once again. Edie also appeared in an ABC movie drama that recalled Ernie's efforts to try and find their girls after they were kidnapped by his ex wife. Ernie was portrayed by Jeff Goldblum while Melody Anderson played Edie Adams. Cloris Leachman played Ernie's mom Mary Kovacs. (In the film Edie played Mae West).
Edie Adams was present at Ernie's induction into he Television Hall Of Fame.
Ernie Kovacs' TV stint was brief but he did pave the way for such comedic talents as Soupy Sales, "Uncle Johnny" Coons, Chuck McCann, and Johnny Ginger.
1950's TV Shows / Fess Parker & Davy Crockett / First Sitcom Couple To Share A Bed / Jack Benny Program / Highway Patrol / Betty Hutton Show / 1952 Olympics Telethon / Amos 'n' Andy / Little Rascals & Our Gang / Howdy Doody / The First Batman Movie From 1943 / Who Was the REAL Aunt Jemima? / Freedomland USA / John Wayne Won Lassie in a Poker Game! / Lucy's Sitcom Before I Love Lucy / The Lone Ranger / It's Always Jan / 1950s Shows I NEED To See / Jack Lemmon & Billy Wilder on Marilyn Monroe / So This Is Hollywood / Audrey Meadows Refused To Do This For Jackie Gleason / When Jerry Lewis Ceased To Be Funny / The Plainclothesman / Buck Rogers in the 25th Century / Remembering Tony Dow / First Solo Female Series / Kuda Bux / Was the 1959 Santa Claus Movie Too Christian?!? / When Judy Garland's Daughters First Saw The Wizard of Oz / TV During WWII / Top Ten TV Shows 1950s / Jack Larson's Suprising Life As Superman's Jimmy Olsen in the 1950s / Judy Garland's 2nd TV Special and Las Vegas Debut / Early Network News Broadcasts / Lost Desilu Sitcom: Those Whiting Girls / Lost Superboy Pilot / The Shadow 1954 Pilot / KTLA News / / Kid Show Pioneer Herb Sheldon / Aline Saarinen / Tribute to Sandy Becker / The Adventures of Dr. Fu Manchu / / O.Henry Playhouse / NYC's First Bozo Bill Britten / The Magical Land of Alakazam! / 1950s and 60s Bloopers / TV's First Working Woman / Cannonball - 1950s Trucking Drama / Sonny Fox Kid Shows / Lauren Bacall on Bette Davis / Sunset Boulevard Explained / Abbott & Costello TV Show / The Three Stooges: The Where They Were / The First 'Black' Show - Beulah / Women on TV in the 1950s / The Today Show / Hey Jeannie / The Jeannie Carson Show / TV's First Educator Paul Tripp / Ernie Kovacs / Soap Opera Miss Susan / Adventures of Superman Lost Episode / Bette Davis vs Ronald Reagan / Captain Z-Ro / Obscure Actress Mary Castle / Serious 1950s TV shows / Remembering David Susskind / TV's First Rerun Series / The Ken Murray Budweiser Show / Saturday Morning Serials / Two Variety Shows of the Fifties / Game Shows of the Fifties /1950's TV Wrestling / Greensboro's Soda Pop History / Mr. Adams and Eve / TV's First Star / Oh Susanna! the Gale Storm Show / Bob Hastings / TV's First Star / History of the Laugh Track / The First Interactive Video Game / Designing Winky-Dink / Buffalo Bob Smith / The McKimson Brothers & Animation / Interview with a Show Business Legend / The Soundies / Snaders Telescriptions / Steve Allen Interviewed / Racket Squad / December Bride / The Big Show / Beverly Garland & Decoy / Richard Crenna & The Real McCoys / Roger Muir / Noel Coward's 1955 TV Special / Jon Provost Interview / 1950's TV Shows on DVD / Oh Susanna! The Gale Storm Show / 1950's Old Time TV Thanksgiving / Outrageous 1950's Commercial! / The Real Superman? / Mickey Mouse Club's Cheryl / Gale Storm / Captain Allen Swift / NYC's St. Patrick's Day Parade Telecasts / Julie London / The Goldbergs / 1950's Female Singers / The Dead End Kids / Bowery Boys / Fred Allen / Ed Wynn / Mr. Belvedere Movies / Art Linkletter / The Bickersons / Marty & Live TV / George Gobel & Red Buttons / Barbara Billingsley / Billy Gray Interview / Abbott & Costello Show / The Honeymooners / Three Stooges' Joe Besser / Whirlybirds / Burns & Allen Show