by Jeff Vilencia, Billy Ingram and others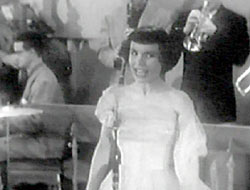 "Snader Telescriptions were television's very first music videos, produced from around 1950 until about 1953/54. All of the top jazz/ pop/ country stars made these 3 and 4 minute films. There was a entire run of these telescriptions, numbering in the thousands.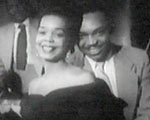 "The cool thing is that almost all of them were filmed with multi-cameras and live mikes. No playbacks and lip-synching! As you will see, they sing into an Altec-Telefunkin microphone, the best ever made (next to the RCA 500's).
"In the days of early television there wasn't a lot of programming available to local stations, so various time slots in lengths of 3, 5, 6, 8, 10 or 15 minutes weren't uncommon.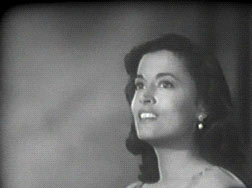 "These videos could be run in-between live links or as a show unto themselves by splicing a handful together to make up a 15 minute block. Here are some of my favorites."
- Jeff Vilencia

HERE ARE SOME EXAMPLES
OF SNADER TELESCRIPTIONS: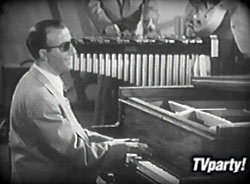 George Shearing is rightfully regarded as one of the greatest Jazz pianists of all time, playing in a unique style he called "locked hands." In this clip, Shearing and his quintet perform their signature tune, I'll Never Smile Again.
Born in London, England, Shearing was blind but learned the piano at age three. A couple of his other hits include 'September In The Rain' and 'Lullaby Of Birdland.' Shearing recorded well into the 1990s.
---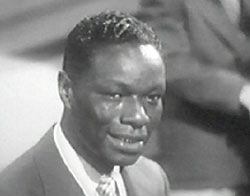 Nat King Cole performs You Call It Madness.
Nat King Cole hosted his own TV show in 1956, but no corporation would sponsor the series because he was black, believe it or not. At that time, the thought of a black man on the nation's TV sets sent shivers through corporate boardrooms, but NBC refused to cancel before the season was over - despite no ad revenues.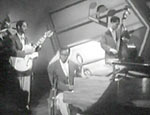 Nat King Cole was a frequent guest on variety shows hosted by Dinah Shore, Ed Sullivan, Jack Paar and Garry Moore before succumbing to Lung Cancer in 1965.

---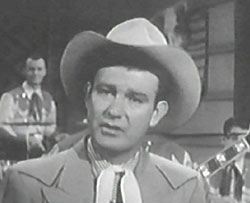 This is a great one.

American country music original Tex Williams (backed by his Western Caravan) delivers a dry, humorous tune, Life Gits Tee-jus, Don't It? This was the 1948 follow-up to his big narrative-style hit single, 'Smoke! Smoke! Smoke! (That Cigarette)', a genuine country music classic and Capitol Records' very first million seller.

Hillbilly humorist Tex Williams was no stranger to film, appearing as a character actor in dozens of movie serials in the forties and starring in his own singing-cowboy short subjects from 1949-1952. He was also heard on radio shows like 1951's Town Hall Party on NBC.

Smoking and untrustworthy women were reoccurring themes in many of Tex's tunes. His other hits included, 'Never Trust A Woman,' 'Don't Telephone, Don't Telegraph, Tell A Woman', 'Too Many Tigers', 'Bottom Of The Mountain', and 'Smoke! Smoke! Smoke! '68'. Not-so-coincidentally, Williams died of lung cancer on October 11, 1985 at age 68.
---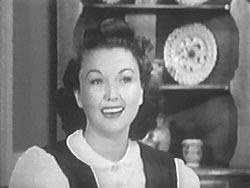 Ginny Simms was a former vocalist for the Kay Kyser Band in the forties (she also dated Kyser). She plays a freaky fifties' chic who's goal is to be a "maid and a slave" to her man - which was actually considered pretty normal back in the day.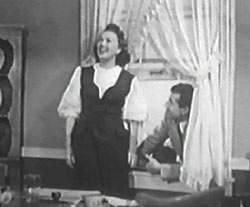 To top it off, her man is secretly watching her from outside the window after he supposedly left for work.
You Brought A New Kind of Love was what they called it then - but they call it stalking today!
---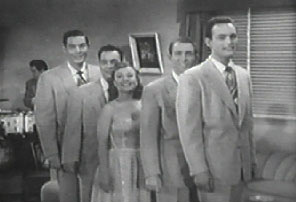 All of these films were shot with no post-production editing. But observe how this number contains some slick special camera and lighting effects - sophisticated for the time. Highlighted is a snappy tune called Especially For You by vocalist Bonnie Baker. Sensational!
The diminutive Bonnie Baker (as the vocalist for Orrin Tucker and His Orchestra) had a huge hit in 1939 with ''Oh Johnny, Oh Johnny, Oh!'' but ended up as a telephone operator in Texas City, Texas some time after this was shot.
---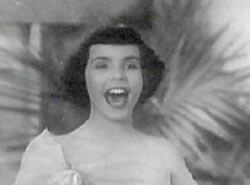 This is a rousing novelty number, Music, Music, Music, sung by Theresa Brewer (fronting the Dixieland All Stars). This bouncy tune hit in the thirties and charted again (all the way to number-one) with this arrangement in 1950.
This was the first of many top-ten records for Brewer. Still a teenager at that time, Brewer exuded a sweet, girl-next-door image. She had an astonishing 38 chart-toppers over the next ten years, including 'A Sweet Old-Fashioned Girl,' 'Ricochet,' 'Jilted,' 'Tweedle Dee' and 'You Send Me.'
---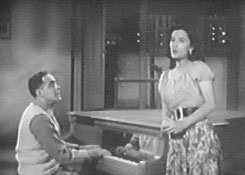 Frankie Carle aka "the wizard of the keyboard" is seen here with a female vocalist (possibly his daughter Marjorie Hughes) performing his number one hit from the mid-1940s, Oh, What It Seemed To Be, a song made even more popular by Frank Sinatra.
Carle passed away in 2001 at the age of 97 after a long and distinguished career.
---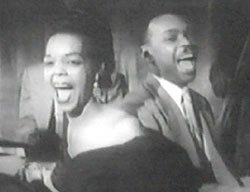 Mr. and Mrs. 88 'jam on it' in this rare performance, Where There's You, There's Me.

I haven't been able to find any information on these be-bop performers - but they're raucous and wild!
---
Nice surprise to find the Snaders on your site. However, it would be only fair to credit the guy who made them. His name was Duke Goldstone.

Almost all of the Snaders exist on 16mm at the Pacific Pioneer Broadcasters Archives in Hollywood. I Hope you'll add more -- Red Ingle, Yogi Yorgesson, etc.

Very little has been written about Duke or the Snaders. There was a documentary on the Snaders produced (for Canadian TV?) by Don McGlynn. I don't recall how many of these things were made offhand; according to Duke, who wrote, produced and directed them, and helped design the sets, they made 10 or 12 Snaders in a day, and they were done live (not to playback like the Soundies -- the FIRST music videos produced in the early '40s).

Louis D. Snader, president of Snader Telescriptions Corp., was the executive producer. He also produced "The Liberace Show" and "The Korla Pandit Show," according to the International Television Almanac.

The LA Times obit for Louis "Duke" Goldstone not only fails to mention the Snaders, it doesn't mention the Soundies or the George Pal Puppetoons, both of which he was involved with in various capacities. Anyway, he started his career as a prop boy for Universal in the '20s, and later edited and directed short films at Paramount and RKO.

He directed animated TV commercials featuring the likes of Speedy Alka-Seltzer, the Hamm's Bear and the Jolly Green Giant for Swift-Chaplin Productions.

He also directed many '50s TV variety shows (with Liberace, Frankie Laine, Horace Heidt, etc. and Betty White's first sitcom, "Life With Elizabeth.")

He died Apr. 16, 1998.

- Best, Jordan R. Young