by Cary O'Dell


All in all, it's a simple enough question: Who was TV's first working woman?

But, surprisingly, for someone (in this case, me) who has long pondered issues related to women and early television, it wasn't one I had ever considered before.

Though for years I have not-so-gently corrected people when they assumed that Mary Richards of "Mary Tyler Moore" was TV's first woman with a job…. And though I had long sung the praises of such iconic early working women as Eve Arden on "Our Miss Brooks" and Ann Sothern of "Private Secretary"… I had never fully explored who in our small screen history could claim the title of being the first reoccurring female character on national, network TV to work outside the home.

Perhaps I never took it on because, in some ways, it is not an easy question to answer. So much early, EARLY television has been lost that ever bestowing the title of "first" on anything is a tenuous undertaking. And, believe it or not, to try to determine TV's first working woman/women one does have to go back—all the way back—to the very beginning, to the very first days of network broadcasting…. And, sure enough, there they were, in those fuzzy, black and white days. Yes, it's true: in that time—we're talking the late 1940's!—we already had them, already we saw women depicted as working (and working hard) outside of the home....

Airing for a few months over the Dumont network in TV's absolutely prehistoric era of 1946, the soap opera "Faraway Hill" starred actress Flora Campbell as a widow named Karen St. John. In the series, Karen had just relocated from New York City to a small town where she promptly fell in love with a man who, unfortunately, was already engaged to someone else. Oh, what was she to do? Sadly, no episodes of this short-running series (which ran October through December) have survived to present day so we are left to wonder about various things including, did Ms. St. John ever get her man and, more importantly did she have a job? If she did, then, she is perhaps, TV's very first career woman.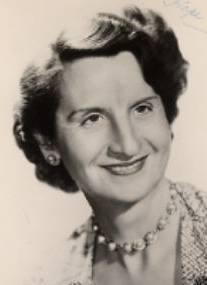 But with the "Faraway" question left unanswered, TV's next (and undisputed) career woman arrives via the imposing figure of renowned character actress Hope Emerson. The six-foot-two Emerson would go on to co-star on TV's "The Dennis O'Keefe Show," appear in the movie "Adam's Rib" and be Oscar nominated for her role in the film "Caged." On CBS-TV's "Kobb's Korner" (which debuted September 28, 1948), Emerson played the proprietor of a small town general store named Shufflebottom's. The whole general store scenario though was little more than a framing device to surround various musical performances especially those featuring the show's resident "hillybilly" band the Korn Kobblers. Still, Emerson played a character, was a woman and had a job. So, we can certainly count her as one of TV's very first women of work.

Not long after "Kobb's Korner," the wonderfully named "The Growing Paynes" debuted on Dumont on October 20, 1948. Following in the already established tradition of "Mary Kay and Johnny," "Paynes" was family comedy and, originally, starred John Harvey and Judy Parrish as Mr. and Mrs. Payne. Later, both actors would be replaced by Ed Holmes and a very young Elaine Stritch. The Paynes employed a maid named Birdie, played by Ann Sullivan, which thus makes Sullivan not only (probably) TV's first housekeeper but also one of its earliest working women, albeit one in a supporting role.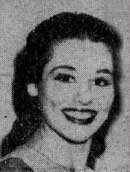 Literally only a few days after the debut of "Growing Paynes," ABC brought on "The Fashion Story." On this series, pretty Marilyn Day starred as Lucky Marshall, a New York City fashion model who yearned to break into show business as a singer. The series, after its initial bow on November 4, 1948, would be reviewed by both "Variety" and "Billboard." And while neither publication really cared for the series, at least "Billboard" like its lead. They called Day, "a pert young lass with a fair voice, excellent delivery and style and a superb chassis, all of which add up to a lively video personality."

The fictional Ms. Marshall's career and longed-for ambition allowed the series to, every week, showcase a few songs and some wonderful clothes. It also apparently tried to interweave a few comedic moments, most of them no doubt courtesy of the show's co-star, a young Carl Reiner who played a photographer. The show was sponsored by a clothing manufacturer (makes sense) and featured real-life fashion models, courtesy of New York's Conover Agency, along with fashion commentary by Pamela O'Neill. The series ran until March of 1949.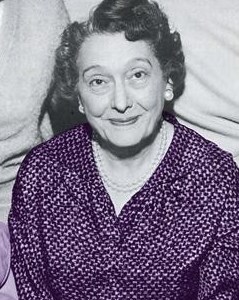 In September of 1949, the now defunct Dumont network debuted TV's next big feminine breakthrough. The primetime soap "The O'Neills" (debuting September 6, 1949), starred New York theater actress Vera Allen (not to be confused with film actress/dancer Vera-Ellen) as Peggy O'Neill. Mrs. O'Neill was a dress designer by trade. She was also a widow with two sons. Allen's role on the series, which aired from September of 1949 to January of 1950, therefore marks her as not only one of TV's first working women but, also, probably, its very first single mother as well. "The O'Neills" aired its last episode on January 10, 1950.

Even before "The O'Neills" signed off, TWO other working women signed on. "The Girls," debuted New Year's Day, 1950, over CBS. The series was based on an autobiographical book written by Cornelia Otis Skinner. Bethel Leslie (later replaced by Gloria Stroock) and Mary Malone co-starred on the show with Ms. Leslie playing the role of the young Miss Skinner. She and her co-starred played two just-graduated gals from Bryn Mar who had also just moved to New York City. Each was pursuing a career: Cornelia as an actress on the stage and Malone, playing a character named Emily Kimbrough, as a writer. "The Girls" aired until March of 1950.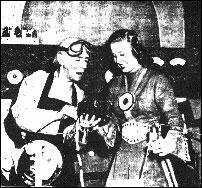 Concurrent for a time with "The Girls" was the TV's next working woman of the air… or actually of outer space. TV's first incarnation of the legendary space hero "Buck Rogers" was launched, over the Dumont network, on January 30, 1950. The role of Buck was first portrayed by Kem Dibbs. His outer space co-hort, Lt. Wilma Deering, was played by Lou Prentis. No episodes of this first small screen "Buck" are believed to have survived so we don't know how Lt. Deering was portrayed but, by her title alone, we know that she was, at least, a high-ranking female military officer and probably not the stay-at-home type.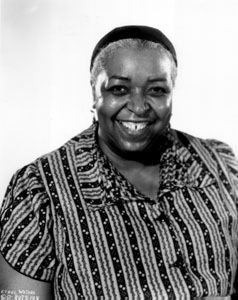 Things got a little more traditional as far as roles of women with the debut of "Beulah" on ABC on October 3, 1950. Based upon the wildly successfully radio series of the same name which itself was a spin off radio's "Fibber McGee & Molly." "Beulah" was the story of an African-American woman who worked as a housekeeper for the white Henderson Family. On radio, at least in the beginning, believe it or not, the role of "Beulah" was originally played by a white man! On TV, though, she was first embodied by actress-singer Ethel Waters. Though by its very premise the "Beulah" series seemed to traffic in some deep stereotypes, the Beulah character was portrayed as no fool. She was a savvy housekeeper and usually far smarter and common-sensical than her uptight employers. If TV's "Beulah" can't make the claim of being TV's first working woman (or even its first maid), she can claim to be one of its most enduring images of early working women. The series would run successfully for three years and be, for a time at least, a hit in syndication. Waters would eventually exit the role in 1951 and be replaced by actress Louise Beavers who played the role until the end of the series.


Just two days after "Beulah" arrived, TV brought to the air another radio import, the newspaper drama "Big Town." "Big Town," which began October 5, 1950 on CBS, featured, originally, Patrick McVey as crusading newspaperman Steve Wilson. He was aided every week in his adventures by fellow newspaper reporter Lorelei Kilbourne. The Kilbourne character was first played by actress Mary K. Wells. Later the role would be taken over by other actresses including Julie Stevens, Jane Nigh and Trudy Wroe. Via any performer, the Kilbourne character has the distinction of being TV's first lady of the press ever to be seen regularly on TV, paving the way for such later female reporters as Mercedes McCambridge on "Wire Service" and Lois Lane on "The Adventures of Superman."

Finally, our brief recap of TV's very first working women, concludes with a well-known name.
A TV version of the legendary detective "Dick Tracy" first began on the air on September 11, 1950 on ABC. Tracy was played by Ralph Byrd and according to some sources was married to his long-time comic strip girlfriend, Tess Trueheart, on the show. Other details about TV's Tess though are sketchy. Though by this time in the comic, Tess was operating her own photography studio, how she was portrayed on the small screen isn't exactly known. She certainly didn't seem to appear on the program than often; the actress who portrayed the character, Angela Greene, is noted to have been in only seven of the show's 31 episodes. (Interestingly, another character apparently seen a few times on the series was a policewoman named Mary Faelb and played by Margia Dean.)


Notably, for all the flack that working women on TV over the years (in the 1950's up through the 1970's…or even today) get about constantly being stuck in "pink collar" jobs, TV's collection of early career women often worked in non-traditional fields. With the exception of "Beulah" and the aforementioned Birdie, TV's other very earliest working women were not confined to stereotypically female occupations like nurse, school teacher or maid.

It should also be noted that TV of this era was heavily populated by anthology programs, those with different casts and stories each and every week. Innumerable working women, in all sorts of careers, were no doubt also regularly seen in many of these one-off TV installments.

It also bears mentioning that even if fictional images of working women were not plentiful at that time, there were plenty of other women, already highly visible in the medium, who were often being seen, every week, in interesting and authoritative roles. Helen Parrish had hosted one of TV's first variety programs, "Hour Glass," over NBC; it began in May of 1946. By 1948, legendary newswoman Pauline Frederick was hosting her own 15-minute interview show over ABC; it aired on Sunday nights. Mary Margaret McBride's weekly interview show could be seen every Wednesday evening over NBC. Meanwhile, NBC's epically long-running "Meet the Press" was already airing on NBC and, at this time, was airing in primetime; it was being hosted by its co-creator Martha Rountree. Other women also abounded: Dione Lucas, the Julia Child of her day, was hosting her own cooking show on Thursday evenings on ABC; singer Kyle MacDonnell was appearing every Wednesday in her showcase series "Girl About Town"; and both Faye Emerson and Arlene Francis, each about to become TV perennials and legends, had already begun making regular TV appearances. Emerson, for example, was hostess of the series "Paris Cavalcade of Fashions" on NBC which began in November of 1948.

All in all, whether they were seen as themselves or as a character, there was already, as of 1948, an impressive array of women visible on the American airwaves. And, as we all know, there were still so many more to come.
1950's TV Shows / Fess Parker & Davy Crockett / First Sitcom Couple To Share A Bed / Jack Benny Program / Highway Patrol / Betty Hutton Show / 1952 Olympics Telethon / Amos 'n' Andy / Little Rascals & Our Gang / Howdy Doody / The First Batman Movie From 1943 / Who Was the REAL Aunt Jemima? / Freedomland USA / John Wayne Won Lassie in a Poker Game! / Lucy's Sitcom Before I Love Lucy / The Lone Ranger / It's Always Jan / 1950s Shows I NEED To See / Jack Lemmon & Billy Wilder on Marilyn Monroe / So This Is Hollywood / Audrey Meadows Refused To Do This For Jackie Gleason / When Jerry Lewis Ceased To Be Funny / The Plainclothesman / Buck Rogers in the 25th Century / Remembering Tony Dow / First Solo Female Series / Kuda Bux / Was the 1959 Santa Claus Movie Too Christian?!? / When Judy Garland's Daughters First Saw The Wizard of Oz / TV During WWII / Top Ten TV Shows 1950s / Jack Larson's Suprising Life As Superman's Jimmy Olsen in the 1950s / Judy Garland's 2nd TV Special and Las Vegas Debut / Early Network News Broadcasts / Lost Desilu Sitcom: Those Whiting Girls / Lost Superboy Pilot / The Shadow 1954 Pilot / KTLA News / / Kid Show Pioneer Herb Sheldon / Aline Saarinen / Tribute to Sandy Becker / The Adventures of Dr. Fu Manchu / / O.Henry Playhouse / NYC's First Bozo Bill Britten / The Magical Land of Alakazam! / 1950s and 60s Bloopers / TV's First Working Woman / Cannonball - 1950s Trucking Drama / Sonny Fox Kid Shows / Lauren Bacall on Bette Davis / Sunset Boulevard Explained / Abbott & Costello TV Show / The Three Stooges: The Where They Were / The First 'Black' Show - Beulah / Women on TV in the 1950s / The Today Show / Hey Jeannie / The Jeannie Carson Show / TV's First Educator Paul Tripp / Ernie Kovacs / Soap Opera Miss Susan / Adventures of Superman Lost Episode / Bette Davis vs Ronald Reagan / Captain Z-Ro / Obscure Actress Mary Castle / Serious 1950s TV shows / Remembering David Susskind / TV's First Rerun Series / The Ken Murray Budweiser Show / Saturday Morning Serials / Two Variety Shows of the Fifties / Game Shows of the Fifties /1950's TV Wrestling / Greensboro's Soda Pop History / Mr. Adams and Eve / TV's First Star / Oh Susanna! the Gale Storm Show / Bob Hastings / TV's First Star / History of the Laugh Track / The First Interactive Video Game / Designing Winky-Dink / Buffalo Bob Smith / The McKimson Brothers & Animation / Interview with a Show Business Legend / The Soundies / Snaders Telescriptions / Steve Allen Interviewed / Racket Squad / December Bride / The Big Show / Beverly Garland & Decoy / Richard Crenna & The Real McCoys / Roger Muir / Noel Coward's 1955 TV Special / Jon Provost Interview / 1950's TV Shows on DVD / Oh Susanna! The Gale Storm Show / 1950's Old Time TV Thanksgiving / Outrageous 1950's Commercial! / The Real Superman? / Mickey Mouse Club's Cheryl / Gale Storm / Captain Allen Swift / NYC's St. Patrick's Day Parade Telecasts / Julie London / The Goldbergs / 1950's Female Singers / The Dead End Kids / Bowery Boys / Fred Allen / Ed Wynn / Mr. Belvedere Movies / Art Linkletter / The Bickersons / Marty & Live TV / George Gobel & Red Buttons / Barbara Billingsley / Billy Gray Interview / Abbott & Costello Show / The Honeymooners / Three Stooges' Joe Besser / Whirlybirds / Burns & Allen Show
TV's First Working Women