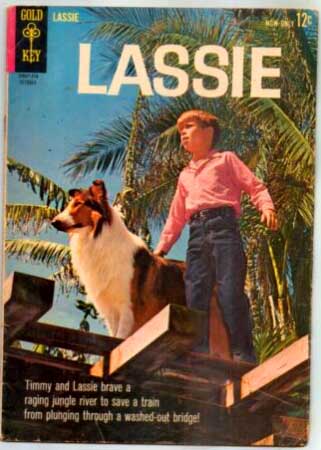 John Wayne Won Lassie in a Poker Game?
by Billy Ingram
"Directing Marilyn Monroe was like directing Lassie. You needed fourteen takes to get each one of them right." - Otto Preminger
We haven't seen much of Lassie lately, one wonders what the old bitch has been up to of late.
Lassie, created by Eric Knight, was a major motion picture star between 1943 and 1951, the fictional collie (actually a male named Pal) was the star of seven feature films produced by Metro-Goldwyn-Mayer. A popular old time radio star as well.
Lassie's image was featured on innumerable comic books, novels, coloring books, lunch boxes, you name it.
It was on weekly primetime where Lassie's coat really shone, as the star of the 5th longest-running network program in TV history, 19 years, topped only by The Simpsons, Law & Order: Special Victims Unit, Gunsmoke, and Law & Order.
The TV production was the creation of producer Robert Maxwell and animal trainer Rudd Weatherwax, televised on CBS from September 12, 1954, to March 25, 1973. Campbell's Soup Company sponsored the entire nineteen-year run.
MGM had owned the rights to Lassie outright until Weatherwax obtained the franchise in lieu of his final year's salary at the studio along with some additional cash. That meant he benefitted greatly during the CBS run and syndication packages that were offered from the 1960s forward. By the way, Weatherwax was the uncle of Ken Weatherwax, who played Pugsley Addams in The Addams Family.
The series went through several abrupt format changes during its 17 seasons on CBS before the production turned to first-run syndication that was broadcast mostly over CBS affiliates for its final two seasons ending in March of 1973. In the fall of 1973, ABC began airing an animated series Lassie's Rescue Rangers on Saturday mornings.
During the Timmy seasons (1958-1965), episodes were filmed at the Grand Canyon and in the High Sierra. Jon Provost (Timmy) entitled his autobiography 'Timmy's in the Well!' because that was the one place Timmy never found himself trapped — swept into rivers and lakes, buried in mine shaft cave-ins, hanging off cliffs, sinking in quicksand, yes — but Timmy never fell into a well.
Lassie and Lost in Space star June Lockhart once said, "I did Lassie for six years and I never had anybody come up to me and say, 'It made me want to be a farmer.' "
Ruddell Bird "Rudd" Weatherwax died on February 25, 1985.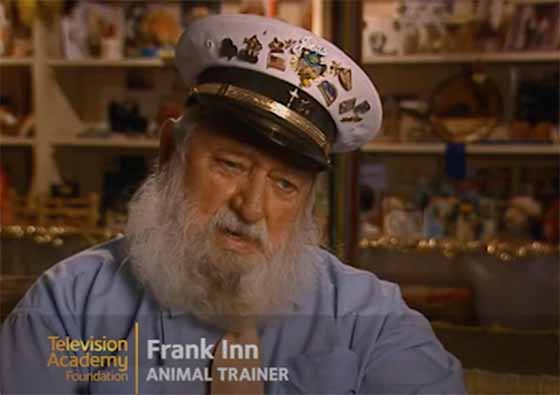 The great Frank Inn, himself a famous TV and movie animal wrangler, learned the craft from Weatherwax, Inn gave us Arnold the Pig, Benji, and the dog in Honey, I Shrunk the Kids to name a few. In this clip from the Archive of American Television, Frank Inn tells the astonishing story of how Weatherwax lost one of the most valuable properties in television history in, of all things, a late night card game with Hollywood's biggest superstar. This was around 1951 when Metro-Goldwyn-Mayer was no longer interested in making Lassie movies.
"Hondo, the name of the picture and the dog. [I] Took this collie that looked just like Lassie but was a little smaller and dyed yellow on a yellow and white dog and made it all yellow. During that time, Rudd got into a poker game with John Wayne and a bunch of the people. And Rudd had a beautiful hand and he just knew he'd win. But it was 'table stakes' and he didn't have the money in his pocket so they said, 'Well, you could be in for what you've got there' and he says no, he wanted to raise it. He didn't have anything for security.
"And John Wayne says, 'Look, why don't you, you know... you know you're going to win, put your dog up.' So they wrote out a deal there about Lassie and all the dogs in his kennel. This was a terrific bet, about 5 or 6 thousand dollars. And, sure enough, John Wayne won. And he [Wayne] never said anything about it."
He goes on to tell what happened shortly thereafter, when Lassie died and MGM turned over the rights to the franchise for money owed.
Here's a link to what many consider to be the best episodes of Lassie, 'The Odyssey' trilogy, episodes #278-279-280 where Lassie is accidentally locked in a delivery truck, when she's freed the collie is 600 miles from home.
Airing February 18th, 25th, and March 4th, 1962. I was five years old and remember this vividly, glued to the television in anticipation as to what would happen next!
Lassie season 8 tagline:
That beloved pet of millions and her young master begin a new season with an exciting adventure that will keep your whole family on the edge of their seats.
"I have yet to see one completely unspoiled star, except for the animals - like Lassie." - Edith Head