MAN & SUPERMAN / The REAL Superman?
by Billy Ingram & Ed Golick

Check out this AP news story from March of 1973.
Mayo Kaan, a bodybuilder from New York state, claimed to be the original model for Superman. His story was that he donned a costume similar to what became the look of Man of Steel and served as the inspiration to cartoonists Jerry Siegel and Joe Shuster. For a thousand dollars Kaan would show the curious his collection of photos he claimed were taken in 1936 (the first Superman appearance was in 1938). The wire service didn't check Kaan's story with Siegel or Shuster, who were still alive at the time, so it was published in newspapers all over the country, including my local paper in Greensboro, NC. I clipped the article because, even at my young age, I didn't buy it. It didn't make sense to this comic book geek and the story has been met with much skepticism over the years. According to Wikipedia the Kaan family maintains to this day that the deceased bodybuilder was telling the truth but a DC Comics spokesperson stated in 1997 when he reasserted his claim, "Kaan played no role in creating the superhero's image, Kaan's billing himself as something he is not." Other problems with the story - one of the buildings in the photos wasn't built until 1940 and Martin Griem, a noted fanzine editor, claims to have correspondence from Joe Shuster stating that the Superman artist never heard of the guy. Kaan died in 2002.
Ed Golick has a story related to that: "Here in Detroit we had our own 'faux Man of Steel,' automobile assembly line worker and part time entertainer Guy Gibby, who claimed that he was the inspiration for Superman. From the 1940s to the 1970s Gibby appeared in countless fairs, nightclubs and parades throughout the Midwest as 'The Original Superman in Real Life,' performing such feats of strength as high hand balancing, breaking chains with his chest and holding 20 men in a tug of war.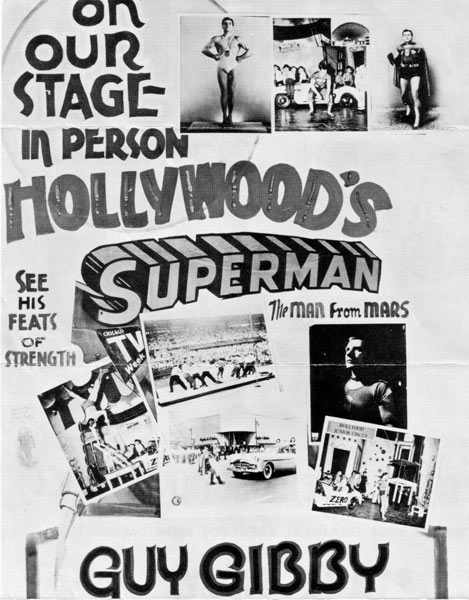 "In 1940 he was the cover boy for Vim, a bodybuilding magazine with a large gay following. But by the late 1970s an expanded waistline and advancing age seriously curtailed most of his strongman stunts. In 1975 I saw him, dressed in an off-model Superman suit, pull a car with a chain fastened around his waist. At first glance it seemed impressive, but the car was running - not a 'feat of strength' in my book. After the show he told me that he posed for the creators of the Superman comic book, but he couldn't tell me their names.
"Despite his dubious claims, Gibby was a talented strong man who entertained many with his acrobatic skills and feats of strength."