"I Say, I Say . . . Son!": A Tribute to Legendary Animators Bob, Chuck, and Tom McKimson
by Robert McKimson Jr.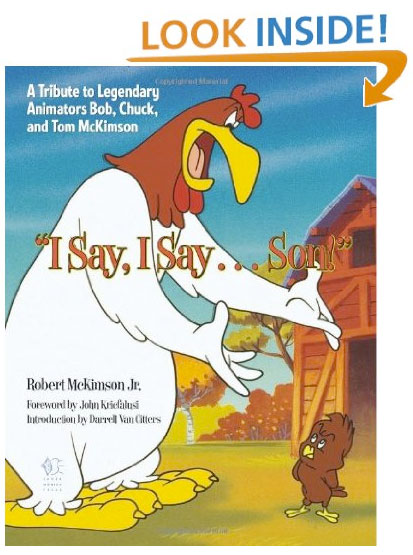 Book Review by Billy Ingram / TVparty!

Just in time for the gift giving season comes a book, a revelation really, about the creator of so many iconic Warner Bros. cartoon characters.
"I say, I say... Son!" is the story of the McKimson brothers, Bob, Tom and Chuck. It was Bob who dreamed up The Tasmanian Devil, Speedy Gonzales, Foghorn Leghorn (hence the title), Sylvester Jr., and so many more immortal characters. Tom also worked in animation and found time to illustrate Looney Tunes comic books for Dell and produced stunningly beautiful art for the classic Golden Books. Chuck McKimson also illustrated comic books and created visually exciting film titles and commercials.
The brothers got their start at the Harman-Isling Studio in the 1930s rendering those marvelous Bosco cartoons and favorites like 'The Dish Ran Away With the Spoon' before migrating to Leon Schlesinger Productions and Warner Bros. where they animated the earliest adventures of Porky Pig, Daffy Duck and Bugs Bunny. It was Bob McKimson that streamlined the design of those characters into what we recognize today.
You'll immediately recognize the cartoons that sprang from the imagination of Bob McKimson (and others, of course) in particular: 'Devil May Care' (Bugs meets the Tasmanian Devil), 'Heaven Scent' (Pepe LePew), 'Hare Trigger' (Yosemite Sam), 'Walky Talkie Hawky' (Foghorn Leghorn), 'Pop Him Pop' (Sylvester Jr.), I could go on and on.
This marvelous book was written by Robert McKimson Jr.and is lavishly illustrated, bursting with colorful images that fill the pages and spark the imagination. It's such a unique pleasure to dive in to the dozens of luscious original model sheets, sketches, full color paintings and stunning animation cells.
As often happens in Hollywood the ones who lived to a ripe old age tend to sweep up the credit for past works, and not always on purpose. The McKimson brothers were more or less gone from the animation scene by the time their work could be appreciated by animation historians (Bob McKimson died in 1977) so their story was largely unknown to folks like myself - until now. 'I Say I Say...Son!' finally sets the record straight with a breezy tone and exciting layouts that virtually burst off the page.
Any fan of Warner Bros. animation or the wonderful Golden Books illustrations will flip over this coffee table treasure from Santa Monica Press. I can't think of a better gift idea for the cartoon nerd in your life (you know, your husband).