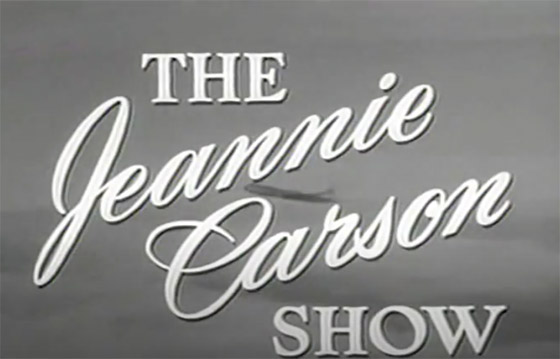 HEY, JEANNIE
by Cary O'Dell
Regular readers of my articles here (and you know who you are and God bless you!), know that I'm always pointing out that, counter to what we often read, Marlo Thomas and Mary Tyler Moore didn't play the first single women on primetime TV.
No, as vital and as important as those two great ladies are, TV was home to other "single gals" taking on big cities long before the Marlo and MTM moved out of their parents' home and into primetime. Even in the 1950s, TV had programs like "Meet Millie" (1952-1956), "Those Whiting Girls" (1955-1957) and "Sally" starring Joan Caufield (1957).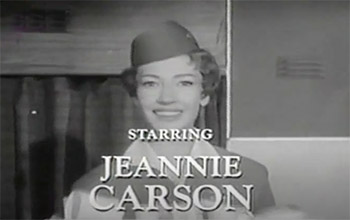 We can also add to this list the two-season (well, kinda) and very obscure series "Hey, Jeannie," also known as "The Jeannie Carson Show." It ran from 1956 to 1958.
As one can ascertain, "The Jeannie Carson Show" starred Jeannie Carson. Carson (born Jean Shufflebottom in 1928) was a British-born actress, singer, and dancer who had become a major name in the UK via her performance in the 1952 stage musical "Love From Judy" and subsequent stage and TV appearances. She was such a star in England that by the early 1950s, she was its second highest-paid female star, out earned only by Vivien Leigh.
It was reportedly on the strength of her "Judy" performance that TV producer extraordinaire Max Liebman decided to bring Carson to the US.
But, before she could come to the States, first, Carson had to change her name. Overseas she was known as "Jean Carson" but the US already had an actress with that name, so Jean became Jeannie.
Newly-renamed, Jeannie had her first notable US credit in the title role of Liebman's TV presentation of "Heidi" over NBC in 1955.
From there, it was into her own starring sitcom.
The show "Hey, Jeannie," as the program was originally named, featured the 28 year-old, British transplant named Jeannie Carson as 28 year-old, Scottish transplant named Jeannie MacLennan. The switchover in Carson's nationality allowed the show to go made for plaid and was explained by the show's star this way, "They think a Scotch burr would be more fun, I guess. I doesn't matter to me. My mother was a Scot. I grew up around the Scotch burr, so it came easily."
In episode one, Miss MacLennan comes to America, wide-eyed, excited and anxious to learn about the Colonies. On her first day, she meets the man who is going to sponsor her as a new citizen—a burly but (you guessed it) lovable Brooklyn cab driver. He was played by Allen Jenkins. The cabbie, Al, even brings Jeannie home to share a living space with him and his sister, Liz, played by Jane Dulo.
Ah, America!
In the series's first incarnation, "Hey, Jeannie" produced and aired 26 half-hour episodes. Two episodes are held by the Library of Congress.
In the first, "Jeanie Goes to Washington" (episode #6), Jeannie, as a proud new would-be citizen, journeys down to DC to learn more about her new country. On her tour of the Capitol, Jeannie shows up her tour guide by knowing far more about the local history than he does. Later, in the episode, Jeannie has a dream where she has become a Congresswoman! As Representative MacLennan, along with having a male secretary, she also forgoes a marriage proposal because she can't bear to turn her back on "her constituents." In the second, "Jeannie in Greenwich Village" (ep. #7), Jeannie moves out of her sponsor's home and encounters some kooky artists in NY's eccentric, beatnik neighborhood.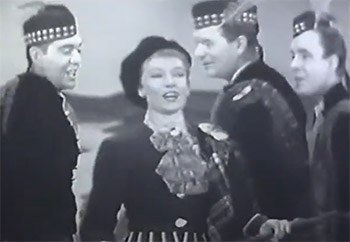 In both episodes, Jeanie also breaks into song. The incorporation of musical interludes into narrative TV shows is nothing new—Gale Storm did it regularly on her namesake show and even "I Love Lucy" often allowed Desi Arnaz to do a tune or two. And the phenomenon continues up to today, consider "Glee" and "Zoey's Extraordinary Playlist." Carson—who would also have a recording career—was a lovely singer and each installment of her sitcom gave her at least one song to perform. For example, in the "Greenwich" installment, Carson sings "When We're Alone."
Throughout the first season of the show, Jeannie took on a variety of jobs. She worked in a donut shop, worked as a golf caddie, and, in one ep, even joined the NYPD!
Throughout all her adventures, most of the comedy for the show came from Jeannie's unrelenting optimism, great sense of trust and endless honesty. (When she files her first tax return in one episode, her to-the-penny exactness and forthrightness almost brings down the IRS!)
When it aired, "Hey, Jeannie" was not a hit and not a critical darling either. "TV Guide" in its annual Fall TV Preview edition liked the show's charming leading lady but bemoaned its stereotyped characters (must all NY cops be Irishmen?) and called most of its situations "implausible." Still, "Jeannie" aired a full, first season of 26 episodes and welcomed to her series such guest stars as Charles Bronson, Jack Albertson and Jack Jones.
Still, despite the show's cancellation by CBS, television did not lose this Scottish lass.
Interestingly, "Hey, Jeannie," got revamped and then offered into first-run syndication beginning in 1958. Though the leading lady stayed the same, the show was now named "The Jeannie Carson Show." The character's name stayed the same but she had moved out of Brooklyn and was now working as a flight attendant for a major US airline.
Though, today, air travel can be an arduous undertaking of long-delays and pajama-clad passengers being treated like so much cattle, there was a time when taking to the friendly skies was a glamourous, dress-uped affair. And, at the time, for lots of young women eager to earn their own way and see some of the world, the role of "stewardess" offered an exciting career path. Certainly, it did Jeannie MacLennan.
In her new series and job, Jeannie's new boss was chief stewardess, Mabel, played by comic personality Vera Vague (a.k.a. Barbara Jo Allen).
As she had been on the ground, Jeannie was pretty proactive and always eager to help. In fact, this incarnation of Jeannie was quite—in today's terms—"woke." In one episode, Jeannie fights City Hall to prevent a highway from being built through her apartment building. In another (the show's finale), Jeannie works with a Native American tribe on obtaining drought relief from the US Government.
Speaking of final episodes, curiously, the syndicated Jeannie Carson show only produced and aired six episodes. And, after that, Ms. MacLennan was grounded for good.
"Hey, Jeannie"/"The Jeannie Carson Show" was repeated some on ABC in 1960s but, after that, the series faded from view and memory.
Carson, however, continued to work and though, Stateside, she never became a household name, she did work on stage in "The Sound of Music" (1959-1963) and enjoyed grand success in the stage version of "Finian's Rainbow" (1960). She interspersed her US stage appearances with variety show appearances, and TV and film roles on both side of the Atlantic. She is still alive today, at the age of 93.