The Art of TV News:
Remembering Aline Saarinen
by Cary O'Dell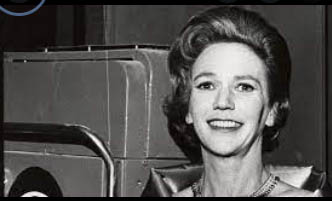 By the time she started her television career, Aline Saarinen was already a 48 year-old widowed grandmother. But none of that—her age, her gender—seemed to slow her down, not judging by the unique, pioneering role she ended up playing in the history of network TV news.
Further, unlike many of her professional colleagues (male and female), Saarinen had a circuitous route to the broadcaster's booth and the interviewer's chair. She came to broadcast journalism, not via the smoke-filled newsroom, but from the rarefied air of the art gallery, the Metropolitan Museum and the well-heeled, high-end press.
Still, it was—at that time—as good of a pathway as any.
Aline Bernstein was born in New York City in 1914. Her mother was a painter and her father, a painter and a tony, well-off investment banker. The childhoods of Aline and her two siblings were steeped in the arts. Aline made her first trip to Europe at age nine. She graduated from the Fieldston School in NY in 1931 and attended Vassar where she majored in English and art. She graduated Phi Beta Kappa.
She published her first art criticism in the "Vassar Miscellany News." She then did her post-graduate work, beginning in 1935, at the Institute for Fine Arts at New York University. Nineteen thirty-five was also the year of her first marriage, to public welfare administer Joseph H. Louchheim. Before the couple's divorce in 1951, they would have two sons, Donald in 1937 and Harry in 1939.
During World War II, Aline Louchheim took on at least two war-related jobs including working for a time as a nurse's aide in Washington, DC. By the end of the conflict, Aline began contributing articles and commentary on the arts to various publications including "Art News" and "House Beautiful." She joined the staff of "Art News" full-time in 1944, eventually working her way up to the position of managing editor. Her first book, "5,000 Years of Art" appeared in 1946. (A second book, on art collectors, "The Proud Possessors," was published in 1958.) In 1947, she was named the Associate Art Editor and Art Critic for the "New York Times."
Throughout her publishing career, Aline's writing garnered praise whether she was writing for the most elite of art journals or for a more general audience. In 1951, she won an honor at the Venice Biennale for Best Foreign Criticism and, in 1953, she won the Frank Jewett Mather Award for best newspaper arts criticism. Along with the visual arts, Louchheim also wrote on the world of architecture. In 1953, for the "New York Times Magazine," she was sent off to interview innovative US architect Eero Saarinen.
Eero Saarinen was a revolutionary visionary of building and design. His work (original and forever copied) defined much of the national aesthetic from the middle of the 20th century up until present day. Known for his use of curved, sweeping and clean lines, Saarinen designed the St. Louis Arch, DC's Dulles Airport and the TWA terminal at JFK Airport in New York, among other famous structures. He also created many of the most iconic works associated with mid-century design including the futuristic-looking pedestal table, pedestal chair and womb chair.
Aline and Eero married in 1954. Together, they would have one child, a son named Eames.
Sadly, Eero died in 1961, at age 51, while undergoing surgery for a brain tumor. Aline—who had adopted "Saarinen" (its first syllable pronounced like "czar") as her professional name—who had been working for her husband's firm, departed the company shortly after his death.
It was in 1962 that Aline Saarinen began her impressive "second act," one that brought her to television. She said in an interview, "After Eero died in 1961, I hid away in the house in New Haven. Then [in 1962], they put the Rembrandt on exhibit at the Met and TV interviewed me about it."
Erudite but remarkably approachable, Saarinen was a success with audiences and soon found herself in on-air demand. In short order, she was contributing broadcast reports (usually arts related) on NBC's "Sunday" show and on its morning "Today" show. In 1964, she was hired as a full-time correspondent by NBC.
By the time Saarinen arrived women on the air in TV were rather few and far between. The great Pauline Frederick had broken the gender barrier first, first working for ABC TV (after beginning her career in radio) in 1949. She was followed by other women including Nancy Dickerson, Lisa Howard and the legendary Barbara Walters. And then Aline Saarinen arriving around the same time as Liz Trotta and Marlene Sanders. But, despite these women's sometimes high profile on TV news, the number of women working on the air was still countable on your fingers.
At NBC, Saarinen helmed or participated in various weekend and primetime documentary specials including "The Art of Collecting" in 1964; "Bravo Picasso!" in 1967; "The Art Game" in 1968, and "Art and the Bible" in 1969.
Slowly, Saarinen's arts beat, however, became almost incidental to her other reports. In 1965, she was in Houston to cover the launch of the Gemini 4. In September of that same year, she was sent off by the network to report from Vietnam. In 1968, she was part of the news team that covered the infamous, riotous Democratic National Convention in Chicago. There, as part of her coverage, she interviewed sixties radical Abbie Hoffman.
Also beginning in 1968, Saarinen was a regular, daily visitor into New York living rooms when she became the first host of the daytime talk show "For Women Only." The program gathered together a Monday through Friday mix of expert panelists to discuss an array of topics pertinent to women, from (according to the press at the time) "abortion, the generation gap and old age." In her role as moderator the "New York Times" once assessed her on-air approach as "Her camera style was informal to the point of hominess, and she did not fear to cut off boring or over-talkative guests. On one occasion, she dismissed Mrs. Herbert Humphrey with a curt 'I thank you.'"
Saarinen continued with the program until 1971, when the title was altered to "Not for Women Only" and it began to be syndicated nationally; Barbara Walters assumed its hosting duties.
It was in the following year that Saarinen achieved perhaps her greatest TV legacy. She was appointed a network news bureau chief, overseeing the Paris bureau. When Saarinen assumed the job, she became the first woman to ever helm an overseas network new office. That position, too, came to her via an unusual route. Saarinen disclosed later, that, a few years prior, then CBS News head Fred Friendly had approached her about taking on that very role for his network. But Saarinen had to decline; she was under contract to NBC. About a year later, however, NBC news chief Reuven Frank approach her with an identical offer. "When the offer finally came," she said, "It was like I was given a second chance."
In the announcement of her new post, Frank said of Saarinen, "[She's] an experienced reporter with a good background for foreign reporting. An all-around journalist…"
Aline Saarinen assumed her new role in July of 1971. Along with France, Saarinen would also be in charge of the news gathering from The Netherlands, Luxembourg, and Belgium. Coverage of Spain would be split between her office and the one in Rome.
Considering her rapid rise within broadcast news—and the great esteem in which she is still held—it is quite possible that Aline Saarinen might have achieved a host of other "firsts" and other achievements in this, her second career. But, sadly, only a few months after assuming her new overseas post, Saarinen was diagnosed with a brain tumor. She battled it for seven months before succumbing to it in July of 1972. Saarinen was only 58 years old.
Upon her passing, Saarinen was eulogized, for not only her achievements but also for the grace with which she accomplished them: "At a time in the history of the electronic media when so much that is tawdry and boring appears on screens, the absence of a superior commentator […] is a serious loss to the industry and to the public."