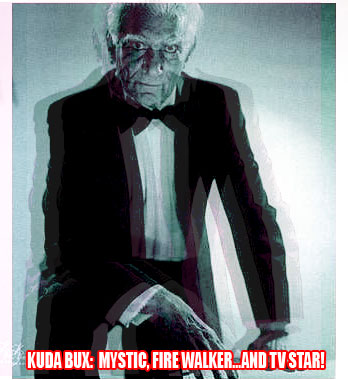 by Cary O'Dell


As hard as it may to be believe today-- when the current TV landscape features people who identify themselves as "professional" Bigfoot hunters as well as about a thousand Kardashians--early TV, too, had its own group of highly successful eccentrics.

Kuda Bux was a self-described Indian "mystic." Among other labels, he was known as "The Man with X-Ray Eyes" and his most famous feat was having his eyes blindfolded (in fact, his entire head swathed in layers of white gauze) and still being able to "see." To prove his mystic vision, Bux, while blinded, could and would do just about anything: read books, light candles in front him, step over obstacles in his path and even drive a car!
This bizarre ability, along with is famous other skill (walking over hot coals) made him a minor sensation from the 1930's on through the '70s.

It even, briefly, made him a TV star.

Believe it or not, for a few months in the spring-summer of 1950, CBS primetime aired a weekly program that starred Bux and his special phenomena. "Kuda Bux, Indian Mystic" aired every Saturday night, from 6:30 to 6:45pm, from March to June of 1950.

Bux was born Khuda Bakhsh around 1905, high up in the Himalayas, in Akhnur, Kashmir, India. Somehow, by the 1930s, he had reinvented himself as Kuda Bux, mystic, and had migrated to England. By the middle of the '30s, he the subject of ample press coverage in Britain for both his blindfolded "vision" and his ability to walk unharmed over long paths of white-hot coals without flinching or have his feet scorched.

His unique abilities drew the attention not only of the press and the public but also the UK's scientific community. In September of 1935, Bux (described at the time as a "lithe youth") appeared before a panel of British doctors, researchers and investigators and demonstrated his firewalking. After he trod over the 800-degree blistering coals, his feet were thoroughly examined and not a burn or sear could be found on them! "I feel absolutely no pain," Bux was quoted as saying at the time, a remark that two British college students on hand that day could not echo when they tried to repeat the Mystic's feat. They each took only one or two steps on the coals before leaping off the heat and onto the cool grass next to it

Along with his firewalking bit, Bux also astounded the Brits with his "magic seeing" ability. Thoroughly blindfolded, he could nevertheless read aloud from books he had never seen before and, once, he even rode a bicycle through downtown London traffic, never hitting a soul.

Bux always credited his abilities—his magical vision and fireproof feet—not to some sort of trickery but to his enlightenment and spirituality.

But, not surprisingly, not everyone was a believer. One day after his earlier firewalking was "proven," noted English debunker Joseph Dunninger went on record, and in the papers, saying that Bux's stroll over the heat was a matter of timing—both of how long his feet were on the coals and how long the fire had been burning.

Still, such skepticism did little to distract Bux's believers or dissuade audiences who wanted to come and see for themselves. Eventually, Bux traversed the pond and brought his abilities to the United States.

Bux was a hit in New York where, it seems, there was nothing that he couldn't do while blindfolded. And not just blindfolded: in order to truly amaze viewers, Bux insisted when demonstrating that his eyes, in fact, his whole head always be completely covered, almost obliterated. First, wads of putty or dough would be placed in his eye sockets and then those mounds would be covered with thick pieces of gauze. Then, long strips of white bandage (some say as much as 26 feet) would be wrapped and rewrapped around his entire head. When he was thoroughly wrapped, Bux looked like a severe burn victim or, perhaps, the invisible man. Each time, only a small hold was left through which Bux could stick his nose and he'd be able to breath.

Then the feats would commence.

On stage, one of the biggest crowd-pleasers was to have an audience member write something on a chalkboard. The now completely wrapped Bux would then stroll up to the board and rewrite exactly what they wrote. Easy for him to do, it seems, because he was the man with X-ray eyes!

Bux made his first big assault on the media (and the majority of the nation) in August of 1938 when he was a guest on the radio version of "Ripley's Believe It or Not!" Hosted by Robert L. Ripley, the show was one of the first to engage in remote broadcasts. And it was from the parking lot of Radio City Music Hall that Ripley broadcast his dramatic live coverage of Bux's remarkable firewalking.

As in England, not everyone bought Bux and his abilities. Just before being on "Believe It or Not!," Joseph Dunninger (apparently the James Randi of his day) again challenged Bux and his alleged X-ray vision. He offered Bux $10,000 to repeat one of his reading feats but with his head inside a paperbag not encased in gauze. Bux refused.

(Earlier, back in the UK, Bux refused to walk a boiling trench when its heat was measured to be about 2,000 degrees. Bux stated that the employment of scientific instruments had disturbed the religious nature of his process and he could not continue.)
But, despite the controversy, or perhaps because of it, Kuda Bux was able to carve out a busy show biz career touring the country with his act that involved his eye-less seeing and other impossible feats. In 1940, he even acted on the big screen in the film "They Came By Night." Then in 1949, Bux came to the then new medium of TV via the appropriately titled show "I'd Like to See," that aired on the now defunct Dumont network. "I'd Like" began in November of 1948 and was a kind of a precursor to "You Asked For It." Ray Morgan acted as the show's host. Bux joined the show in January of '49 as the program's only other regular. Viewers would write in to suggest things that Bux should attempt to do blindfolded. (Among the suggestions—playing cards and playing pool.)

Then, in March of 1950, Bux signed to have his own weekly show over CBS. Sponsored by Mason Candy, the show aired each Saturdays from 6:30pm to 6:45pm. (Fifteen minute programs were not all that unusual on TV at this time.) Along with Rex Marshall, who acted as the show's announcer, Judy Tyler appeared as Bux's on-air assistant. For TV viewers, Bux seemed to look and sound the part of an Indian mystic. His native accent never left him and he possessed eyes equipped with unusually large and dark pupils.

Today, it seems odd that people would tune in week after week to watch a man, his head buried in gauze, supposedly read something or write on a blackboard and, all the time, chalk it up to mystic vision. And the short life of Bux's show—it ran only until June—suggests that the novelty didn't last long. Still, it's an interesting insight (pardon the pun) into what TV looked liked in those early, early days.

Today, Bux's firewalking trick is now accepted as something anyone can learn and often do at corporate retreats and the like. Oprah even famously once did it and, of course, filmed it for the world to see. As for Bux's "vision," most now ascribe his ability to an old magician's trick called "nose reading" which allows a person to capably see down the side of their nose. This would explain why, in his performances, Bux always had a small opening around his nose and also why he refused Dunninger's paper bag challenge.

After the end of his short TV career, Bux returned to touring. In 1955, a show of Bux's in Ohio drew a crowd of 900. His act that evening climaxed with the blindfolded Bux firing a rifle at some balloons on the other side of the stage.

With time, and one supposes a growing cynicism among the populace, Bux (whether he liked it or not) seemed to move away from being called a mystic and instead got relabeled a magician—someone perhaps positioned somewhere between Houdini and the Amazing Kreskin. He was billed as a "magician" when he appeared on an episode of "Captain Kangaroo" in 1959. But in an interview with a South Carolina newspaper in 1968, he still maintained that his "gifts" were the result of "concentration, patience and faith."

Then, as if Bux's life and career wasn't esoteric enough, he also has a Joan Rivers connection. In the first installment of her memoirs, "Enter Talking," the late queen of comedy talked about working for a very brief time as Bux's onstage assistant. It was not a fruitful partnership and it last only two performances. In the first one, where Joan was outfitted in an ill-fitting, oversized Indian costume, Joan carried on silently as the disappearing girl and as the woman who was sawed in half. In the second show, to try to liven it up, Joan added her trademark wit, yelling out "Ouch!" and "That's cold!" when Bux's magic "blades" supposedly cut in to her. She was fired by Bux the next morning.

Later, Bux became a regular at Hollywood's renowned Magic Castle. He continued his nightclub tour and made the occasional TV appearance. He was on "Truth or Consequences" in the '60s and was a guest on "Mike Douglas" in 1979. Ironically, later in life, he developed cataracts and lost the sight in one of his eyes. Still, he continued to perform. He died in February of 1981. Until the end, he never revealed his secrets.
1950's TV Shows / Fess Parker & Davy Crockett / First Sitcom Couple To Share A Bed / Jack Benny Program / Highway Patrol / Betty Hutton Show / 1952 Olympics Telethon / Amos 'n' Andy / Little Rascals & Our Gang / Howdy Doody / The First Batman Movie From 1943 / Who Was the REAL Aunt Jemima? / Freedomland USA / John Wayne Won Lassie in a Poker Game! / Lucy's Sitcom Before I Love Lucy / The Lone Ranger / It's Always Jan / 1950s Shows I NEED To See / Jack Lemmon & Billy Wilder on Marilyn Monroe / So This Is Hollywood / Audrey Meadows Refused To Do This For Jackie Gleason / When Jerry Lewis Ceased To Be Funny / The Plainclothesman / Buck Rogers in the 25th Century / Remembering Tony Dow / First Solo Female Series / Kuda Bux / Was the 1959 Santa Claus Movie Too Christian?!? / When Judy Garland's Daughters First Saw The Wizard of Oz / TV During WWII / Top Ten TV Shows 1950s / Jack Larson's Suprising Life As Superman's Jimmy Olsen in the 1950s / Judy Garland's 2nd TV Special and Las Vegas Debut / Early Network News Broadcasts / Lost Desilu Sitcom: Those Whiting Girls / Lost Superboy Pilot / The Shadow 1954 Pilot / KTLA News / / Kid Show Pioneer Herb Sheldon / Aline Saarinen / Tribute to Sandy Becker / The Adventures of Dr. Fu Manchu / / O.Henry Playhouse / NYC's First Bozo Bill Britten / The Magical Land of Alakazam! / 1950s and 60s Bloopers / TV's First Working Woman / Cannonball - 1950s Trucking Drama / Sonny Fox Kid Shows / Lauren Bacall on Bette Davis / Sunset Boulevard Explained / Abbott & Costello TV Show / The Three Stooges: The Where They Were / The First 'Black' Show - Beulah / Women on TV in the 1950s / The Today Show / Hey Jeannie / The Jeannie Carson Show / TV's First Educator Paul Tripp / Ernie Kovacs / Soap Opera Miss Susan / Adventures of Superman Lost Episode / Bette Davis vs Ronald Reagan / Captain Z-Ro / Obscure Actress Mary Castle / Serious 1950s TV shows / Remembering David Susskind / TV's First Rerun Series / The Ken Murray Budweiser Show / Saturday Morning Serials / Two Variety Shows of the Fifties / Game Shows of the Fifties /1950's TV Wrestling / Greensboro's Soda Pop History / Mr. Adams and Eve / TV's First Star / Oh Susanna! the Gale Storm Show / Bob Hastings / TV's First Star / History of the Laugh Track / The First Interactive Video Game / Designing Winky-Dink / Buffalo Bob Smith / The McKimson Brothers & Animation / Interview with a Show Business Legend / The Soundies / Snaders Telescriptions / Steve Allen Interviewed / Racket Squad / December Bride / The Big Show / Beverly Garland & Decoy / Richard Crenna & The Real McCoys / Roger Muir / Noel Coward's 1955 TV Special / Jon Provost Interview / 1950's TV Shows on DVD / Oh Susanna! The Gale Storm Show / 1950's Old Time TV Thanksgiving / Outrageous 1950's Commercial! / The Real Superman? / Mickey Mouse Club's Cheryl / Gale Storm / Captain Allen Swift / NYC's St. Patrick's Day Parade Telecasts / Julie London / The Goldbergs / 1950's Female Singers / The Dead End Kids / Bowery Boys / Fred Allen / Ed Wynn / Mr. Belvedere Movies / Art Linkletter / The Bickersons / Marty & Live TV / George Gobel & Red Buttons / Barbara Billingsley / Billy Gray Interview / Abbott & Costello Show / The Honeymooners / Three Stooges' Joe Besser / Whirlybirds / Burns & Allen Show