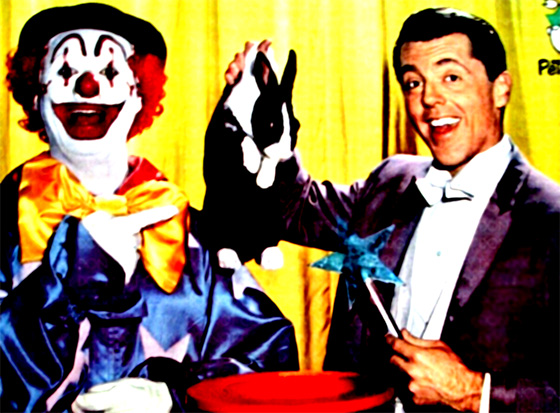 Remembering Kids' TV Master Magician Mark Wilson
by Kevin S. Butler
Sadly, kids' TV's 'Master Magician' Mark Wilson, who was in charge of 'The Magic Land Of Alakazam', 'Mark Wilson's Magic Circus,' and 'The Magic of Mark Wilson' died on January 19, 2021.
Mark's TV productions set the standard for other magic shows to follow because all of the illusions were presented without camera tricks, as if he were on the vaudeville stage.
A native New Yorker, James Mark Wilson was born on April 11, 1929, during "The Great Depression". Mark's parents encouraged him not to allow any obstacles to prevent him from obtaining his goals and, also, to be kind and respectful to others.
He was introduced to magic when he attended a performance given by Tommy Martin in Indianapolis, ID. Impressed by Mr. Martin's talent, he eight year old fellow began purchasing a deck of cards and he was soon developing his own act.
Wilson also added other illusions to his act, by the time he attended high school in Dallas Texas he took a part time job as a demonstrator of magic tricks at Douglas' Magicland (a local magic shop) hoping that this would be a showcase for his talents as an up and coming entertainer.
Unfortunately, venues for magicians were limited, vaudeville was being phased out by television shows so he needed to find a means to revive his act. Mark enrolled into Southern Methodist University's School Of Business Administration where he majored in advertising. His engaging personality and talents earned him the title of head cheerleader and president of his fraternity.
It was also during his tenure with Southern Methodist University that he met the woman who would become a major part of his act and his life when Nani Darnell met Mark during a New Year's Eve Party in 1952. The pair fell in love and soon married.
Realizing that TV could be the best showcase for magic, Mark, Nani, and their son Mike hosted a local children's show titled 'Time For Magic' seen in the Dallas,TX. viewing area in 1954. Illusions were presented as the main feature of the series, not merely as segment.
The show became popular with Dallas' viewers but Mark aspired to present magic to a national viewing audience. He tried selling his concept to the three major networks but they all rejected Wilson's concept, concerned that magic was simply an occasional attraction for variety shows.
It wasn't until 1960 that Mark was finally able to present 'The Magic Land Of Alakazam' to the Leo Burnett agency who in turn made a deal with CBS TV to add the series to their Saturday morning schedule.
The show was sponsored by Kellogg's as a means of promoting their new breakfast cereal, Kelloggs All-Stars.
There was one stipulation. The magic would have to be wrapped around reruns of Hanna-Barbera's popular cartoon series, 'The Huckleberry Hound Show.' Mark and his staff objected to this intrusion, he felt that there was no need to add cartoons to the format.
The heads of Leo Burnett and one of CBS TV's top execs, James Aubrey, disagreed. They felt that audiences would not sit still for a show that featured only magic. Wilson and his staff had to accept the cartoons as a part of the deal.
On Saturday morning October 1,1960 CBS opened the gates to 'The Magic Land Of Alakazam'. Audiences enjoyed the magic performed by the Wilsons and by Rebo the Messed Up Magic Clown (played by the late Bev Bergeron). Within time, the cartoons were dropped from the program and a storyline was added where Mark would use his "powers of sorcery" to either aid "The King Of Alakazam" (played by Bob Tower) when he
he needed help with a problem or? to foil the evil deeds of the Wilsons arch foes Evilio The Wicked Magician and Witch Hazel.
With the addition of the fantasy backdrop, he series became a success but the show soon fell prey to creative interference from infamous CBS TV exec Jim Aubrey. When Bev's Rebo needed a set for a skit for a certain episode Aubrey refused to provide the funds and the manpower to build a Magic House backdrop for the show's resident buffoon.
Luckily for Bev, he became friends with another popular clown, Red Skelton, who allowed him to borrow his Freddie The Freeloader set for the skit. This kind gesture didn't go unnoticed by Mr. Aubrey who became enraged by Skelton allowing Bev to use his one of sets.
Aubrey continued to disrupt the show until the Wilsons and their cast and crew had had enough of this creative sabotage. The series left CBS and moved to ABC on September 29, 1962 where it was seen in reruns on Saturday afternoons until the enchanted portal for 'The Magic Land of Alakazam' closed for good following the Saturday December 12, 1964 broadcast.
NEXT - PART TWO:
The 1964 and 1965 NYC World's Fair and Nationwide Fame!