by Billy Ingram
Now that the Aunt Jemima brand is no more, just where did 'Aunt Jemima' originate?
In mid-1850s, before the character became associated with pancakes, "Aunt Jemima" was a minstrel show character, the archetypical southern 'Mammy,' played by a white male in blackface.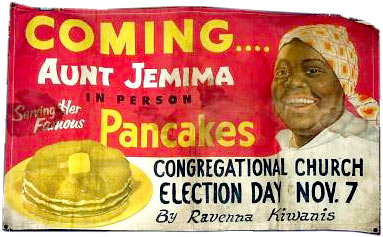 The first real-life Aunt Jemima was former slave Nancy Green who signed an exclusive lifetime contract with pancake mix makers The Pearl Mining Company in 1893 to make public appearances as the character.
Lifetime contract? Isn't that the very definition of slavery? Still, it provided this lady an opportunity to do what she loved, entertain appeciative audiences.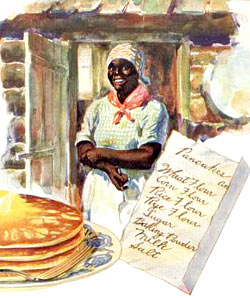 "On the old plantation," the legend (1920's advertisements) went, "Aunt Jemima refused to reveal to a soul the secret of those light fragrant pancakes which she baked for her master and his guests. Only once, long after her master's death did Aunt Jemima reveal her recipe. It's still a secret."
All of this was decades before The Quaker Oats Company bought the recipe and brand in 1926.
In public exhibitions, including the 1893 World's Fair in Chicago, Nancy Green sang, flipped pancakes and told farcical fables of how contented plantation life was while wearing an apron and bandana.
Sure enough, Nancy Green maintained her role as Aunt Jemima until she was run down by a car and killed on Chicago's southside on September 24, 1923. She was 89.
Ms. Green was a strong, independent business woman but was most certainly not a millionaire when she passed as recent stories have reported.
The success of Amos 'n' Andy in the twenties led to the CBS radio network signing blues singer Tess Gardella to play Aunt Jemima in 1931.
The series was based on her portrayal of Aunt Jemima in a 1920's stage review. That familiar, smiling black woman (actually a painting) first appeared on boxes of pancake mix in the early 1890s.
---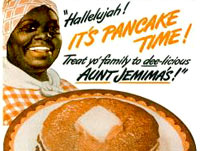 Tess Gardella, a white woman in blackface, was hired to replace her.
Heavy-set Tess Gardella was a hit on the vaudeville curcuit in the 1920s portraying Aunt Jemima in an act that included a blues song written by Irving Berlin, that went, in part:
"Hellooo everybody, don't you know my name,
I'm Aunt Jemima of the pancake fame,
See me in the subways here and there,
In fact I'm on the billboards everywhere,
The pancake business it was low,
So I got my pancake bakers and went out to get the dough,
Because I'm Aunt Jemima and my five bakers,
They're all ragtime shimmy shakers,
We got kind of tired of the place that we were at,
We all walked out and left the pancakes flat."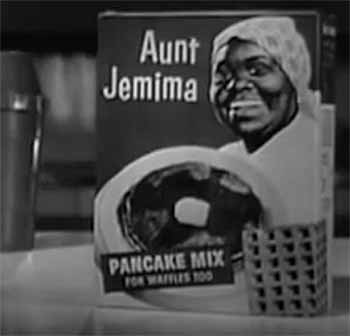 Aunt Jemima the radio program starring Tess Gardella aired from 1931-33, with revivals in the 1940s and in the 1950s when Amanda Randolph (Saffire's Momma on Amos 'n' Andy) assumed the role.
Edith Wilson was chosen portray Aunt Jemima in television commercials and in personal appearances from 1948 to 1966.
Documentary about Aunt Jemima during the early days of Disneyland
From 1955 until the early-sixties, Aylene Lewis served up pancakes and posed for photos with kids at Aunt Jemima's Pancake House located inside Disneyland at Frontierland, rebranding as Aunt Jemima's Kitchen in 1962. This concept was so successful Quaker Oats opened a chain of Aunt Jemima's Kitchens around the country serving traditional breakfast platters, a chain that prceeded IHOP, Waffle House, and Denny's to become the very first of its kind.
Descendants of Lillian Richard, who toured the country as one of 12 Aunt Jemima brand ambassadors beginning in 1925, released a statment: "Erasing my Aunt Lillian Richard would erase a part of history. All of the people in my family are happy and proud of Aunt Lillian and what she accomplished."
The Richard family was upset that Quaker Oats didn't consult them before announcing their decision to rebrand and drop the offensive mascot. I don't see how they have much of a case, her being only one of at least 12 other Aunt Jemimas and didn't originate the role.