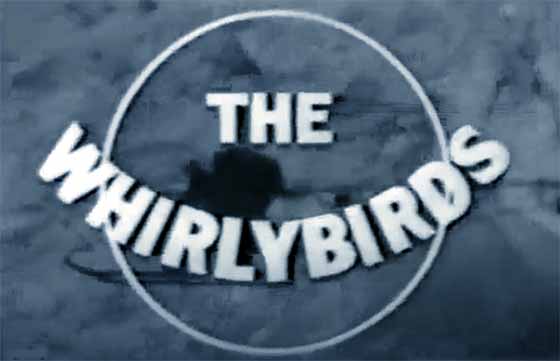 Whirlybirds
by Billy Ingram
Whirlybirds is one of those TV shows I remember fondly. Perhaps the reason I loved this show so much is, the only opportunity I had to see it was when our family vacationed at the beach for two weeks in the mid-sixties. That's also when I was introduced to Dark Shadows, I still enjoy watching that one!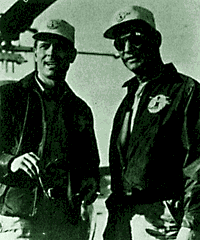 Whirlybirds aired from 1957 well into the 1960s, a was a syndicated show with a huge juvenile audience. 111 episodes were filmed between 1956 and 1959 but reruns continued to be popular for many years afterward; I saw it in the mid-1960s.
The adventures centered around Chuck Martin (Tobey) and Pete (P.T.) Moore (Hill), owners of 'Whirlybirds, Inc', and their faithful secretary Janet Culver (Sandra Spence).
Actually, Janet left after the first season and was replaced by Helen Carter (Nancy Hale) so I guess she wasn't so faithful after all.
Desilu produced the program, in fact the idea came from Lucy herself, from an episode of I Love Lucy in which Lucy Ricardo commandeers a Bell 47 to board a trans-Atlantic ocean liner that had sailed without her.
Famed film director Robert Altman directed 19 episodes of Whirlybirds, his first regular gig.
Often the boys would be called in to help the police locate an escaped prisoner, or save some stranded fool out in the middle of nowhere. This would inevitably lead to one of the guys dangling at the end of a rope at some point in the episode - when they didn't just outright jump out of the helicopter. Don't try this at home!
Craig Hill, who played P.T. Moore, the co-owner of a helicopter chartering company, in the 1950s syndicated TV adventure series Whirlybirds, died in 2014. He was 88. Hill died in Barcelona, family members told the newspaper. He had lived in Spain for decades.
Moore and his partner, Chuck Martin (Kenneth Tobey), flew Bell 47 light helicopters out of the fictional Longwood Field in Southern California to aid in search-and-rescue operations or to fly rich clients around.
---
"The National Helicopter Service provided all the helicopters and expertise in all but the first 4 episodes of the show. You can visit our website at www.nationalhelicopter.com for a few photos. We will soon have many more photos from the show on-line."
Regards, R Hart