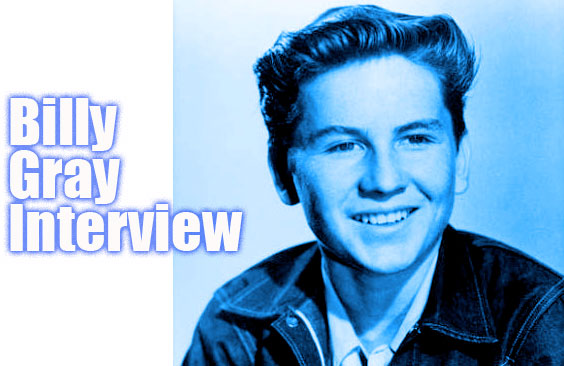 Billy "Bud" Gray discusses 'Father Knows Best' and smoking bud
by John Stahl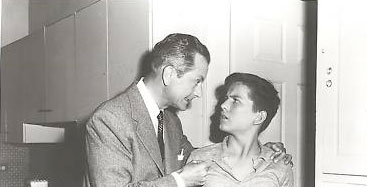 Billy Gray, who played teen Bud Anderson on the 1954-1960 sitcom "Father Knows Best" (FKB) told me, while discussing the DVD release of the series' fourth season, that a 1962 arrest for possessing "marijuana seed and residue" ruined his career.
Gray said that a cop stopped him while Gray was parking and then searched his car after detecting the odor of marijuana. Gray shared too that he had forgotten that he had the bag of seeds and residue in the car and had kept it to give to a friend to see if his friend could get some seeds to take root. He did not mention if the cop was a "Leave it to Beaver" fan.
Gray stated as well that his defense that the officer lacked probable cause to approach Gray in the first place failed and that the judge sentenced him to a prison term of between one and ten years. Gray served 45 days.
When asked if other inmates had attacked him either because he was famous or simply because he was an attractive young guy, Gray responded that he was punched in the face because "I was in striking distance of his fist." Gray chuckled and replied negatively if I asked if he was the victim of a more serious physical assault.
I also asked Gray if he had thought about the direction that his career would have taken if he had not been arrested; after a little prodding that included my speculating that he might have played a sailor on "McHale's Navy" or a young newlywed on another sitcom, he stated that "it [any role that he played] would have been an extension of Bud."
Our discussion regarding Gray's "unfortunate incarceration" led to a candid talk about marijuana. My comments prompted Gray to remark that I obviously did not smoke.
I confessed only that there was one night when I was in college that I found a kitchen witch potholder that was hanging on a cabinet in a friend's house so funny that I could not stop laughing. I meant to tell Gray as well that that friend had also once paid $40 for a sandwich bag that he later discovered was full of oregano.
Gray told me that he began smoking pot when he was fourteen. When asked if he was ever high on the set, he responded that he was once.
Gray related that he had not been scheduled to work but that nice weather prompted the producers to call him in to film an outdoor scene that involved him mowing the lawn. When I remarked that he probably had a big smile on his face, Gray laughed and said "I probably did and probably also had very red eyes."
Gray did not remember the specific episode or the season in which it aired; he did say that the plot involved a member of the Anderson family damaging a neighbor's rose bush.
Gray and I also discussed his advocacy of legalizing marijuana. I told him that I agreed with many arguments for legalizing marijuana but that kids particularly who were caught breaking any law should be held accountable for their actions. I truly was not on anything stronger than several bite-sized Butterfinger bars when I missed the significance of Gray's response that possession should not ruin their lives.
I was thinking that Gray was referring to teens getting a criminal record and losing the chance to attend college. I realize now that he was most likely referring to his own situation.
I did express the opinion that it did not seem that it would be a big deal if a current child star was arrested for possessing marijuana unless it was contrary to their image. I went on to predict that Disney would likely fire Cole and Dylan Sprouse, a.k.a. Zack and Cody, if they were caught with the "evil weed." Gray agreed with my analysis.
Gray was equally candid regarding FKB; he shared that the quality of the show improved drastically when Peter Tewksbury became its director in its third season. This admiration was very clear in many of Gray's statements.
For example, I asked Gray if looking like the 19 year-old man that he was during FKB's fourth season made playing a 16 year-old difficult. He stated that he and Tewksbury had a few discussions regarding this and that Tewksbury did his best to portray Bud as a mature 16 year-old.
I additionally asked Gray if his amusing physical bits in the fourth season episodes were improvised; he responded that they were not and commented that "Peter Tewksbury was incredibly thorough and planned exactly how everything would go down."
I further referred to the good quality of the filming and other technical aspects of the program; Gray responded that the cinematographer and every other technical person on the show was "top notch" and that "[series producer] Eugene Rodney went out of his way to get the leading people in their fields."
A conversation regarding how FKB maintained its integrity and did not resort to cheap stunts prompted me to remark that Ozzie and Harriet were product placement whores. This triggered Gray to remember that a well-known music producer whose name that he could not recall approached him about having Bud sing ala Ricky Nelson in latter seasons of FKB.
Gray told me that he recorded a few songs but did not keep the tapes; he shared as well that the show's producers choose to not pursue the singing idea but that he did not recall why.
The subject of music led to my asking about the absence of rock music from the 1957-58 fourth season episodes. Gray speculated that that absence was attributable to desires to "avoid controversy" and to not date the show. He said too that the show never would have played the music of Buddy Holly or Elvis when I mentioned those names.
Gray did express frustration regarding the tone of the show. On the broadest level, Gray criticized the insistence of Kent Cigarettes, which sponsored the show, that the question mark be removed from the original title "Father Knows Best?" Gray told me that series star Robert Young intended that the show depict that Father did not always know best, but that Kent wanted the father to be shown as being infallible. This was because Kent wanted to present a stronger image for its product.
Gray stated too that the chauvinistic elements of the program bothered him; one example that he provided was an episode in which oldest daughter Betty, played by Elinor Donahue, was having trouble with a professor at her college. Gray told me that either Young or his TV wife, played by Jane Wyatt, advised Betty to swap the blue jeans that she had been wearing to class for dresses.
Gray shared further that the absence of black people in any on-screen role angered him in this era in which the civil rights movement was taking root. He provided the examples of Rosa Parks sitting at the front of the bus and the Brown v. Board of Education decision from the U.S. Supreme Court that required integrating public schools.
When I asked if anyone ever recognized him because of his role on FKB, Gray responded that he was recognized more often because of his championship motorcycle racing.
Gray has also invented items that include a special guitar pick and the love n' thumb massager that allows someone to work out kinks in muscles by themselves. I cannot play the guitar worth a lick but am eager to try the massager.
I invite those of you who would like to share your thoughts on Gray, FKB, or merely your special fondness for 4:20 in the afternoon to e-mail me at tvdvdguy@gmail.com.