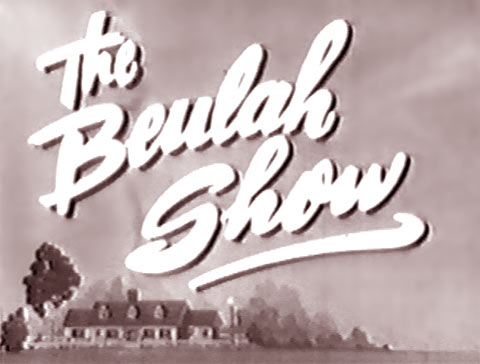 by Billy Ingram
Filmmakers faced a major challenge when they wanted to cast Black actors in mainstream motion pictures prior to the 1960s. How do you create a situation where blacks and whites would realistically be in the same place at the same time, interacting in any meaningful way with one another? It rarely happened in real life; therefore, without putting the Negro character in a servile position the situation would be rejected by an audience keenly aware that they were living in a strictly segregated society.
That's why Billie Holiday and Louis Armstrong found themselves cast as home workers in their film debuts (New Orleans in 1946); snuck into the movie through through the back door, the servant's entrance of the entertainment business.
Watching the immortal blues singer Billie Holliday forced to play a domestic in her only movie appearance is painful. If ever anyone looked ill at ease in a maid's uniform, it was proud Lady Day, who gave voice to the ultimate musical indictment of slavery, 'Strange Fruit.' "I fought my whole life to keep from being somebody's damn maid," was her bitter pronouncement.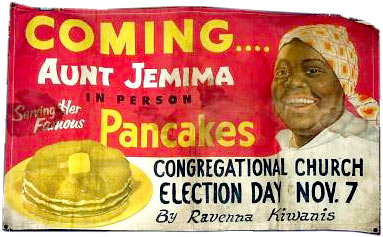 And so it was
on network radio...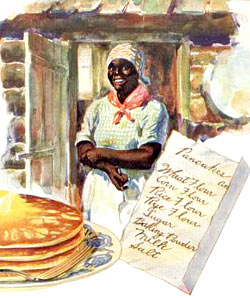 The success of Amos 'n' Andy in the twenties led to the CBS radio network signing blues singer Tess Gardella to play Aunt Jemima in 1931.
The series was based on her portrayal of Aunt Jemima in a 1920's stage review. That familiar, smiling black woman (actually a painting) first appeared on boxes of pancake mix in the early 1890s.
"On the old plantation," the legend (1920's advertisements) went, "Aunt Jemima refused to reveal to a soul the secret of those light fragrant pancakes which she baked for her master and his guests. Only once, long after her master's death did Aunt Jemima reveal her recipe. It's still a secret." (All of this was decades before Quaker Oats bought the company.)
The first real-life Aunt Jemima was former slave Nancy Green, who signed an exclusive lifetime contract with the pancake mix makers in 1893 to make public appearances as the character.
Lifetime contract? Isn't that the definition of slavery?
STORY CONTINUES AFTER THIS AD
---
---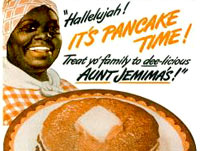 In public exhibitions, Green sang, cooked pancakes and told fables of contented plantation life. Sure enough, Nancy Green maintained her role until she was run down by a car and killed on Chicago's southside on September 24, 1923.
Tess Gardella, a white woman in blackface, was hired to replace her. Aunt Jemima the radio program (starring Tess Gardella) lasted from 1931-33, with revivals in the 1940s and in the fifties when Amanda Randolph (Saffire's Momma on Amos 'n' Andy) assumed the role. Edith Wilson was chosen portray Aunt Jemima in television ads and in personal appearances from 1948 to 1966.
"Got de world in a jug, Lawd,
got de stopper in my hand."
- opening to Beulah, 1945
Another happy-go-lucky, dizzy domestic in the spirit of Aunt Jemima was Beulah, brought to life in 1939 when Marlin Hurt introduced the character on Hometown Incorporated. In 1943, Beulah moved over to That's Life before changing employers again and finally settling in at 79 Wistful Vista, the home of Fibber McGee and Molly, one of network radio's most popular (and longest-running) programs.
Hurt based his performance on the childhood maid he knew growing up in the deep South. His Beulah was a simple-minded but well-meaning meddler, adding a bit of spice to what was otherwise a bland, easy going sitcom.
The reaction to Beulah was overwhelming. Marlin Hurt had a unique way to jump start his appearances when Fibber McGee would call out for the maid. Hurt, with his back to the studio audience, would whirl around quickly and shout, "Somebody bawl fo' Beulah?" The crowd would collapse in laughter. "Somebody bawl fo' Beulah" became a popular catch phrase, as did another Beulah-ism, "Love dat man!"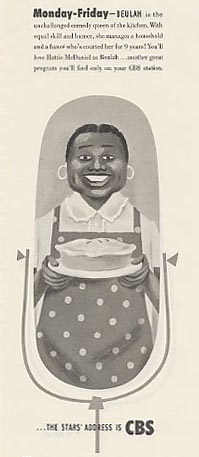 Marlin Hurt as Beulah was launched as a half-hour sitcom in 1945, the second successful spinoff of Fibber McGee and Molly. (The Great Gildersleeve in 1941 was first, that was the first spinoff from another show ever).
In this new format, Beulah was like a deferential Lucy Ricardo, continually getting her employers (the Henderson family) in - then out of - all sorts of trouble. Sitcoms being what they are/were, eventually the time would come in every episode when well-meaning Beulah confessed, "Yes 'um, it's all my fault, Mr. Henderson." But ultimately Beulah miraculously saved the day with her earthy wit and blind persistence.
If a servile maid spouting malapropisms wasn't exactly a racial slur, then certainly Beulah's lazy boyfriend Bill Jackson fit the description. Slow moving, hardly-working, hard-eating Bill tries his best to get there "after the job is done."
From the radio show with Hurt:
Beulah: "Who's came knockin' at my door, three hours late?"
Bill: "It's Bill, baby. No pain, no strain. I rode in here on the crest of a heatwave. Ooowee, it's hot out there."
Beulah: "Well, shut the door. I'm keeping the place closed up here so it stays cool."
Bill: "Lemme sit down here. I'm steamin' like a uphill freight train."
Beulah: "Where you been? You told me on de phone you'd be over here in three shakes."
Bill: "That's what I did. Come right over here in three shakes - two Pineapple and one vanilla."
There's no question that radio broadcasts and movies of the era served in a subtle way to 'educate' Blacks on the proper way to act and speak.
Programs like Beulah were rooted in the tradition of the minstrel shows that had been touring the country for decades. Broad, ignorant Negro caricatures, portrayed exclusively by whites in blackface, set a wicked standard for American Blacks to follow.
Sixty years ago, if an African-American performer wanted to portray a Negro character on stage, radio or in film, they had to play the white man's vision of the Negro - based squarely on the minstrel model. It wasn't unusual for Black motion picture actors of the thirties and forties to be forced to take lessons from white vaudevillians on how to achieve the "correct" Negro dialect.
When Marlin Hurt died unexpectedly in 1946, Beulah went on hiatus while a yearlong replacement hunt began. The series was revived in 1947 when another white man, Bob Corley, took on the role of Beulah.
Corley was roundly rejected by listeners and gone within six months. It was then that network execs had a revolutionary idea - why not cast a Black woman in the role?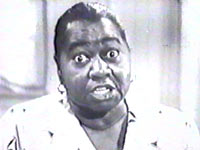 NEXT: PART TWO:
Beulah, the TV series-
the nation's biggest African-American star takes the role and changes the rules!
PLUS: Hattie McDaniel, Louise Beavers, Butterfly McQueen, Ethel Waters and more!
(With video and audio highlights)
---
Beulah Part One
/ Beulah TV Show / Beulah Part Three