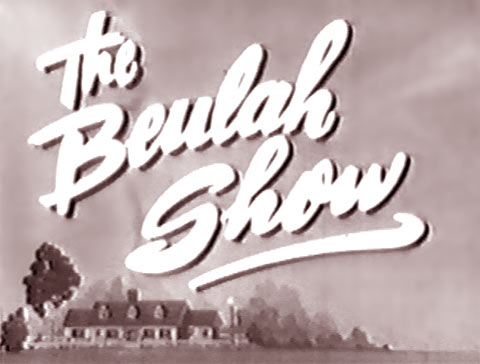 PART THREE // (PART ONE) /// (PART TWO)

by Billy Ingram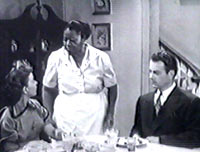 Hattie McDaniel's health was rapidly failing by the summer of 1952. After filming the first six episodes of the third TV season of Beulah, just weeks away from the start of the fall radio season, Hattie suffered a heart attack. Before she could fully recover, she was felled by a stroke.
Nearly broke after years of abusive men, generous gifts, extravagant parties and huge medical bills, Hattie needed to get right back to work. Still weak from her illnesses, McDaniel taped the first twelve weeks of Beulah radio programs for the 1952-53 fall season.
Before those episodes aired, Hattie was told she had advanced Breast Cancer. She sold her possessions and moved into the Motion Picture Country Home and Hospital in Woodland Hills, a brand new facility she had helped raise funds for; she'd been an honored guest at the dedication ceremony just a year earlier and thus became the first African-American to reside there.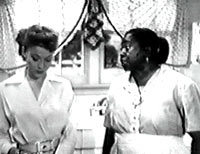 The move brought her peace at last. Without the stress of her career, the criticism of people outside the industry, and with thousands of cards and letters flowing in wishing her well (many addressed to "Mammy" and "Beulah") McDaniel retired from show business.
As the final episodes of her radio program were airing, Hattie took a turn for the worse; she passed away on October 26, 1952 at the age of 57.
Even in death Hattie was forced to confront racism, as a number of whites objected to her being buried in LA's Rosedale Cemetery - up until that point an exclusively 'white' plot of grass.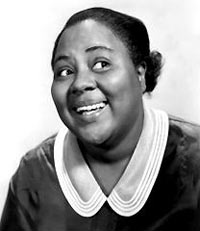 ANOTHER OVERHAUL
With Hattie McDaniel gone, another familiar motion picture Mammy, Louise Beavers (Imitation of Life, The Jackie Robinson Story), assumed the role of Beulah for the 1952-53 TV season. The McDaniel episodes filmed for the season were shelved and never broadcast.
Beavers actually began her professional life in Hollywood as the maid to a silent movie star. Ultimately, she was no happier playing the part than her predecessors, quitting after one season because of her sensitivity to the growing controversy surrounding the lack of positive African-American images on TV.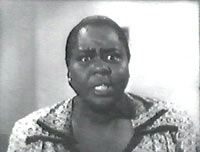 Despite being one of the network's higher-rated shows, producers gave up when ABC decided to cancel Beulah for good in the fall of 1953.
Proud but practical, Beavers immediately joined the cast of Make Room For Daddy when it debuted in the fall of 1953 - playing the maid.
THERE WAS STILL RADIO...
Meanwhile, the radio version of Beulah was still going strong (as was Amos 'n Andy) on the CBS radio network.
Lillian Randolph (Madame Queen from Amos 'n' Andy) assumed the part immediately after Hattie's death to finish out the 1951-52 radio season. The producers really wanted her sister, Amanda Randolph (Saffire's feisty Mama from Amos 'n' Andy), but Amanda's contract with Amos 'n' Andy prohibited her from taking the role at first.
In the fall of 1952, The New Beulah Show starring Amanda Randolph debuted, sponsored by General Foods. Amanda played Beulah with a softer dialect than her predecessors, but the show was otherwise familiar, right down to the opening Beulah-isms like, "I know my way around the kitchen, but I always get lost around love. Love that man!"
At the end of the 1953-54 season, Randolph too stepped down from the role and Beulah was permanently retired, to the disappointment of the show's 20 million listeners.
Amanda Randolph assumed the role of the maid on Make Room For Daddy from 1955-64 (Louise Beavers left after season one).
After Beulah was cancelled, the three networks and independent television producers, fearful of being accused of perpetuating racial stereotypes, stopped casting Blacks in their shows almost entirely for the next fifteen years.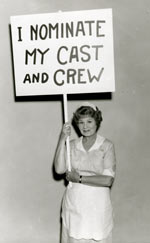 Between 1953 and 1968 only two African-Americans (Nat King Cole and Bill Cosby) ever starred in a national TV series and there were precious few supporting roles for Blacks during that period.
In 1961, the television show Hazel (supposedly based on Ted Key's comic strip) debuted with the same basic format as Beulah and ran for five seasons without protests simply by recasting the maid as a white woman.

WHAT HAPPENED
TO THE BEULAHS?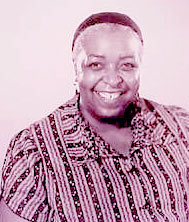 Ethel Waters passed away in 1977 after years of touring with evangelist Billy Graham. Her last major TV appearance was on a 1971 special with Pearl Bailey and the Sid and Marty Krofft puppets called Something Special. Waters was ill most of the last twenty years of her life and destitute. She lived in the home of a white Christian couple at the end of her life with little contact with the outside world other than the television she watched constantly.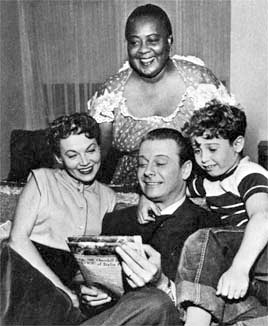 Louise Beavers (seen right) played the maid on Make Room For Daddy for only the 1953-54 season. She died October 26, 1962.
Ruby Dandridge (Oriole) was a busy actress before Beulah but rarely turned up on TV or in the movies afterward. She was the mother of Dorothy and Vivian Dandridge; she passed away in 1987.
Amanda Randolph worked steadily as an actor after the radio show ended. She appeared occasionally in B-movies like Bomba and the Jungle Girl, She's Working Her Way Through College (both from 1952) and A Man Called Peter in 1955. On radio she took over the role of Aunt Jemima in the mid-fifties; on TV, she assumed the role of the maid Louise on Make Room for Daddy from 1955 to 1964. Amanda Randolph died in August of 1967.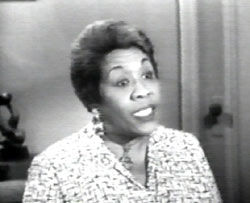 After appearing briefly on the radio Beulah, Lillian Randolph (Amanda's sister) went on to play Birdie Lee Coggins in 1955's The Great Gildersleeve (she played the same character in the Gildersleeve movies, 1943-45), Bill Cosby's mother on The Bill Cosby Show in 1969-70 and Aunt Gertrude on Tenafly in 1973. In later years, Lillian Randolph was seen in Roots (1977), The Onion Field (1979) and many other projects in small, often uncredited roles. She died on September 12, 1980.
Beulah Part One / Beulah TV show / Beulah Part Three
---
Beulah TV Show
BUTTERFLY WAS FREE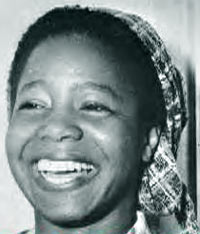 Thelma (Butterfly) McQueen was born in 1911. She'd been playing small, uncredited roles in films before Selznick signed her to play house slave Prissy in Gone With the Wind in 1939.
She hated the role of Prissy ("I thought she was horrid.") and the insulting roles that followed. Still, some of the films she lent her silly energy to are true classics like The Women, Duel in the Sun and Mildred Pierce.
Because it was held in a 'whites only' theater, McQueen could not even attend the Gone With The Wind premiere.
Malcolm X wrote in his autobiography about watching GWTW in the seventh grade: "I was the only Negro in the theater, and when Butterfly McQueen went into her act, I felt like crawling under the rug."
Forced to play a succession of maids in the movies, she issued a statement stating she would no longer accept such parts in 1947.
"I didn't mind playing a maid the first time, because I thought that was how you got into the business. But after I did the same thing over and over, I resented it. I didn't mind being funny, but I didn't like being stupid."
Despite her earlier pledge, Butterfly returned to play a maid on TV in Beulah from 1950-1952.
This led to other television roles; she appeared on Studio One in 1950 and a Hallmark Hall of Fame special in 1959 among others.
In the sixties, Butterfly continued to score supporting roles on TV and on Broadway, supporting herself between roles as a real-life maid, department store seamstress and other menial jobs.
Proving she was a good sport, she even appeared as a contestant on The Dating Game in 1969.
Butterfly McQueen sued Greyhound Buslines in 1980 when she was assaulted in a bus station by a guard who thought she was a pickpocket. Thrown roughly onto a bench, the 69 year-old actress had several of her ribs damaged.
After years of litigation, she was awarded $60,000 from Greyhound. She invested that money in real estate and lived frugally, traveling between New York in the summer and Augusta, Georgia in the winter.
Very active in her communities, most of her neighbors never knew she was a famous actress. She was known to them simply as "Thelma" or "Momma Mac."
In 1975 McQueen earned a degree in political science from New York's City College and she returned to acting, appearing in the Moms Mabley film Amazing Grace in 1974.
Unlike her costars, she wasn't relegated to servile roles in later years. She won an Emmy Award in 1980 for her role in an ABC Afterschool Special, The Seven Wishes of a Rich Kid.
She also made a guest appearance on Designing Women in the eighties.
After a small part in the movie The Mosquito Coast in 1986, her last role came on an episode of The Magical World of Disney in 1989, a TV-movie called Polly where she played the role of a fairy godmother, Miss Priss.
Butterfly McQueen was tragically killed from injuries suffered in a kerosene-heater accident at her Augusta home on Dec. 22, 1995. She ran from the house engulfed in flames, suffering massive second- and third-degree burns.
Butterfly McQueen was famously quoted as saying, "As my ancestors are free from slavery, I am free from the slavery of religion."
Please consider a donation
so we can continue this work!

Amazon Prime - unlimited streaming
of your fave TV shows and movies!
Get your FREE 30 Day Trial!
PR4 & PR5 Pages for Advertising