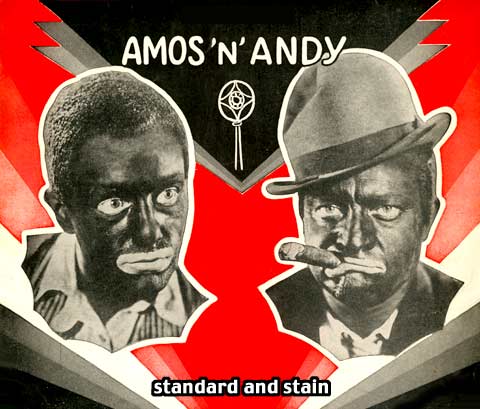 PART TWO by Billy Ingram
Amos 'n' Andy - the Beginning / Amos 'n' Andy Radio Show / Amos 'n' Andy TV show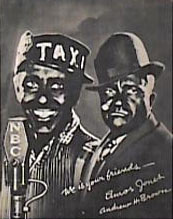 The Pittsburgh Courier, the second-largest Black-owned newspaper in the country in the thirties, fanned the flames of a growing grassroots controversy in order to get radio's most popular show throw off the air. It was part community activism, part circulation ploy.
"Our protest has the sanction of all intelligent people, white and black," a Courier editorial read in 1931. "We do not expect ignorant Negroes and whites to be able to see the insult. We are not looking for the Amos 'n' Andy Negro to join our protest. We are happy to have the intelligence of both races endorsing our program. It has grown beyond the proportions of a joke; it has reached the serious stage. We are going on--with the help of all, if possible, but without the help of the ignorant, if we must."
By the mid-thirties, there were Amos 'n' Andy imitations like Honeyboy and Sassafras (recording artists George Fields and Johnnie Welsh) and Molasses and January starring Pick Malone and Pat Padgett, heard on the Maxwell House Show Boat from 1932 through 1937. These 'Negro' roles were played by whites as well.
By contrast, there were few real black voices on the radio. Among the few were Tess Gardella as Aunt Jemima airing 1931-33 and Ernest Whitman and Eddie Green (billed as "network radio's only colored comedians") in The Gibson Family from 1934-35. Eddie "Rochester" Anderson joined The Jack Benny Show in 1937 and Paducah Plantation starring Clarence Muse could be heard from 1936-37.
Though they complained about the pressure from civil rights groups, NBC banned the word 'nigger' from the airwaves in 1935. That ban held until Sanford and Son debuted on NBC in 1972.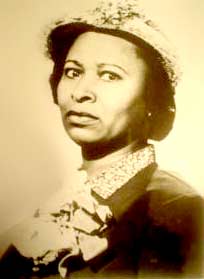 For the first seven years of Amos 'n' Andy's run, there were no actresses on the show, women were just talked about by the guys.
In 1939, the series added the first regular African-American cast member, Ernestine Wade (seen here). Initially cast as Andy's date, she inherited the role of Sapphire Stevens, the Kingfish's long-suffering wife - also known as 'the Battle-ax.'
A Christmas Tradition
A holiday tradition began in 1940 when Amos explained the Lord's Prayer at his daughter Arbadella's bedside. This script was repeated every Christmas Eve through 1954, varying only slightly from year to year.
This Christmas dialogue from 1941 (when the nation was at war) is typical:
Daughter Arbadella: "What does the Lord's Prayer mean, Daddy?"
Amos: "Well, it means an awful lot. And with the world like it is now, Darlin', it seems to have a bigger meaning than ever before.
"Now you lay down and listen. The first line of the Lord's Prayer is this, "Our Father, which art in Heaven." That means, Father of all that is good where no wrong can dwell.
"And the next line is, 'Hallowed be thy name.' That means, Darlin', that we should love and respect all that is good. 'Thy Kingdom come, thy will be done, in Earth as it is in Heaven.' That means Darlin' as we clean our hearts of all hate and selfishness and fill our hearts with love, the good the true and the beautiful, then this earth will be exactly like Heaven."
Arbadella: "Oh, that would be wonderful, Daddy."
Amos: "Then it says, 'Give us this day our daily bread.' Now that means to feed our hearts with kindness, love and courage, which will make us strong for our daily tasks. And then it says, 'And forgive us our debts as we forgive our debtors.' Do you remember the Golden Rule?"
Arbadella: "Oh, yes, sir."
Amos: "Well, that means we must keep the Golden Rule and do unto others as we would want them to do unto us. And then it says, 'And Lead us not into temptation, but deliver us from evil.' That means, my Darlin,' to ask God to help us do and see and think right so that we will neither be led or tempted by anything that is bad."
Arbadella: "Uh, huh."
Amos: "And then it says, 'For thine is the kingdom, the power and the glory forever. Amen.' That means, Darlin,' that all the world and everything that's in it belongs to God's kingdom. Everything. Mommy, your Daddy, your little brother, your Grandma, you and everybody. And as we know that, and act AS IF we know that, my Darlin' - THAT is the real spirit of Christmas."
This exchange was performed word for word, almost exactly like that for the next fourteen years, followed by traditional Christmas choral music that built to a rousing close. In all those years, Arbadella never grew up!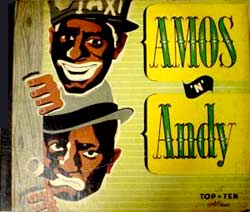 Freeman F. Gosden, Jr., the son of one of the creators, recalled those long-ago Christmas shows, "It is probably safe to conclude that more people heard Amos' description of the Lord's Prayer than that of anyone else in the world. There is no question that he felt this was his proudest lifetime achievement. We would go to the studio and watch the show from the client's booth. Then Dad would bring the recording home and after dinner play it over and over again until midnight, with tears in his eyes."
An Amos 'n' Andy 78 RPM record with 'The Lord's Prayer' on one side and 'Little Bitty Baby' on the other was released, backed by the Jeff Alexander Choir - in addition to an Amos 'n' Andy album set with four records of past radio shows.
Though still a top series, ratings had been declining for a decade; by the 1942-43 season, Amos 'n' Andy was scoring a low 9.4. By 1943, partly due to wartime product shortages, sponsor Campbell's Soup announced they could no longer afford the budget so the series was being dropped.
On February 19, 1943, Andrew H. Brown and the Kingfish uncharacteristically took full-time jobs in a defense plant and the Amos 'n' Andy saga came to an end.
For the time being.
PART THREE:
FORMAT CHANGE & THE
EXPANSION INTO TELEVISION
...and what happened to the cast?

---
Amos 'n' Andy - the Beginning / Amos 'n' Andy Radio Show / Amos 'n' Andy TV show