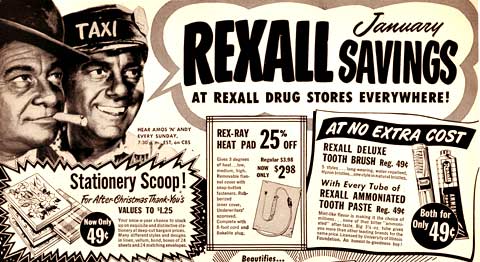 AMOS 'N' ANDY - PART FIVE - END OF THE FRANCHISE
by Billy Ingram
Though they were never seen on TV, Freeman F. Gosden and Charles J. Correll continued voicing Kingfish, Amos and Andy on the radio program while sharing the same supporting cast as the TV production.
The intense controversy over the TV program erupted in June, 1951 while the radio show was on hiatus. This resulted in an unexpected ratings upswing when the radio program returned in October, 1951.
Amos 'n' Andy kicked off the fifties as the top-rated radio program of all, attracting an audience of more than 30 million listeners on Sunday nights in 1951.
After almost a decade of surging audience numbers, there was an alarming drop of ten million listeners during the 1953-54 season (down a total of twenty million listeners from the peak in 1948). But it was radio itself that was on the wane, television was the chosen medium for home entertainment. Longtime radio sitcoms like Fibber McGee and Molly and The Great Gildersleeve were falling by the wayside at an rapid rate - and the major hit radio shows were almost all flops on TV.
The CBS radio program lasted until 1954 when Amos 'n' Andy went off the air only to be replaced by - Amos 'n' Andy.
ANOTHER FORMAT CHANGE
The Amos 'n' Andy Music Hall, a half-hour, nightly recorded music show bracketed by comedy bits began in the fall of 1954, replacing the Amos 'n' Andy sitcom.
Apart from longtime announcer Harlow Wilcox, it was just Gosden & Correll in front of the microphone, playing their three familiar roles with canned laughter and applause. The early episodes featured guest stars like Jack Benny and Liberace.
In this format, George 'Kingfish' Stevens was front and center as the master of ceremonies of the Lodge Hall radio station, helped along by his pals Amos and Andy.
Sponsored by Kool cigarettes, this program most closely resembled the earliest Amos 'n' Andy broadcasts. Joe Connelly and Bob Mosher were still writing the comedy bits but, no longer able to justify a large cast, the supporting players were all dropped.
The Amos 'n' Andy Music Hall started out with a thin comedy plotline that would meander along, four or five minutes at a time, wrapped around the pop music hits of the day by artists like Ella Fitzgerald, Ray Anthony, Perry Como, Bobby Darin and Dean Martin.
Here's how one program from July, 1955 opened:
Kingfish: "Come in folks, and welcome to the Amos 'n Andy Music Hall."
Amos: "Good evenin' evabody."
Andy: "How'dja folks. Tell me somethin', Kingfish. Is you been able to raise the money to put on the Lodge Hall picnic tomorrow?
Kingfish: "No boys, I ain't. I's desperate, too."
Andy: "Yeeeah man, when them hundred and eighteen Lodge brothers and their wives show up here tomorrow mornin' at eight o clock ready to board de bus for the picnic, what's gonna to happen here will make Custer's last stand look like Aunt Dinah's Quiltin' party."
Kingfish: "Shut up ya boob. Amos, put on some music dere while I figures a way outa dis mess."
Amos: "Well, all right Kingfish. We're gonna hear the voices of Walter Schuman singing, The Man From Laramie."
Only seven million listeners stuck around for the Music Hall incarnation, a drop of five million. Without the high costs associated with a network series, it was still a profitable venture for CBS.
This program ran into protests as well. African-American soldiers complained when this show was carried over the Armed Forces network and they were forced to listen to it. They demanded it's removal and won.
The Amos 'n' Andy Music Hall ran until November 25, 1960. The curtain had finally rung for old-time radio programs, the type Amos 'n' Andy gave birth to.
In 1966, a time when only 1% of African-American men were working in professional positions, civil rights leaders finally convinced CBS to withdraw the Amos 'n' Andy TV series from syndication.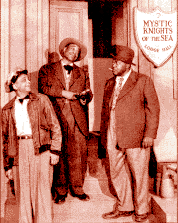 TVparty-er Deverett tells us, "I am a black female, born and still living in the South. I watched Amos 'n' Andy reruns and actually raced home to see them. Can you imagine, a young black girl in the south able to watch black people on TV? It was encouraging, not discouraging.
"I knew that blacks were not buffoons, shiftless and lazy. I lived in a house and a community where black people were hardworking, educated and law abiding. Even as a child, I knew the pranks on Amos 'n' Andy were just that, pranks on a TV show - for entertainment.
"I applaud the NAACP for their efforts in working to remove racial stigmas. However, I wish this generation could see some of those shows. I have some on video cassette and at first my children didn't want to watch. Not because of the content - but because it wasn't in color! We would laugh at Calhoun, Andy, Kingfish, Sapphire and her mother!
"I know the actors received criticism for working on such a show, even then. But, I found it, and still find it, entertaining. Looking at it from the standpoint of being degrading to blacks, I find it no more insulting than Sanford and Son - or as embarrassing as All In The Family should have been to whites."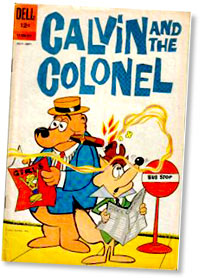 WHAT HAPPENED TO THEM?
Calvin and the Colonel, an animated primetime entry debuted on ABC in October of 1961, created by Amos 'n' Andy writers Joe Connelly and Bob Mosher for producers Freeman Gosden and Charles Correll.
The show was pure Amos 'n' Andy, with the characters illustrated as barnyard animals. No controversy there! The cartoon, following the comic travails of Colonel Montgomery J. Klaxon (a scheming fox ala the Kingfish) and Calvin Burnside (a slow-to-catch-on bear - like Andy), was cancelled after disappointing ratings and bumped to Saturday mornings in January of 1962.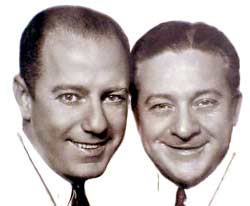 Freeman Gosden (Amos and Kingfish on radio) was particularly bothered in later years that Amos 'n' Andy, his once phenomenally successful enterprise was held in such low regard. In retired life, Gosden and his Palm Desert neighbor, former President Dwight D. Eisenhower founded the Eisenhower Medical Center in Rancho Mirage, CA. On December 10, 1982 Gosden passed away at the age of 83.
Charles Correll suffered a fatal heart attack on September 26, 1972 at the age of eighty-two.

Ernestine Wade played small roles in films like Critic's Choice in 1963 and Bernardine, usually playing the maid. She supplemented her income by playing the organ for funerals and as an office worker. She was heard as the voice of Veronica's Aunt in the ABC Saturday Superstar Movie presentation of Willie Mays and The Say-Hey Kid in 1972 and seen in guest roles on Family Affair in 1966, That's My Mama in 1974 and many others. She died in 1983.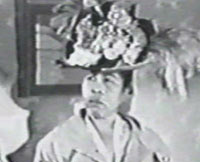 Amanda Randolph (Sapphire's Mama) worked steadily as an actor after the show ended. She appeared occasionally in B-movies like Bomba and the Jungle Girl, She's Working Her Way Through College (both from 1952) and A Man Called Peter in 1955. On radio she took over the role of Aunt Jemima in the mid-fifties; on TV, she assumed the role of the maid Louise on Make Room for Daddy from 1955 to 1964. Amanda Randolph died in August of 1967.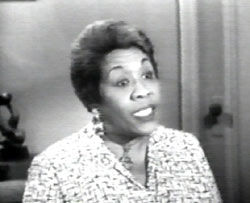 Lillian Randolph (Madame Queen) was seen in minor roles in films like Hush... Hush, Sweet Charlotte in 1964 and The Onion Field in 1979. On television, she was a regular on The Great Gildersleeve in 1955, Tom and Jerry in 1965, The Bill Cosby Show in 1969 (as Rose Kincaid, Bill's mom), Tenafly in 1973 and as Sister Sara in the mini-series Roots in 1977. She died in 1980.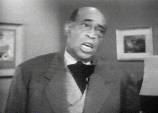 Tim Moore (Kingfish) was rarely on TV outside of appearances on the Jack Parr Tonight show, but he would attend TV and radio conventions as a representative of CBS for several years after Amos 'n' Andy left the air. He talked of reviving the character on TV, but nothing came of it; he also had a nightclub act for a while.
Moore made headlines ("Police Hook Kingfish for Beef Over Roast") and was arrested in 1958 when he fired a gun at a gathering of some of his freeloading in-laws. "I'm the old Kingfish," Moore told cops at the scene. "You should have seen the in-laws scatter when I fired that gun!" Tim Moore died soon after, on December 13, 1958.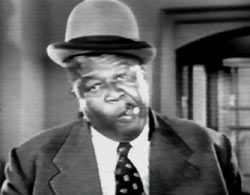 Spencer Williams (Andy on TV) rarely acted on TV again; like Tim Moore, he had come out of retirement to do the show. He composed the filmography for St. Louis Blues in 1958 but mostly led a quiet life in West LA before passing away in December, 1969 from kidney disease.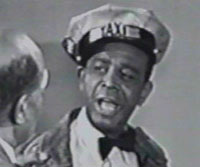 Alvin Childress (Amos on TV) appeared in bit parts on a number of series including Perry Mason, Sanford and Son, Good Times and many others. He died on April 19, 1986.
Jester Hairston (aristocratic Henry Van Porter) had a film, radio and TV career that spanned six decades - he's most well-known to modern audiences for his role on Amen as Rolly Forbes from 1986 until 1991. He was seen in films like In the Heat of the Night in 1967, Lady Sings the Blues in 1972, I'm Gonna Git You Sucka in 1988 and Being John Malkovich in 1999. An esteemed Choral Director as well as actor, he died in January, 2000.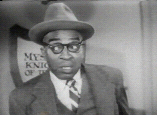 A gifted comic actor, Johnny Lee (Algonquin J. Calhoun) voiced Br'er Rabbit in Song of the South in 1946, later turning up in small roles in motion pictures, including North to Alaska in 1960. Sadly, the roles Lee played were mostly as cooks, janitors and the 'Colored Man.' He died in December, 1965.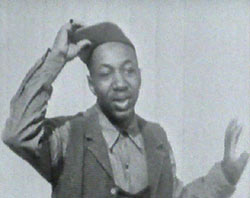 Nick (aka Nicodemus) Stewart (Lightnin') and his wife, Edna converted an old garage into the first Ebony Showcase Theatre using cast-off materials from the old CBS building which was being demolished. They supported the Ebony Showcase Theater with money made from his acting career - he voiced Brer Bear in Disney's Song of the South and the Splash Mountain ride at the Disney theme parks. He had small roles in It's A Mad Mad Mad World and Silver Streak.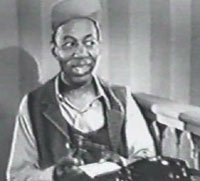 In 1995, Stewart was inducted into the Academy of Television Arts & Science's ARCHIVE OF AMERICAN TELEVISION for his lifetime of work. He lost a bitter fight with the City of Los Angeles over his theater, which was demolished before his very eyes, shorty before his death on December 18, 2000. He was the last surviving Amos 'n' Andy cast member.
Writers Joe Connelly and Bob Mosher were responsible for other big hits. They created The Munsters in 1964, which also dealt with the misadventures of a minority family - in this case the walking dead. Because vampires and creations of Dr. Frankenstein weren't considered oppressed peoples, there was little controversy.
Amos 'n' Andy was inducted into the Radio Hall of Fame in 1988.
The Disposable Heroes Of Hiphoprisy recorded a song entitled Famous And Dandy (Like Amos 'N' Andy) on their superb 1992 album Hypocrisy Is the Greatest Luxury.
Blackface returned in the pathetic motion picture Soul Man in 1986 when white actor C. Thomas Howell lamely attempted to impersonate a black person to get a college scholarship; and in Spike Lee's marvelous 2000 film Bamboozled.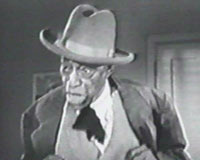 Amos 'n' Andy
Amos 'n' Andy PART ONE
- TWO - THREE - THREE - FOUR