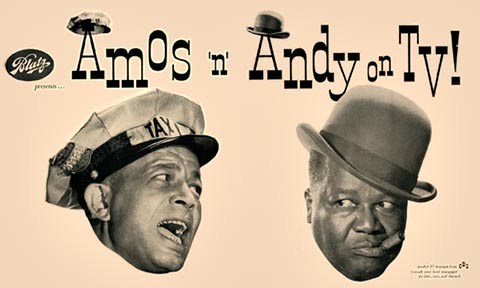 Amos 'n' Andy - PART FOUR by Billy Ingram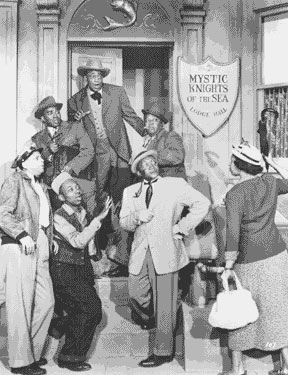 In the early days of television, priority one for the networks was transitioning their biggest hits from radio to the new medium. This was especially true of radio's biggest, longest-running hit - Amos 'n' Andy.
Correll and Gosden toyed with different concepts, including shooting the TV show with African-American actors and overdubbing their voices. At CBS's request, Fred De Cordova (future Tonight Show with Johnny Carson producer) filmed the first TV pilot with Correll and Gosden playing themselves as white men in addition to their roles as Kingfish, Amos and Andy in blackface.
"They were heavy stockholders in CBS and decided they were interested in appearing as themselves and as Amos and Andy in a television series," Cordova stated years later. "I was selected to direct. it was stressed that the project was to be kept under wraps - no publicity at all."
After filming the half-hour pilot with guest stars James Mason, Geoffery Holder and Diahann Carroll, everyone was reportedly pleased with the results. But they decided not to go forward.
Fred Cordova explained that, "I was instructed to take the tape - the sole evidence of the project - proceed to the incinerator and make sure that every bit of it burned up."
An extensive nationwide talent search was launched to cast the principal roles with black actors. This painstaking process lasted nearly three years, with hundreds of individual auditions held before Correll and Gosden settled on a flawless cast.
The TV cast is introduced by Freeman Gosden & Charles Correll.
Esteemed stage actor Alvin Childress was cast as sensible cab driver Amos (still relegated to minor character status despite first billing in the show's title), "race movie" director/star Spencer Williams Jr. as gullible Andy and retired vaudeville legend Tim Moore as the Kingfish.
The familiar African-American performers already lending their voices to the radio series were brought over to the TV version - including Ernestine Wade, Amanda Randolph, Johnnie Lee, Jester Hairston, and Roy Glenn. Horace Stewart was seen as Lightnin', a lazy, slow-talking Stephen Fetchit-type janitor - the show's most racially insensitive character.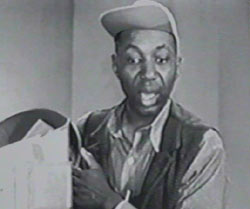 Ironically, vaudevillian Stewart (known alternately as Nick Stewart and Nick O'Demus) was originally offered the role of lawyer Algonquin J. Calhoun on the TV version, but turned it down because he didn't want to play a blatantly stereotypical role.
When another call came to play the part of Lightnin' he reconsidered - reasoning the money would help him realize his lifelong dream of starting a theater featuring black actors in parts other than maids and butlers.
Scene from Amos 'n' Andy.
Shot at the Hal Roach Studios in February of 1951, Amos 'n' Andy was the first CBS program to be filmed on the West Coast.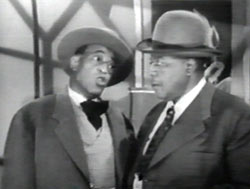 Based on a 1949 radio script by Mosher and Connelly, the pilot episode was directed by Abby Berlin (the Blondie movie series). Famed Universal comedy director Charles Barton (Abbott and Costello films) took over as regular director on the series after that.
Amos 'n' Andy, the televersion, had all of the elements of an enduring classic - first-rate scripts that would rival the best episode of I Love Lucy for hilarious plot weavings along with lovable characters played with aplomb by masterful actors clearly in their element. But there was an inescapable component to Amos 'n' Andy that overshadowed the superior accomplishments of the actors and production staff - the actors were black and the year was 1951.
Like most Fifties' sitcoms, Amos 'n' Andy contained broad, comic characterizations and outlandish plotlines. The stories had nothing to do with race, and on a positive note, introduced the concept of dignified black doctors, business leaders and lawyers - a first for any mass medium.

From You Tube - the opening third of 'The Kingfish Gets Drafted.'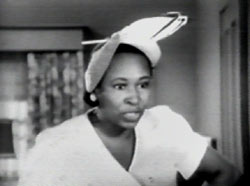 Here's a typical exchange between Saffire and the Kingfish from the TV show:
Saffire: "Here's the address, George. Mr. Baxter is holding the job open for you at the construction company. Now you go down there and get it."
Kingfish: "Yeah, but honey. Shovelin' sand into a cement mixer, that ain't my line of work. You see, I'm more the executive, Dictaphone, button-pushin' type."
Saffire: "You go down there and see Mr. Baxter and get that job. He's only holding it for you because he's an old friend of my family's."
Kingfish: "Honey, I can't just go bustin' in there and start throwin' sand around. I got to have references and it'll probably take me two or three weeks to get somebody to referend a good word for me."
Saffire: "You get over here and go. I've already told Mr. Baxter all about you."
Kingfish: "And he's still willin' to hire me, huh?"
Saffire: "Don't look so glum, George. You'll like your job after you get started."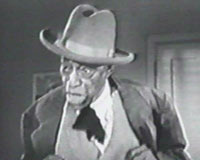 Kingfish: "That's what I afraid of, Honey. I afraid I get to like the job so well and stay there year after year and never leave. First thing you know, I in a rut. And that ain't good for me."
Saffire: "George, you won't be there long. You'll move on to a better job."
Kingfish: "Well, then it seems silly to get settled in dis one and then have to leave right away again. Why not wait 'till a better job show up?"
When Kingfish finally shows up for work, it went like this:
Mr. Baxter (boss): "Now this will be your job, Stevens. You shovel sand from this pile into the cement mixer."
Kingfish: "Oh, dat's fine, Mr. Baxter. I'll go shop around for a shovel. I remember a pretty good shovel store up in Connecticut."
Mr. Baxter: "You don't have to buy a shovel, we give you one. Now how about getting to work?"
Kingfish: "Is this an all day job?"
Mr. Baxter: "You'll put in a full day. Eight to five, you'll work."
Kingfish: "Eight to five... what's the odds if I don't work?"
Mr. Baxter: "Look Stevens, your wife told me you'd try to weasel your way out of this job but she gave me strict instructions not to let you. Are you going to start now or in the morning?"
Kingfish: "Well... it's nine o clock now and you quit at five. The day pretty well shot. I'll see you in the morning."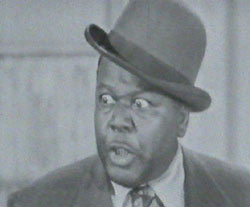 Protests over the TV series began almost immediately. Clearly, times being what they were, it was inappropriate - no matter how excellent the show - to portray blacks as buffoons if there were no other programs on television featuring African-Americans in more serious roles. And there weren't.
There was no balance on TV then; civil rights leaders and the NAACP targeted Amos 'n' Andy as a twenty-five year stain that had to be removed.
Ratings were strong for the first season, the thirteenth most popular TV series of the season. But because of the growing controversy, and with ratings falling during year two, sponsor Blatz Beer dropped the show after season two. CBS filmed another thirteen episodes (that were never aired during primetime) to make a more attractive syndication package.
Television Blackout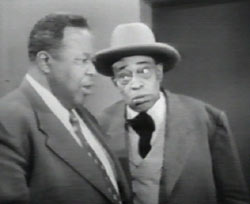 The network found itself in a bind. They were receiving hate mail from the South when blacks were shown interacting positively with whites, and weathering protests from blacks when negroes were depicted as ignorant and deferential. With racial tension growing around the nation, advertisers didn't want to appear pro-black by sponsoring a TV show starring African-Americans.
To avoid future headaches, TV producers and networks largely avoided casting African-Americans altogether from 1953 until 1968. You could count on one hand the number of African-Americans that played significant continuing roles on a TV series during that fifteen year period.
CBS president William Paley wrote in his book As It Happened, "Gosden and Correll had created a warm and funny fantasy world in the listener's imagination on radio. When that world became visual, it also became concrete and literal. Amos 'n' Andy remained on radio in some form until 1960. But the television series, under attack by black leaders for its entire life, left the network after two seasons."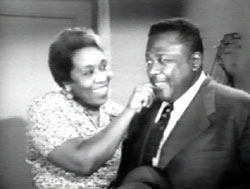 TVparty-er Charles L. tells of us of his experience watching the show in the fifties, "I am an African-American. I loved the Amos 'n' Andy show and grieved when it was discontinued. I think people failed to realize that comedy has an element of ridicule - that is why it is funny.
"As a small child in the fifties I didn't care about stereotypes and the like. All I knew was there were Blacks on television. I, and my parents, lived for the Amos 'n' Andy show. We would laugh and enjoy ourselves while it was on.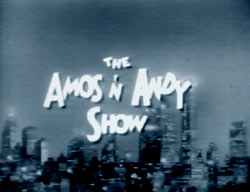 "It really hurt us when the show was taken off the air. What an injustice. There were no longer any blacks on television that we could take pride in, only the occasional guest appearance of Mahalia Jackson or Pearl Bailey on the Ed Sullivan show.
"If the show had been allowed to continue, I don't think we would have had to wait until the 1980's for a Cosby Show. How many black actors were denied a chance because black shows were seen as too risky or controversial? Sometimes, in our diligence to make things better, we actually shoot ourselves in the foot."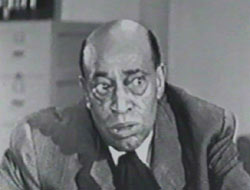 After the TV series was dropped from prime time in 1953, CBS began syndicating Amos 'n' Andy reruns to local stations, where it attracted consistently strong daytime ratings (especially in rural areas and down South - becoming the first hit syndicated television show).
Another TVparty-er who was there, Chris Wood, experienced it this way, "I am a child of the economically segregated suburbs of New York City. When I was growing up in the 1950s, I watched the reruns of Amos 'n' Andy. I thought nothing about these people being foolish black stereotypes.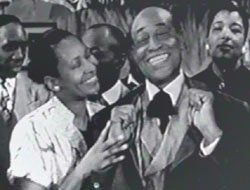 "In fact, quite the contrary. Most of the news coming from New York City only showed blacks in the worst light-as criminals or in dire poverty. It was not until I went to college that I realized there was a black middle class. I always thought they existed only in the South since the New York news showed only poverty.
"Anyway, if we put aside color and look at the characters, for every negative attribute there was a corresponding white male who was portrayed the same.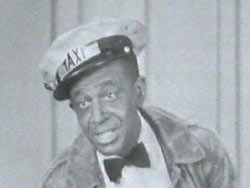 "Amos - an owner of his own business - Herbert T. Gillis on Dobie Gillis
"Andy - an unemployed male - Lou Costello on Abbott and Costello and Freddie on My Little Margie.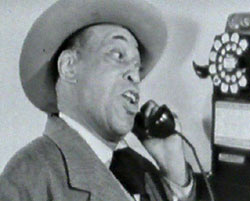 "Kingfish - the crafty con man - Ralph Kramden on The Honeymooners and Eddie Haskell on Leave it to Beaver.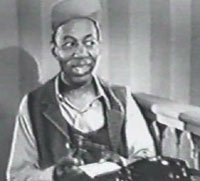 "Lighting - the dumb/slow/fool - Lumpy on Leave it to Beaver and Gilligan on Gilligan's Island.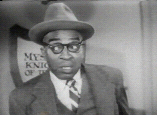 "A .J. Calhoun - shyster lawyer - Angel (comic relief) on the Rockford Files (and a felon to boot!).
"And could you get much more foolish and condescending than the Beverly Hillbillies and their horrendous spin-offs?

"These characters were (are) funny because of characterizations - not white, black or otherwise. In fact, the comedy shows thereafter that tried to show 'race' in a positive light don't hold up over time (Chico and the Man, even Sanford and Son).
"Amos 'n' Andy was a chance to see real middle class blacks in a cross section of a working class neighborhood. My parents were both born and raised in Manhattan, in fact my father was from what is now known as Spanish Harlem.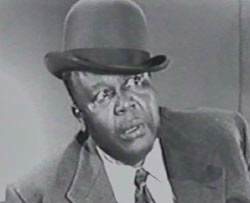 "He reminded us that, although we rarely came in contact with people of color in lily-white suburbia, his life in a working class section of Irish, Hispanic, Italian and African-Americans was lived pretty much in the same way as the Harlem of Amos 'n' Andy - because they were all in the same economic situation.
"Still, I can understand the feelings of blacks at the time. But what passes for comedy now makes one yearn for the scripts of Amos 'n' Andy."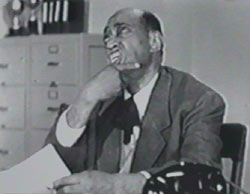 Bill Cosby expressed the opposite view in an interview with Playboy magazine in 1969, "That show still gets to me, man. Each time I name an Amos 'n' Andy character, try to imagine these guys as white, and you won't be able to: You had Lightnin', who was slow in every way; Calhoun, the lawyer who never got anyone out of trouble and never went into court prepared; Kingfish the conniver, who was always saying, 'Yeah, but Brother Andy...'; and Andy himself, who wasn't too bright either. Like, nobody on that show was bright except Amos, the cabdriver, who we hardly ever heard from. And then there was the Kingfish's wife Saffire; every she came through that door, she'd be chewing him out for something. Now, audiences weren't supposed to laugh with these people; they were supposed to laugh at them, because they were so dumb."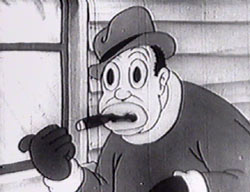 Esteemed writer James Oliver Killens was more harsh in his assessment, "I accuse Hollywood of being the most anti-Negro influence in this nation... it created the lying, stealing, childish, eyeball-rolling, foot-shuffling, sex-obsessed, teeth-showing, dice-shooting black male, and told the world this was the real Negro in the USA."
NEXT: PART FIVE
Meanwhile on the radio...
And whatever happened to the cast?
---
Amos 'n' Andy
Amos 'n' Andy - the Beginning
Amos 'n' Andy Radio Program
Amos 'n' Andy Format Change
Amos 'n' Andy TV show
What Happened to the Amos 'n' Andy Cast?