SO THIS IS HOLLYWOOD

by Cary O'Dell
As brilliantly wonderful, fresh and breakthrough as Marlo Thomas and Mary Tyler Moore both were in their two "single girl" sitcoms of the late 1960s and early 1970s (which soon spawned a host of other imitators featuring the likes of Diana Rigg, Sandy Duncan and Karen Valentine, among others), early TV actually often featured shows starring young women who were unmarried and career-focused. These early genre titles include "Meet Millie," "Hey, Jeannie" and a bevy of (sadly) short-termed shows about women trying to break into show biz.
Along the latter group were "My Sister Eileen" and "Those Whiting Girls," and another one from 1955 titled "So This Is Hollywood."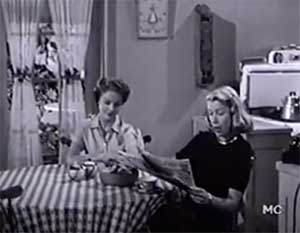 "So This" was the story of two young women who were each making a living (or trying to) in the "glamorous" world of movies. Queenie Duggan (played by Mitzi Green) was a Hollywood stunt woman who often had to endure a lot of humiliation from the diva-ish leading ladies she was doubling for. Queenie's career gave the show a lot of room to engage in some slapstick. Her roommate was Kim Tracy (played by Virginia Gibson). Kim was working hard to get parts, an agent or at least a little notice from one of the big movie studios. But, so far, she had only ever got a few fleeting moments of screen time--often as an extra; blink and you miss her.
But, interestingly, for as much as this show COULD have focused the lives of these two unmarried young women, the show didn't focus that much on their singlehood--perhaps thereby underscoring how NOT strange it was that a young woman of the era would think of having career before having the more traditional life route of marriage and motherhood. Granted, in the series, both girls had on-air boyfriends but no one seemed too anxious to run down the aisle. In fact, in most of the episodes I've seen, these two guys don't really register at all--were they inserted so that the ladies didn't look wanton?
Actually, what "So This is Hollywood" is--rather than a expose of singlewomanhood in the 1950s--was a send up of Hollywood and of all its tinsel on tinsel trappings. This is perhaps best born out by actress Peggy Knudsen who had a reoccuring role as April Adams, the prima donna film star that Queenie often had to work with and (literally) take a fall for as well as in an episode where Queenie appears in a film titled "Gas Becomes Electra" and another episode where a "big time" producer/director has much more money than talent. There's also an installment where Queenie "doubles" for a Native American in the most stereotypical western imaginable and an episode where Kim races to the docks to impersonate a waitress because she hears a casting director is there looking for an "athentic" type.
Other episodes also poke fun at the movie-dom's weird reflection. In one, the girls think that a big talent scout is coming to their home and they put on a show just for him in the living room--but it's a case of mistaken identity. In another episode, Queenie gets more than she bargins for when she tries to recruit a kid to be a child actor. In another, Kim befriends their elderly gardner who turns out to have once been a major movie star himself.
The two ladies who had the lead roles in "So This is Hollywood" were themselves Hollywood vets.
By the time Mitzi Green was starring in this TV show, she had already been in show biz for over 20 years. The daughter of two vaudeville performers, Green made her stage debut at the ripe old age of three! Stunningly mature and a little hammy, Hollywood soon came calling especially when Mitzi displayed her ability to do loopy impersonations of some of Hollywood's biggest names including Garbo and Maurice Chevalier. Green made her big screen debut at the age of nine in 1929 in the film "The Marriage Playground" which co-starred Kay Francis, Mary Brian and Frederic March.
She got her big, big break though the next year when she played Becky Thatcher opposite Jackie Coogan in the title role of "Tom Sawyer." She repeated the role of Becky in 1931's "Huckleberry Finn." Then, in 1932, she had the lead role in the film treatment of the radio megahit "Little Orphan Annie." After a couple of other films, Green returned to Broadway and had a success in "Babes in Arms" in 1937 where she introduced the standard "My Funny Valentine" and the classic "The Lady is a Tramp." After that, she mainly returned to stage tours and nightclubs and the occasional film appearance like her work in "Lost in Alaska" with Abbott and Costello in 1952.
Co-starring with Green was Virginia Gibson who, like her co-star, had also paid her dues in "the business." Originally from Missouri, Gibson made her TV debut in 1948 and, after that, continued in small parts on both TV and in some films. She had her biggest success in 1954 in the big screen adaptation of "Seven Brides for Seven Brothers." (One year prior, she was a regular on Johnny Carson's pre-"Tonight Show" show, "The Johnny Carson Show.")
"So This is Hollywood" debuted in January 1955 over NBC, it would be gone by the following August. So this show about two struggling show biz babes sort of struggled itself. In fact, it never seemed to get too much attention--precious little seemed to have been written about it in the press and the program didn't have too much of an afterlife in syndication. If it had, it would, no doubt, be at least mentioned in recaps of "single girl" sitcoms which, as mentioned, never seem to note any program before 1966.
In "This is Hollywood's" two women vs. Hollywood set-up, certainly the show echoes Lucy and Ethel when the Ricardos and Mertzs invaded Hollywood and it has more some resemblace to "Laverne & Shirley, " especially in that show's second incarnation when the duo moved out to the west coast and, occasionally, found themselves dabbling in the movie industry.
Also, the show welcomed some interesting guest stars during its short term including appearances by John Carradine, Joi Lansing and, in a child star reunion of sorts, Jackie Coogan.
"So This is Hollywood" would be the last credit, on any screen, for Mitzi Green. She returned to nightclubs and raised the four children she had with her husband, director Joseph Pevney who she had married in 1942. Sadly, Green died quite prematurely in 1969 of cancer; she as only 48 years old.
For Green's co-star Virgirnia Gibson, after "Hollywood," she went to Broadway and scored a Tony Award for her work in the musical "Happy Hunting" in 1957. Today, Gibson is perhaps best remembered as the co-host of the Emmy winning ABC-TV children's documentary series "Discovery"; it was on the air from 1962 to 1971. She passed away in 2013.
A handful of episodes of "Hollywood" can now be found on Youtube.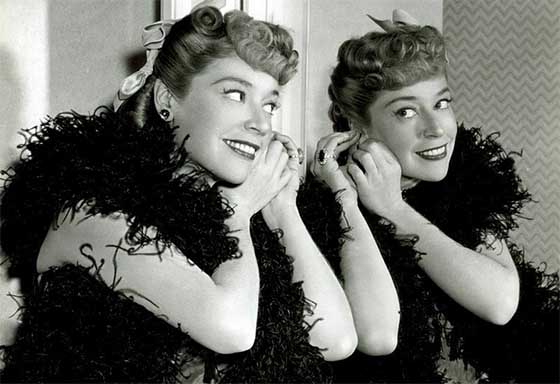 Mitzi Green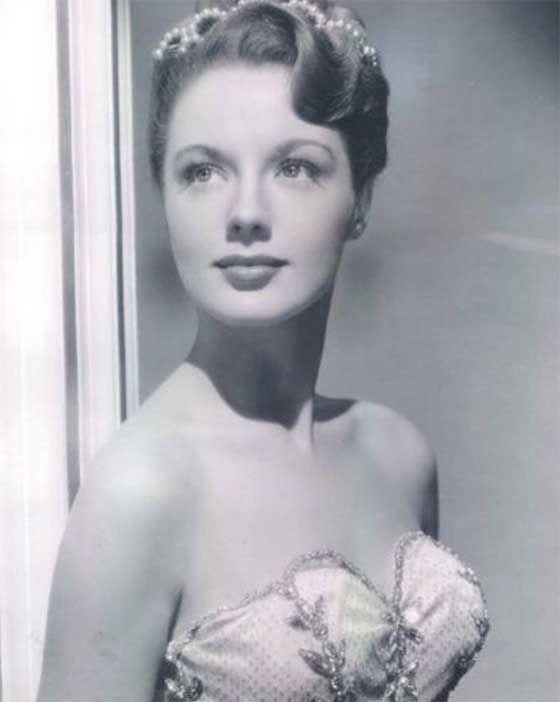 Virginia Gibson