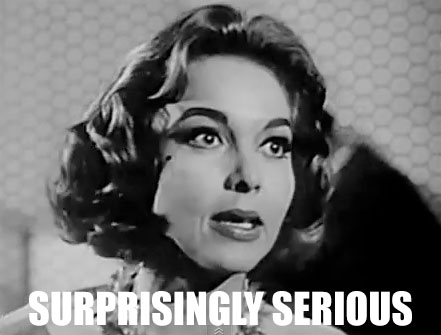 Television in the 1950s
by Cary O'Dell
The popular assumption of 1950s TV is that it was an endless black-and-white array of Lucy-esque antics, Uncle Miltie dressed in drag and dancing cigarette boxes. And while, granted, all of these things were in existence, to categorize the entire decade's programming on such a limited—if entertaining—set of examples is to greatly skew our understanding of that 10 year period, and television's role in introducing and exploring weighty, even controversial topics.
Though most of the sitcoms of the era (from "Lucy" to "Father Knows Best," et.al.), in this pre-Norman Lear era of TV comedy, choose to bypass topical topics (with the exception of the occasional little moral lesson), dramas and anthology programs of the era, with a still startlingly candor, did dare to tackle a wide assortment of political and social issues.
The Cold War and constant threat of nuclear war not only weighed heavily on people's minds (as they built and stocked their backyard bomb shelters) but also occupied many hours of primetime television. Quite famously, the realistic-for-its-time medical drama, "Medic" aired, in 1955, an episode titled "Flash of Darkness." It relayed the story of a small hospital's reaction immediately after a nuclear warhead had been dropped on a neighboring town.
"Medic" probably deserves the prize for being the series most frequently taking on hard-hitting stories. Along with its exploration of nuclear fallout mentioned above, the half-hour weekly's fourth-aired episode, from 1954, focused on an alcoholic mother; its ninth episode, "With This Ring," focused on teen pregnancy and the importance of pre-natal care; and its 11th, "Wild Intruder," told the story of a very young woman diagnosed with breast cancer; and its 12th addressed the deadly after affects of drunk driving.
But "Medic" wasn't alone in its televised topicality. Adoption, racism, drugs, alcohol, gambling, and mental retardation, among other hot-button subjects, were also frequently addressed on '50s television in a variety of ways and via a variety of programs.
Not surprisingly, TV's most famous cop drama of the era, Jack Webb's "Dragnet," by its very true-to-life nature, had to probe some unpleasant, even then-unspeakable, truths. The series's second episode, aired in 1952, told the story of a heroin-addicted actor. Three episodes later, in an installment titled "The Big Speech," prescription drug addiction is addressed. Other episodes from the show's inaugural seasons looked at suicide, child kidnapping and even "dirty cops."
Similar to "Dragnet" in many ways was 1957's syndicated police woman drama "Decoy," starring Beverly Garland. Its single season featured an episode titled "Dream Fix" and was a highly unvarnished look at a woman's heroin addiction. A later "Decoy" episode, "Death Watch," included the sensitive portrayal of a mentally-retarded adult.
The ambitious 1956-1957 series "Wire Service," a program which followed three go-getting reporters on a rotating basis, also didn't shy away from hard issues. In the episode, "Night of August Seventh," a prison riot covered by reporter Dean Evans (played by George Brent) focused its attention on prison overcrowding and other issues of criminal reform. In "World of the Lonely," which featured Mercedes McCambridge in the lead as reporter Kate Wells, the story pivoted on an experimental drug designed to cure schizophrenia. The episode "The Avengers," featuring Dane Clark, told the story of an American POW.
Also in 1955, an episode of "Gunsmoke" aired titled "The Queue." It dealt with a Chinese immigrant and his abuse from whites in the Old West. Today, we'd call his treatment a "hate crime." Issues of race were also touched on in a 1954 episode of the syndicated series "Janet Dean, Registered Nurse." In the episode "The Applegate Case," Nurse Dean (Ella Raines) quietly but effectively put a bigoted woman in her place. And illegal drugs were the focus of a 1954 episode of the syndicated "Foreign Intrigue" series. In this episode, "Narcotics," the reporter/hero of the show assisted in breaking up a drug ring when cops prove ill-effective.
If not in episodic series, then certainly the highly popular and prolific anthology shows of the era embraced controversial and political topics. Along with such now avowed classics as "Marty" and "Requiem for a Heavyweight," anthologies were rich in diverse and hard-hitting subject matter.
In 1958, "Playhouse 90" offered the first production of "Days of Wine and Roses." It vividly tackled the issue of alcoholism and starred Piper Laurie and Cliff Robertston. Four years later, in 1962, "Days" would get the big screen treatment in a feature film starring Jack Lemmon and Lee Remick. Other "Playhouse 90" installments dealt with extramarital affairs ("The Country Husband") and multi-ethnic adoption ("The Family Nobody Wanted"). One episode was a bio-pic of Elizabeth Blackwell, America's first licensed female physician.
Earlier, in 1953, the anthology "The United States Steel Hour" aired "POW," the fictional story of a returning US soldier whose reentry into civilian life is complicated by memories of wartime torture in a POW camp.
In 1954, the "Motorola Television Hour" aired "Atomic Attack." Similar to the "Medic" installment mentioned earlier, "Attack" told the story of a family living 50 miles outside of New York City who have to face nuclear fallout.
TV legend and producer extraordinaire David Susskind always believed in a higher-purpose for television, whether it was via his own weekly talk show or his dramatic presentations. One of his first was the production "A Man is Ten Feet Tall" from 1955 and aired as part of "The Philco Television Playhouse." "Man" was the story of interracial friendship and starred Sidney Poitier and Don Murray.
On Susskind's later "Armstrong Circle Theatre" series, tough topics were also often the norm. On a 1951 installment, "The Partnership," a doctor with strong anti-religious views must treat a woman with an abiding faith. In 1952's "Way of Courage," a man with only three months to live must prepare his family for his death. In "House of Tears," from 1953, a woman comes to terms with the death of her young daughter.
Other anthologies could also be hard-hitting. A 1958 episode of "Studio One" titled "Tag-Along" told the story of a Mexican-American family who relocate to escape prejudice.
Even "The Loretta Young Show," an anthology mainly remembered today for the glamour of its host, didn't take an easy route. In season two, the episode "Dr. Juliet" tells of an alcoholic man who finally seeks help after a failed suicide attempt. An episode two seasons later, "Fear Me Not," takes on the topic of mental illness.
And far from the post card-y, feel-good movies that they traffic in today, "The Hallmark Hall of Fame" was once the domain of the high-end classics and issue-oriented dramas. Along with presentations of Shakespeare (including productions of "Hamlet" and "Macbeth") the "Hall" also courted controversy with presentations of the war drama "There Shall Be No Night" in 1957 and "A Doll's House" in 1959. Most pointedly, in 1957, the "Hall" presented "The Green Pastures." Adapted from his own Pulitzer Prize-winning play, Marc Connelly's lyrical drama retells Bible stories from an African-American perspective and with an all-Black cast which included Eddie "Rochester" Anderson.
Lest we forget, network news was already a major presence on the airwaves in the 1950s; all three of the big three networks had been airing nightly newscasts since 1948. Additionally, primetime hours were often turned over to prestigious and erudite news documentaries. Alex McNeil's invaluable book "Total Television" has as one of its handy appendices pages devoted to a list of "Special Occasions" broadcasts.
Included in it: live broadcasts of the two national political conventions beginning in July of 1952; from February 14, 1954, "Guatemala," an NBC news special on communist influences in that Central American nation; on September 13, 1954, "Three Two One Zero," an NBC documentary on atomic power; on March 14, 1956, "The Twisted Cross," an NBC doc on the rise of Hitler and Nazi Germany, narrated by Alexander Scourby; on March 24, 1957, "The Black Star Rises," a CBS special on President Eisenhower's visit to Africa; on May 19, 1957, "The Rebels of Sierra Maestra—Cuba's Jungle Fighters" over CBS; on December 28, 1958, "The Face of Red China," a CBS news special; and on December 18, 1959, "Iran: Brittle Ally," a "CBS Reports" broadcast hosted by Edward R. Murrow.
The above resuscitation of titles and issues, of course, only skims the surface. Un-rerun and banished to network vaults or too often unvisited archives, much of 1950s television sits absent from memory, like a world waiting to be (re)discovered.
Considering this, therefore, it is not hard to understand how a decade filled with such weighty issues, addressed both via news (fact) and drama (fiction), has come to be thought of as only one long vaudeville skit, populated by slapstick antics and animal acts. Video retrospectives meant to summarize this TV timeframe of the 1950's too often fall back on the same handfuls of tried-and-true clips. That's not surprising: they are profoundly entertaining. But they are also extraordinarily misleading, misconstruing a decade and an entire medium, in the process obscuring the important timely topics it was, even in the very beginning, TV was brave enough to explore.
Amazon Prime - unlimited streaming
of your fave TV shows and movies!
Get your FREE 30 Day Trial!
PR4 & PR5 Pages for Advertising