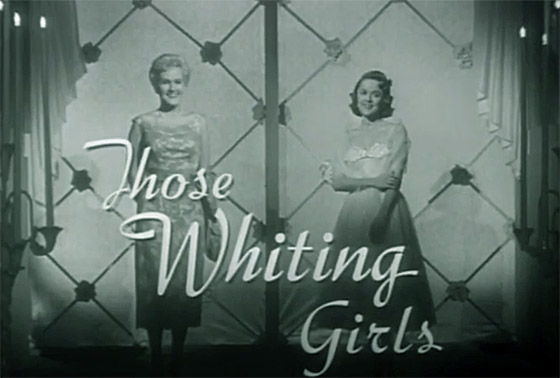 THOSE WHITING GIRLS (1955-1957)
by Cary O'Dell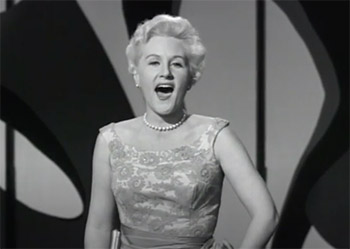 Today, Margaret Whiting is best known as one of the big band era's smoothest of songstresses. But she was also for a time, in the mid-1950s, a TV comedienne thanks to her own co-starring series "Those Whiting Girls."
Many things about this two-season sitcom are interesting. First, it is yet another example of a single woman in TV sitcom long before the advent of the "independent woman" sitcom of the late 1960s and early 1970s. It is also one of those series where a performer played themselves (or, at least, some version of themselves): star Margaret Whiting starred as, well, Margaret Whiting and she even co-starred with her real-life sister, actress and sometime singer, Barbara Whiting. And, it was one of those shows sprinkled throughout TV history (more plentiful than one might think) where musical interludes were woven right into the plot, turning this sitcom into a musical-sitcom hybrid.
"Girls" began on the air on July 4, 1955 as a summer-time replacement series for "I Love Lucy." "Girls" and "Lucy" had more than just a timeslot in common. The series was created under the auspices of Desliu Productions and was produced by "I Love Lucy" writers Bob Carroll, Jr. and Madelyn Davis. As mentioned, the series featured the Whiting Sisters.
Margaret was 31 years old, Barbara was 24 at the start of the series. Both were already known in their relative fields. Margaret had signed her first recording contract in 1942 and had already had a series of hit parade hits, including "That Old Black Magic" and, her giant smash, "Moonlight in Vermont." Barbara, meanwhile, primarily, worked as an actress; she made her film debut in the film "Junior Miss" in 1945.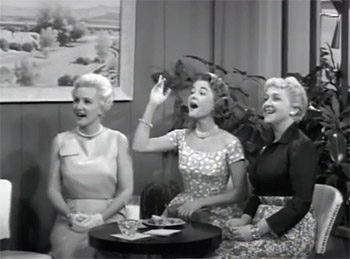 In the series, the sisters lived together in LA with their mother's in their mom's ultra-chic, mid-century modern home. Mom was played by Mabel Albertson who not only was one of show biz's most reliable character actresses but also looked close enough to the Whitings to actually be their mother! While Margaret played, as she was in real-life, a highly successful touring and recording artist, Barbara was portrayed as a "co-ed" (as they were called back then), working towards a degree at a California college.
In the series, Barbara is probably the "Lucy" character. Young, impulsive and a bit boy crazy, she sometimes gets herself into scrapes that her steadfast mom and smart, older sister have to get her out of.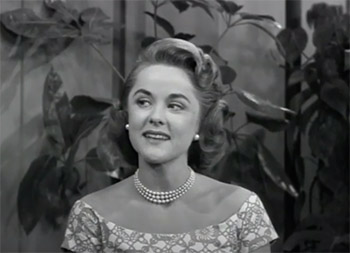 But if Barbara could be flighty, then the other women in this household certainly are not. They are calm, wise, and very sardonic. As interesting as what the Margaret Whiting "character" was, was also what she wasn't. In the series, she shows no eagerness to marry or mate (no "husband-hunter" she!); no guilt about her professional life (rather than pursuing, say, hearth and home); and no trace of any insecurity about her talent, her ambition, her choices.
"Girls" was a well-produced half-hour and a cut above much summer-scheduled fare. In the series, often a line or two comes along worthy of the program's "I Love Lucy" lineage. For example, in one episode, Barbara is convinced that big sister Margaret is being a little too passive aggressive. She talks to her psych professor about it and then runs home to tell her mother:
Margaret: "Mother, I just had a long talk with my psychology professor and I want to prepare yourself for a shock."
Mom: "You're going to pass the course?!"
In another episode, Margaret's quasi-boyfriend, a doctor named Joe, states: "I'm just saying that a woman is different than a man."
To which Mother Whiting responds: "Is that what you learned in medical school?"
Along with its trio of leads, the show also welcomed a variety of guests during its two-year run. Future "Broadside" star Kathleen Nolan appeared from time to time as a college friend of Barbara's and both Johnny Mercer and Fred Myrow made appearances as themselves. Jerry Paris also appeared often as Margaret's accompanist. (Margaret could be counted onto do at least one song in each episode.)
"Girls" ran exclusively during the summer months between 1955 and 1957, with a significant gap in between—all of 1956. The show's first 13 episodes were aired from July 7, 1955 to September 26, 1955. Its second 13 aired from July1, 1957 to September 30, 1957.
At the conclusion of the program, Barbara Whiting largely retired from show business. Only one more TV credit before, in 1959, she married an exec with General Motors and became a stepmom to two daughters and had her own son, Richard. Barbara passed away in 2004 at the age of 73.
Her big sister, however, never seemed to stop. Along with various TV and film appearances, she continued to record and tour. She had a late-career resurgence in the late '70s and '80s as part of the "4 Girls 4" package show/tour, appearing alongside Helen O'Connell, Rose Marie and Rosemary Clooney. The elder Whiting also got a lot of attention later in life when she married her fourth husband, former gay porn actor Jack Wrangler. They were married from 1994 until his death in 2004.
Whiting passed away in 2011, at age 87.
A handful of episodes of "Those Whiting Girls" can be found on Youtube.