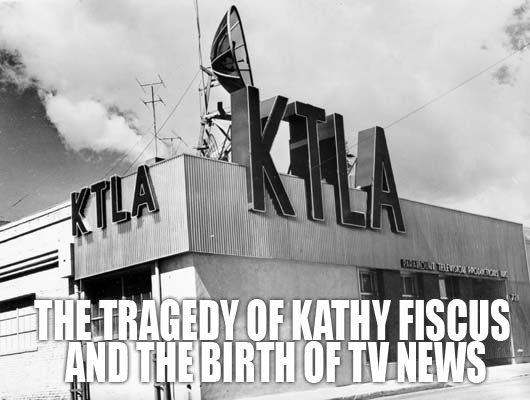 by Cary O'Dell


Kathy Fiscus was beautiful little blond girl who died in April of 1949 at the age of three and a half. Little Kathy perished when she fell into the remnants of a 110-foot deep, abandoned well in a grassy field located in San Marino, California. Kathy's mother was alerted almost immediately of the accident by a young playmate of her daughters. Mrs. Fiscus immediately called the local fire department. Not long after, professional pipefitters, machinists, crane operators and other laborers rushed to the field to assist in the rescue effort. Soon, more than 100 were on the lot, gathered around the lip of the narrow hole that spanned only 14 inches across. Not long after that, the Red Cross arrived with food and other necessities for the workers, so did radio and newspaper reporters.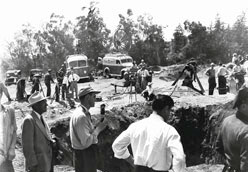 Also arriving on the scene—TV cameras.
By 1949, TV was already a steady if wobbly presence in people's lives. Network and local broadcasting was already a reality. But there was still some debate about whether sound + pictures + the home would prove to be more than just a passing fad. Only about 20,000 people in the LA area had so far taken the plunge and bothered to actually purchase a TV set. It was a token portion of people in a city of nearly 2 million.
Organized TV news existed by that time too. Most of it, though, was studio-based. TV cameras of the era were big, bulky. News readers—like John Cameron Swayze of NBC's "Camel News Caravan"—were live in the studio with their reports being pre-filmed packages, similar to the newsreels that once (and, at that time, still did) play in local movie theaters.
But when word of the real-life drama unfolding in San Marino reached local station KTLA (first signed on the air, 1947), what had so far been the norm for TV news, and TV, would soon change forever.
At considerable risk to his station's budget and equipment, KTLA's then General Manager Klaus Landsberg dispatched reporters Stan Chambers and Bill Welsh, along with himself and a small crew, to cover the San Marino events live. All of the station's scheduled programming and commercials were cancelled in order to bring to KTLA viewers continuous coverage of all rescue efforts.
KTLA would be on the air, uninterrupted, for the next 27 and half hours as the rescue drama unfolded.
On the scene, early attempts to get a rope or harness to the trapped little girl failed. Various volunteers who were small in stature or extremely limber rushed to the scene in San Marino and offered to be lowered into the tunnel. When these plans failed, rescue workers decided that it would be necessary to drill a larger hole parallel to the well and attempt to retrieve Kathy through that.
Ground was quickly broke on the companion shaft but after its initial 50 feet were excavated, the sides of the shaft began to cave in due to the heavy sand component of the soil. At one point, a microphone was lowered into the abyss and faint sounds of what was believed to be Kathy's breathing could be heard.
As day turned into night, flood lights were shipped in. On the ground's other side, a new dig was commenced. But progress was slow, the ground was rocky and jack hammers had to be employed to break up stones. Nevertheless, hourly updates were issued to the waiting press and anxious onlookers: 38 feet, 40 feet….
At one point, water flooded into the new tunnel and work ceased for three interminable hours as it was pumped out.
As the efforts dragged on, it was estimated that nearly 5,000 people were gathered around the site. But for everyone on the scene, hundreds of others were following the story via the media.
And while radio proved a resource and comfort to many, TV with its offer of live pictures began to take precedence. People whose neighbors owned televisions migrated to their houses next door while stores that either sold TV's or had them available for viewing became the source of instant video vigils. It was reported that the highway suddenly cleared and local restaurants noted a drop in business as people stayed in front of their TV's waiting for the news of Kathy.
At the scene, workers finally reached a depth at which they could now drill across to, hopefully, reach Kathy. Kathy was encased in the abandoned well's metal casing, a pipe, hence, it had to be drilled through. But, here again, process was frustrating slow. Drill bits used to pierce the metal broke frequently and had to be replaced. Buckets of replacement blades were regularly lowered down into the cavern. Finally, word came up—the miners had broken through by creating a small jagged window into the well casing. Ordering that all machinery be shut off, so he could hear, workman Albert Linell listened for Kathy's voice or her breathing. But he heard nothing. Eventually, her pink dress and part of her arm became visible through the tear. But it was too late.
Late that day, April 10, over a PA system at the location, a physician made the announcement that Kathy's lifeless body had finally been reached. Her body was fully excavated from the well at approximately 10pm that Palm Sunday. The only consolation that arrived came via the knowledge that it was likely that Kathy died not long after her fall, from the lack of oxygen available to her in the deep shaft.
Both KTLA and another local station, KTTV, reported the story's sad outcome and each station then decamped from the rescue site and each station eventually resumed its regular programming.
In the days that followed, things changed. New laws were passed that called for the covering or filling of all abandoned wells. Money that was donated to the Fiscus family was redistributed by the family to local charities.
Things changed for the young TV medium as well. As Bill Welch, one of KTLA's reporters at the scene stated decades later, "Television was like home movies. You turned it on for a few laughs. Suddenly, here came this event and people said, 'This thing rally has impact. This television has a heart and a soul.' And they realized for the first time how it was going to affect our lives."
(Criticism about the medium's power also seemed to have been born at the time of the Fiscus coverage. Around the same time of Kathy's fatal accident, another local child drowned in a fish pond. Some wondered by that child's death didn't get the attention or the reaction that Kathy's did. The answer: it wasn't shown on television.)
Besides altering the way that news events were covered, the Fiscus story may have had an even greater, immediate impact on the rise of the TV medium. During the urgent days of the Fiscus saga there is considerable evidence of a startling uptick in the sale of TV sets in the California area. In seems, at this time, people were rushing out and buying and installing televisions in their homes with the specific purpose of following the unfolding rescue efforts.
The Kathy Fiscus story has since been called TV news's "baptism by fire." It would forever impact how television would cover news stories and how audiences experienced them. "After-the-fact" reportage was no longer good enough. People, viewers, citizens, wanted (and could handle) live coverage; perhaps they even became dependent upon it.
1950's TV Shows / Fess Parker & Davy Crockett / First Sitcom Couple To Share A Bed / Jack Benny Program / Highway Patrol / Betty Hutton Show / 1952 Olympics Telethon / Amos 'n' Andy / Little Rascals & Our Gang / Howdy Doody / The First Batman Movie From 1943 / Who Was the REAL Aunt Jemima? / Freedomland USA / John Wayne Won Lassie in a Poker Game! / Lucy's Sitcom Before I Love Lucy / The Lone Ranger / It's Always Jan / 1950s Shows I NEED To See / Jack Lemmon & Billy Wilder on Marilyn Monroe / So This Is Hollywood / Audrey Meadows Refused To Do This For Jackie Gleason / When Jerry Lewis Ceased To Be Funny / The Plainclothesman / Buck Rogers in the 25th Century / Remembering Tony Dow / First Solo Female Series / Kuda Bux / Was the 1959 Santa Claus Movie Too Christian?!? / When Judy Garland's Daughters First Saw The Wizard of Oz / TV During WWII / Top Ten TV Shows 1950s / Jack Larson's Suprising Life As Superman's Jimmy Olsen in the 1950s / Judy Garland's 2nd TV Special and Las Vegas Debut / Early Network News Broadcasts / Lost Desilu Sitcom: Those Whiting Girls / Lost Superboy Pilot / The Shadow 1954 Pilot / KTLA News / / Kid Show Pioneer Herb Sheldon / Aline Saarinen / Tribute to Sandy Becker / The Adventures of Dr. Fu Manchu / / O.Henry Playhouse / NYC's First Bozo Bill Britten / The Magical Land of Alakazam! / 1950s and 60s Bloopers / TV's First Working Woman / Cannonball - 1950s Trucking Drama / Sonny Fox Kid Shows / Lauren Bacall on Bette Davis / Sunset Boulevard Explained / Abbott & Costello TV Show / The Three Stooges: The Where They Were / The First 'Black' Show - Beulah / Women on TV in the 1950s / The Today Show / Hey Jeannie / The Jeannie Carson Show / TV's First Educator Paul Tripp / Ernie Kovacs / Soap Opera Miss Susan / Adventures of Superman Lost Episode / Bette Davis vs Ronald Reagan / Captain Z-Ro / Obscure Actress Mary Castle / Serious 1950s TV shows / Remembering David Susskind / TV's First Rerun Series / The Ken Murray Budweiser Show / Saturday Morning Serials / Two Variety Shows of the Fifties / Game Shows of the Fifties /1950's TV Wrestling / Greensboro's Soda Pop History / Mr. Adams and Eve / TV's First Star / Oh Susanna! the Gale Storm Show / Bob Hastings / TV's First Star / History of the Laugh Track / The First Interactive Video Game / Designing Winky-Dink / Buffalo Bob Smith / The McKimson Brothers & Animation / Interview with a Show Business Legend / The Soundies / Snaders Telescriptions / Steve Allen Interviewed / Racket Squad / December Bride / The Big Show / Beverly Garland & Decoy / Richard Crenna & The Real McCoys / Roger Muir / Noel Coward's 1955 TV Special / Jon Provost Interview / 1950's TV Shows on DVD / Oh Susanna! The Gale Storm Show / 1950's Old Time TV Thanksgiving / Outrageous 1950's Commercial! / The Real Superman? / Mickey Mouse Club's Cheryl / Gale Storm / Captain Allen Swift / NYC's St. Patrick's Day Parade Telecasts / Julie London / The Goldbergs / 1950's Female Singers / The Dead End Kids / Bowery Boys / Fred Allen / Ed Wynn / Mr. Belvedere Movies / Art Linkletter / The Bickersons / Marty & Live TV / George Gobel & Red Buttons / Barbara Billingsley / Billy Gray Interview / Abbott & Costello Show / The Honeymooners / Three Stooges' Joe Besser / Whirlybirds / Burns & Allen Show