THE BICKERSONS
by Billy Ingram
Who funds all those dumb studies we read about seemingly on a daily basis? We do I guess. You know what I mean, the studies that tell us everything from the air we breathe to the water we drink will kill us. Here's one I read today - if your friends start dating, that gets you to start thinking about hooking up as well, and you'll think better of a person if they have a mate. Huh? How much did that bit of wisdom cost me?
You see, I suspect that's not always true. And where do we go for thruth? The television, of course! Sadly, there have been a few troubled couples on TV; the Bickersons were the medium's first battling couple.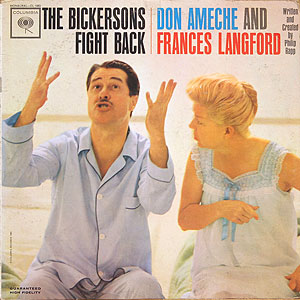 A popular radio feature starring Don Ameche and Frances Langford, The Bickersons was written & created by Phillip Rapp who also invented Baby Snooks and the television version of Topper, one of my early TV faves. He also created a series for The Marx Brothers that had to be scrapped when Chico couldn't get insured because of an ongoing illness.
There were actually several attempts to bring The Bickersons to TV with both an animated and a live action pilot. There were Bickersons sketches on Star Time from 1950-51 with Lew Parker and Frances Langford and a 13 week series aired in the summer of 1951. Parker, who played Anne Marie's father on That Girl, had taken over the role of John Bickerson on the radio series in 1950 for the final season. Here's part of one of those summer shows; unfortunately the TV versions of The Bickersons just didn't have the punch the radio series packed.
One of the radio skits was adapted for a 1960's animation test, I'm guessing that the popularity of The Flintstones in primetime inspired this.
Ameche & Langford re-recorded some of their funniest radio routines for a series of LPs in the 1960s, I discovered The Bickersons on a 1965 double LP re-release. I'd still have those LPs but my brother swiped them, our whole family loved listening to those albums.
Just as The Bickersons faded from radio & TV in 1951, The Honeymooners sprang forth from the genius of Jackie Gleason, basically The Bickersons with neighbors and a kind word at the end.