FRED ALLEN / FRED ALLEN TV SHOWS
by Billy Ingram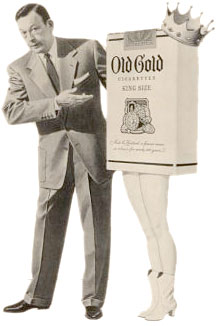 When television first began it made perfect sense to transplant primetime network radio programs into the hot new medium.
Many network radio stars made that transition - Lucille Ball, Bob Hope, Jack Benny - but one of radio's biggest talents, Fred Allen, failed to make the TV grade. Allen's freewheeling, satirical radio show, Allen's Alley (also known as The Fred Allen Show), really was one of the funniest programs on the air in the 1940s, I would say comparable to The Daily Show today.
Here's a 1945 Fred Allen radio broadcast (with a young Frank Sinatra as guest imagining what his career will be like in 1995) from the end of World War II that includes a prime example of the Jack Benny - Fred Allen feud that was a highpoint of both of their careers.
A lot of ink has been spilled over the decades to try to explain Fred Allen's inability to translate to the box but I'm not sure there ever was a definitive reason. He had health problems in the fifties, that was one major factor, then there's the fickle public. Who knows, if he had lived longer than 1956 maybe he might have found the right format.
He initially tried bringing his popular radio format Allen's Alley to the tube but that was a no go. Here's part of one of Allen's TV forays called Judge For Yourself, a game show that allowed the witty host to verbally spar with the contestants. It worked for Groucho but then Groucho had that unmistakable leer that made all of his quips sound like double entendres even in the rare instances when they weren't. Then again, Judge For Yourself gets bogged down by a needlessly clumsy format.
A subsequent show, Fred Allen's Sketchbook, also fizzled so Fred Allen settled into a regular slot on the game show What's My Line in 1954 where, presumably, he could have stayed for a decade or two had he not died of a heart attack two years later.
But Fred Allen got the last word on television, "You know, television is called a new medium, and I have discovered why they call it a medium — because nothing is well done." He was vociferous in his view that TV was for, "people who haven't anything to do to watch people who can't do anything." I believe he also originally quipped what I've been saying for years: "Television isn't for watching it's for appearing on." Touche.