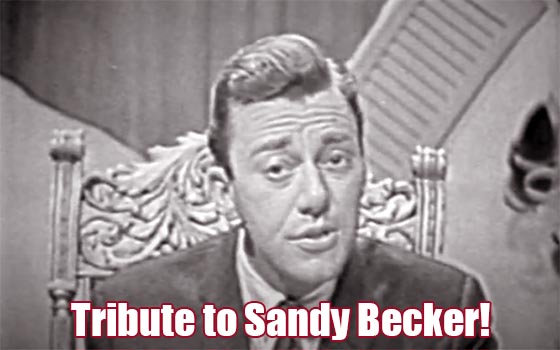 A Tribute to NYC's Premier Kids' TV Wraparound
Host & Performer Sandy Becker
by Kevin S. Butler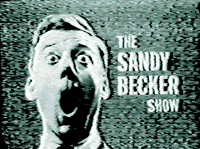 Saturday, February 19, 2022 marked what would have been the 100th birthday of radio announcer, actor, interviewer, cartoon voiceover performer, and NYC's kids' TV wrap-around host and performer Sandy Becker, a unique talent able to entertain and inform children while charming adults as well with his gentle personality and hip humor.
Born George Sanford Becker in the Harlem section of Manhattan, New York City, he later moved with his parents to the Jackson Heights section of Queens.
Originally, he planned for a career in medicine but Sandy's hopes of becoming a doctor were sidetracked after his parents bought him a puppet making kit. He began creating his own hand puppets, then adding his natural talents for cartoon mimicry and storytelling, developing an act that Becker performed for kids in the neighborhood.
It wasn't until Sandy Becker was in his teens that he was introduced to the world of broadcasting, when he took a trip to the WWRL radio studios with a friend. His friend was preparing to audition as an announcer at the Woodside, Queens station. Sandy tagged along, not to audition, he was hoping to find an empty studio to do his homework.
When the station execs met the two young men in the lobby, they assumed that Becker was there to try out for the announcer's job. Sandy's friend didn't get the job but the tall, handsome fellow from Jackson Heights became that station's newest broadcaster. Sandy stayed with WWRL for a time but eventually left NYC for Charlotte, North Carolina to work at WBT radio.
After his time at WBT, returning to New York, Becker began a long stint with CBS Radio working on many series as an announcer like 'Glen Island Casino.' He did newscasts and served as the announcer and later playing the title role of 'Young Dr. Malone.'
In 1953, Sandy made his television debut as the announcer and host of the game show 'Ask The Camera,' seen on WRCA Ch.4, created by future 'Today Show' host Ms. Barbara Walters. He also served as the commercial announcer on 'The Armstrong Circle Theater' and on 'The Adventures Of Robin Hood' series.
But it was in the spring of 1955 that Sandy Becker began hosting the TV shows for which he is best remembered.
On Monday evening April 11, 1955 Sandy became the first host/performer of WABD Ch.5's 'Looney Tunes Show,' engaging his young viewers with drawing lessons, puppet skits, informational segments, chalk talks (drawing cartoons to illustrate his stories), along with interviewing guest performers and local personalities between reruns of the cinematic antics of Bugs Bunny, Daffy Duck, and Porky Pig.
Two months later Sandy would emcee a similar format on weekday afternoons at lunchtime on Ch.5's 'Sandy Becker's Funhouse.' ('Sandy Becker's Funhouse' would later move to a weekday morning timeslot and retitled 'The Sandy Becker Morning Show.')
All the while he continued to do commercial announcements for 'The Adventures Of Robin Hood,' act on 'Young Dr.Malone,' and host a six hour Sunday afternoon kids' variety series on WABD Ch.5's 'Wonderama' beginning on Sunday, September 25, 1955.
Eventually the pace got to be too much for him, Sandy left 'The Looney Tunes Show,' 'The Adventures Of Robin Hood,' 'Young Dr.Malone' and 'Wonderama,' concentrating on hosting 'The Sandy Becker Morning Show.'
A portion of Sandy Becker's early morning show on WNEW TV channel 5 from around 1960.
For a time he hosted a Friday night cartoon series 'The Bugs Bunny Theater' which debuted on Friday, September 14, 1956 and he hosted the post-1938 'Our Gang' films on 'Sandy Becker Presents The Our Gang Comedies' on Ch.5 which aired beginning Monday evening, November 17, 1958.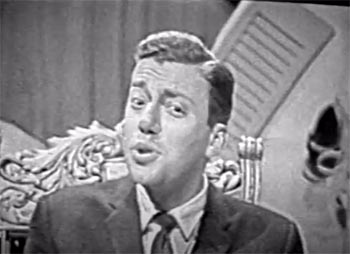 He left 'The Bugs Bunny Theater' following the Friday, September 6, 1957 broadcast. Despite his efforts, the post-1938 'Our Gang' films produced and released by MGM were not as successful (or funny) as the original series produced by Hal Roach. The station execs closed down the Our Gang clubhouse following the Friday, March 17, 1961 telecast.