Tribute To Kids TV's First Educator Paul Tripp
Part Two /
Part One Here
by Kevin S. Butler
"On The Carousel" remained on CBS TV's Saturday morning schedule until the network execs ended the carousel's ride on October 3, 1959.
Earlier that same year Paul became the second host/performer of WOR TV Ch. 9's "Looney Tunes Show". He took on the assignment following the departure of the program's first emcee Ms. Ginger MacManus (Sonny Fox' former traveling companion on CBS TV's "Let's Take A Trip" she left the series following the Friday evening January 9, 1959 telecast) on Monday evening January 12, 1959.
Paul would engage his young visitors (the viewers) to the Enchanted Cottage in a forest in songs, stories, games, magic tricks, craft-making, hobbies, information segments and guest interviews. Yet, he didn't care for the cartoons that they screened on the program because he found the characters and gags within the films to be unacceptable for his viewers. Paul finally left the show on Friday evening July 10, 1959.
(Editors note: Herb Sheldon and later on Chubby Jackson would host Ch. 9's "Looney Tunes Show" for the remainder of it's run.)
Unable to find any other children's TV show to host in NYC, the Tripps and their daughter and son moved to Southern, California where they hoped that they might obtain acting jobs in episodic TV series.
Paul did appear on some TV shows playing villains on such programs as "Perry Mason" and "The Dick Van Dyke Show" but the acting jobs became few and far between. Paul and Ruth and their son David Tripp returned to NYC (their daughter Suzanne remained in Los Angeles to continue her studies at USC).
In the spring of 1963 they received a phone call from TV producers Lester Lewis and Alton Alexander to audition for a new children's series that they were developing for WNBC TV Ch. 4's weekday morning schedule. Paul and Ruth met with Mr. Lewis and his producing partner Mr. Alexander and they won the audition.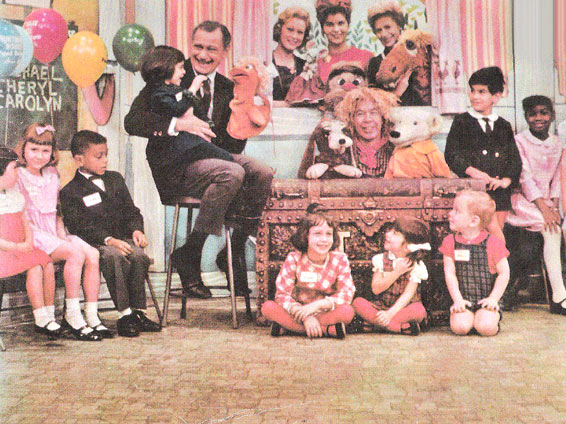 On Monday morning April 1, 1963 Paul Tripp began hosting his last regular educational kids TV series "Birthday House". Once again set against the backdrop of an enchanted cottage in the forest Paul would celebrate the birthday of young child with his or her's friends.
On the first few shows he mc'd the program solo but, within time, his wife joined the cast and with the addition of Jan Lara, Kay Lande, Ray Carter and puppeteer Tom Tichenor. The Tripps and their cast would engage the birthday child and friends in games, songs, stories, informational segments and comedic banter from Mr. Tichenor's puppets.
BIRTHDAY HOUSE, Local NYC Daytime Kid Show
from the 1960s with PAUL TRIPP
Tom Tichenor also performed on the show as "Strawtop The Silent Scarecrow" doll and also served as the sounds of "Mr. Knock Knock," the birthday gift giving closet.
Actresses Patrica Crowley (who was then appearing on the NBC/MGM TV version of "Please Don't Eat The Daises") and Barbara Feldon ("Agent 99"on "Get Smart") would spend some time with Paul, Ruth, Jan, Kay, "Strawtop" and the kids.
Ringling Brothers' leading clown Lou Jacobs not only performed his best clown skits on the show he also dressed up Paul as a clown on camera. Paul also got the kids to exercise via his song "Everybody Stretch" and they took drawing lessons from "Whitey The Talking Chalk Board".
The show became so popular that it was awarded a special NYC Emmy and it was even seen in national syndication. In 1965, the Tripps took time out from "Birthday House" to travel to Cinecittà Studios in Italy to shoot a movie version of their Yuletide children's story "The Christmas That Almost Wasn't" for Childhood Productions. (Sonny Fox, Rosano and Lydia Brazzi, and Mischa Aurer also appeared in the film.)
Mom Pa Pa Song
Actor/storyteller and the former host/performer of "The Ruff & Reddy Show" Jimmy Blaine served as "Birthday House's" guest emcee. "Birthday House" remained on the air until the station execs at WNBC TV closed down the show following the Friday September 8, 1967 broadcast. Following the cancellation of "Birthday House" Paul Tripp's TV appearances became few and far between.
He played General George Washington on an installment of NBC TV's historical mini series of educational kids TV specials "American Rainbow" titled "The Boston Spy Party" in which a young boy named Bart dreams that he is back in colonial times helping a group of undercover spies disguised as a traveling theater troop learn of General John Burgoyne's plans to attack Bunker Hill.
"The Boston Spy Party" aired on NBC TV on Saturday morning February 28, 1970 and it starred Constance Towers, Jack Cassidy, Christopher Hewett and Frank Fontaine (Frank was best remembered for playing "Crazy Guggenheim" on "Jackie Gleason's American Scene Magazine")
Paul and Rosano Brazzi also appeared on The Mike Douglas Show and Paul made guest appearances on Bob McAllister's version of "Wonderama" (to promote his children's book "The Scarecrow Who Smiled By Mistake") and on WCBS TV Ch. 2 NYC's 50th anniversary TV tribute "50 Years Together: Channel 2 and You" In 1991.
Other than these brief forays into the video medium, the Tripps dedicated their time to writing, producing, directing, staging and performing in plays and musicals overseas.
Paul also appeared in the national touring company of "1776" as Dr. Ben Franklin and he succeeded James Whitmore in playing the beloved American humorist and film actor Will Rogers in the one man stage show" Will Rogers USA".
He also found the time to write, produce and narrate an animated feature film version of "Tubby The Tuba" which also had an all star cast that included Mr. Dick Van Dyke, David Wayne, Pearl Bailey, Jane Powell, Hermione Gingold, his wife Ruth and in his last performance Cyril Ritchard providing the voice overs for the characters which aired on HBO TV in 1976.
(Editors note: a short "Puppetoon"version of "Tubby The Tuba" was created and produced by George Pal and released theatrically by Paramount Pictures in 1947.)
Paul Tripp's last projects were his portrayal of Inventor Thomas Edison in the 1979 TV movie bio "The idea Of Edison" and "Maybe Baby" in 2000 where he played a character known as "Mr. Furblob".
In 1999 he was interviewed for an article honoring the anniversary of the debut of "Mr. I Magination" for The New York Daily News. Sadly, Ruth Tripp passed away after the publication of that article on July 28, 1999.
"The Man With The Magic Reputation" left us on August 29, 2002.
But Paul & Ruth Tripp's contributions to the development of educational children's television continued via the efforts of such creative and caring people as Ray Forrest of WNBC TV's ".Children's Theater", Don Herbert's and Jules Power' "Watch Mr. Wizard", Sonny Fox' "The Finder" and "Let's Take A Trip", Ray Heatherton's and Sandy Howard's "Merry Mailman", Frank Buxton, Virginia Gibson and Bill Owen on Jules Power's "Discovery" and Bob Keeshan's "Captain Kangaroo".
Here are some video clips
from the February 1966 episode
of Birthday House
(in Real Player Format):
Paul greets the kids
Click here for Real Player Format / Quicktime Format
This ultra-rare kinescope is missing the theme song (and commercials) and cropped a bit askew as it was shot directly from the studio monitor. It picks up with Paul and his elegant co-host Ruth Enders (Tripp) inviting the children into their musical Birthday House, an enchanted cottage in the forest.
The Birthday march, the Spelling Bee, the gerbils and Ruth
Click here for Real Player Format / Quicktime Format
Lorraine Goodman tells us: "I'm the one who's 4 - they called me 'Lorri' back then. My sister is Carrie, the 2 year old who gets all the special attention and stole the show!" More than forty years later you're internet stars.
Is it my imagination or are Paul and the puppet trading double entendres during the gerbil bit?!?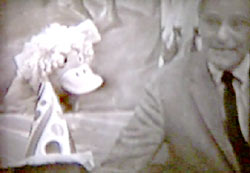 Paul Tripp created and developed the catchy, fanciful songs with Ray Carter.
Click here for Real Player Format / Quicktime Format
Another of the regular tunes and one of the puppets.
Click here for Real Player Format /Quicktime Format
This episode only exists because someone asked that a kinescope be made, a film they could take home - which was highly unusual, somebody had some pull at WNBC!