ON THE CAROUSEL
part of the New York City Kid Show Roundup
by Kevin S. Butler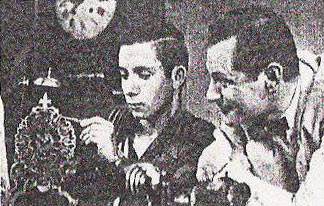 On Saturday morning December 5, 1953 the CBS TV network created and produced On The Carousel, teen magazine that showcased the arts, music, dance science, history and literature, to the young viewers of the NYC area.
Hosted by up and coming game show host Allen Ludden, best remembered for his MC'ing the G.E. College Bowl and Password. Mr. Ludden encouraged the students to work on different projects n the series but seemed ill at ease hosting a TV news magazine for teens so he left the series after the Saturday May 29, 1954 broadcast.
Kid TV's first educators, Paul & Ruth Tripp and two regulars from their first series Mr. I. Magination (actor Ted Tiller and musician and songwriter Ray Carter) took over as the series' second and last hosts/performers and instructors.
The Tripps made the show more engaging by giving On The Carousel a lighter and more fun tone. The approach worked and kids could watch the show and see how music was used to enhance network news reports; they also learned about how to preserve foods by adding an atom smasher into their refrigeration units and were treated to TV adaptations of Mr. Tripp's musical stories "Tubby The Tuba" and "The Christmas That Almost Wasn't." (The live action version of "Tubby The Tuba" aired on Saturday October 2, 1954)
The show did so well that it shared the NYC Emmy Award in 1957 with WRCA TV 4's Children Theater as the Best Children's TV series. The Tripps, Mr. Tiller and Mr. Carter continued to take viewers and studio audiences on their On The Carousel treks until the heads of CBS TV ended the ride on Saturday October 3, 1959.