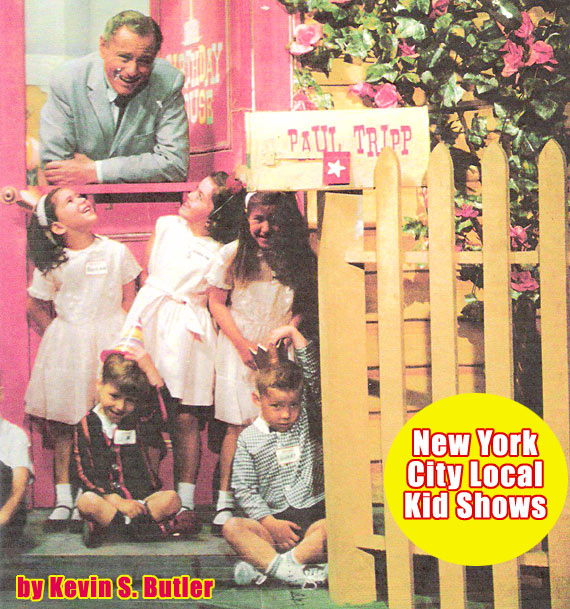 Birthday House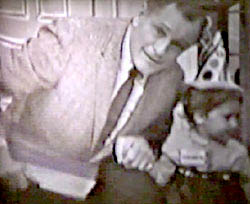 On Monday morning, April 1, 1963, children TV's first educator Paul Tripp began hosting his last kid's series Birthday House, wherein one lucky child in the NYC viewing area got to celebrate his or her birthday in a grand way on the air. The show was set against the backdrop of an enchanted cottage in the forest called, naturally, the "Birthday House."
Paul Tripp was familiar to local viewers; he was known as Mr. I Magination in the early fifties and had hosted a daytime cartoon show in NYC from Monday, January 12, 1959 to Friday, July 10, 1959 as the second host/performer of WOR 9's Looney Tunes Show, succeeding Ms. Ginger Macmanus.
Together, MacManus and Tripp hosted a nightime version of the series weekday evenings from Monday, September 14, 1958 until Friday, July 10, 1959.


On Birthday House in 1963, Tripp and his co-hosts/performers and instructors Jan Lara, Kay Lande and Ruth Enders (Tripp's wife) engaged their studio audiences and viewers in games, songs, stories, craftmaking, hobbies, informational segments and inteviews with guest performers, personalities and with the kids in the studio audience.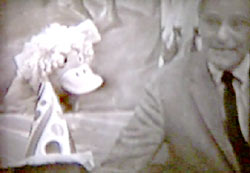 While celebraiting the little boy/girl's real life birthday, comedy was provided by Tom Tichenor's puppets; he also performed pantomime skits as "Strawtop, the Silent Scarecow Doll".
Viewer Lisa Winston tells us about one of the songs heard on the show, "I got to celebrate my 5th birthday there and remember singing 'Hi Mike,' which must have been the scourge of existence of any kid named Mike for the next 10 years. It went, 'Hi Mike, Hi Mike, I like to say, Hi Mike, Hi Mike, Hi Mike, I like you very much.'"
At the end of the show the kids got gifts from "Mr. Knock Knock, the birthday gift giving closet" and "Mrs. Oven" who would finish baking and presenting the lucky kid's birthday cake on the air.
TVparty-er Greg G remembers being on the show, "Like Lisa, I too made an appearance on Birthday House in 1965 for my fourth birthday. From that day forward, Paul Tripp could do no wrong in my book. This impression was slightly diminished when in 1971 a touring production of the play "1776" came through our town.
"Upon finding out that this production featured Mr. Tripp in the role of Ben Franklin, I made a general pain in the neck of myself until my parents agreed to purchase tickets for this production.
"At the conclusion of the show, I managed to get myself backstage to say hello, only to have an annoyed Paul Tripp wonder why any parent would bring their child to such a production (given the profanity in the script). "
There were visits from actresses/singers Pat Crowley (Mrs. Joan Nash of NBC/MGM TV's Please Don't Eat The Daises TV show) and Barbara Feldon (Agent 99 from Get Smart).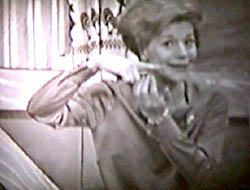 In 1964, on the NYC Emmy Awards, WNBC Channel 4 recieved a special citation for their excellent efforts in presenting quality children's programing through Birthday House.
The Tripps and their fellow co-hosts / educators continued to celebrate kids' birthdays until WNBC ended production on Friday, September 8, 1967.
Paul Tripp died on August 29, 2002, his wife passed away in 1999.
---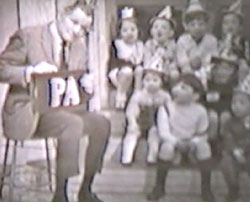 Here are some video clips
from the February 1966 episode
of Birthday House
(in Real Player Format):
Paul greets the kids
Click here for Real Player Format / Quicktime Format
This ultra-rare kinescope is missing the theme song (and commercials) and cropped a bit askew as it was shot directly from the studio monitor. It picks up with Paul and his elegant co-host Ruth Enders (Tripp) inviting the children into their musical Birthday House, an enchanted cottage in the forest.
The Birthday march, the Spelling Bee, the gerbils and Ruth
Click here for Real Player Format / Quicktime Format
Lorraine Goodman tells us: "I'm the one who's 4 - they called me 'Lorri' back then. My sister is Carrie, the 2 year old who gets all the special attention and stole the show!" More than forty years later you're internet stars.
Is it my imagination or are Paul and the puppet trading double entendres during the gerbil bit?!?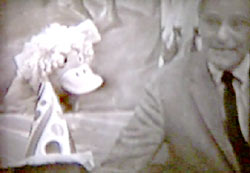 Paul Tripp created and developed the catchy, fanciful songs with Ray Carter.
Click here for Real Player Format / Quicktime Format
Another of the regular tunes and one of the puppets.
Click here for Real Player Format /Quicktime Format
This episode only exists because someone asked that a kinescope be made, a film they could take home - which was highly unusual, somebody had some pull at WNBC!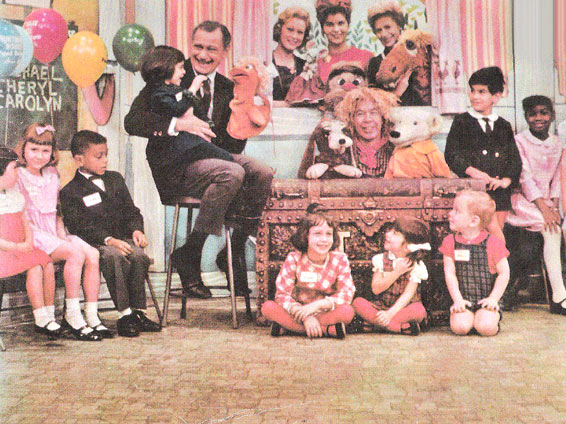 ---
Kevin S. Butler writes: Host Paul Tripp was able to discipline a naughty little boy on one episode of WNBC TV 4's Birthday House and it worked.
In my interview with Mr. & Mrs. Tripp (which is sadly lost to history) they told me of one incident that occurred on the show. The Tripps were handing out pinwheels for a game to the kids in the studio that day. Everyone got a pinwheel except one little boy who was very impatient and instead of waiting for his pinwheel the naughty little fellow snatched a pinwheel from the birthday girl.
The poor little lady started crying and Mr. Tripp confronted the brat on the show and said to him, "Johnny (or whatever the little boy's name was) that was a very naughty thing that you did. We're all here to have fun and to learn here at Birthday House but we're also here to share. Now, if you don't have one of these (Paul Tripp holds a pinwheel in his hand in front of the boy) then I'll give one to you but you must never take anything away from anyone and you must never hurt anyone and you hurt that little girl and that is our birthday girl."
The little fellow started to cry and Mr. Tripp said to him, "Oh please don't cry we don't want you to be sad but you should apologize." The little fellow started to apologize. to Mr. Tripp - "No, not to me, you didn't hurt me but you hurt that little girl, the little birthday girl, and you should return her pinwheel to her and you should apologize to her."
The little boy returned the pinwheel and apologized to her and she graciously accepted and kissed him.
"Then I turned the whole thing around," recalled Tripp. "I went up to him and I said to him, 'Now I want to shake your hand (which Mr. Tripp did) because it takes real guts to admit that you were wrong and that you are willing to apologize."The Tripps and everyone connected with the show got lots of positive mail and phone calls from parents and educators praising them on this proper way of dealing with unruly children on their show.
As Mr. Tripp told me, "No. We would not put up with any nonsense on Birthday House. We'd treat the children on our show as we would our own children at home. If you're looking for a kick in the pants you're going to get it."
I doubt that the Tripps would be foolish enough to slap a kid on camera in front of their audiences on any of their kid's TV programs but they did know how to put a bratty kid in his or hers' place on the show.
That is something that you'll never see on any PBS/cable or network kid's show today because parents feel that discipline creates serious trauma in children.
MORE ABOUT BIRTHDAY HOUSE HERE!