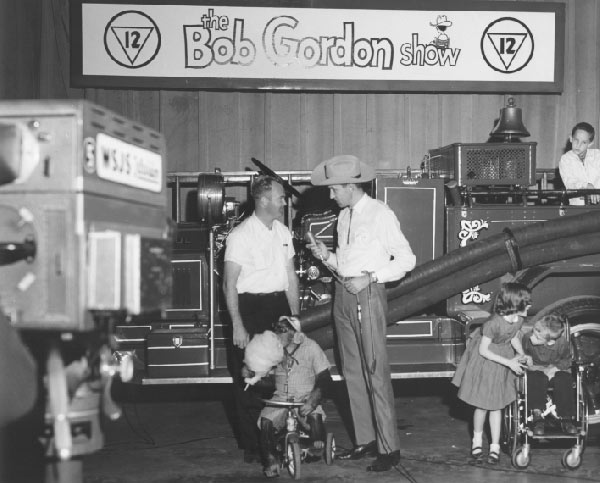 Can you tell me anything about the "Bob Gordon Show" that was on WXII (then WSJS) 12 in Winston Salem, NC? I can barely remember it when I was a kid and I can't find anything on it over the internet. I would like to find out more about this show, I can also remember Fred Kirby out of Charlotte.
I do know that Bob is still alive and living in the Winston Salem area. I have a photo of him at the Dixie Classic Fair in the early 60's that I have attached. I met Fred Kirby at a lions club meeting. He was big into the Lions when I was the president of the Midway Lions Club. He was a very nice person and was always wearing his cowboy hat. He passed away a couple of months after that.
- David Dry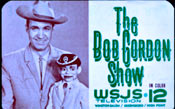 Bob Gordon Theater aired from the early-sixties (I'm guessing) into the mid-seventies on Sunday (and the rare Saturday) afternoons.
Laid back and relaxed, Bob Gordon was famous for his craft features, most notably for folding dollar bills into different shapes, and for his ventriloquism routine with his dummy partner Van. The program varied in length and schedule depending on what sports programming might be in season, most often running three hours a day (sometimes shorter or longer). The show usually began at 2:00pm (sometimes 1:00 or 1:30) and the time was filled mostly with reruns, old movies and serials.
The program was very popular for young, entertainment starved TV viewers - there wasn't much for kids to watch on Sunday afternoons at the time if you weren't into sports, religious or nature programming, Bob Gordon offered viewers a wide variety of quality programs, many with a sci-fi slant.
During the late-sixties Bob Gordon hosted shows like Dobie Gillis, Adventures of Superman, Lone Ranger, Bus Stop, Bachelor Father (in a rotating format) along with various movies from the 1940s between live segments, sometimes featuring local guests and musicians.
In the early seventies the movies were dropped in favor of primetime reruns such as Rat Patrol, I Spy, N.Y.P.D., 77 Sunset Strip, Sugarfoot, Secret Agent, One Step Beyond, The Invaders and Time Tunnel. These shows alternated on different weeks. Bob Gordon also screened the 12-part serial Buck Rogers once a year during that period.
By 1974-75, Star Trek, Green Acres, Get Smart, I Spy, High Chaparral and Twilight Zone made up the bulk of the line-up. When more network sports programming became available on the weekends, the Bob Gordon Show was increasingly sidelined. His programs, broadcast live, became more infrequent until cancellation came around 1976 or 1977.
Bob Gordon was also a welcome guest at the Christmas parades around the Triad. He lives today in quiet retirement in the Winston-Salem area but reportedly refuses to talk about his TV years.
- Billy Ingram
---
Bob Gordon Theater was a favorite of mine as a child. I loved the westerns but most of all it was fun to watch Bob (Robert Van Horn) try his paper folding skills. So many times they just didn't work - but he had another one to the side that had worked earlier. It was great fun. They don't make'm like that anymore.
- Martin Kirby