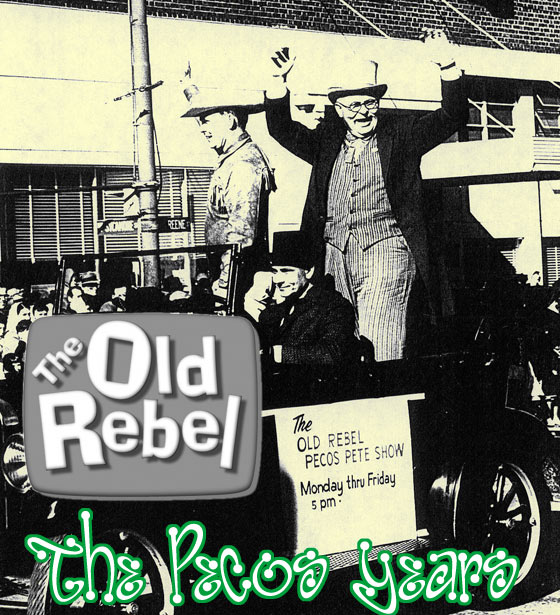 compiled by Billy Ingram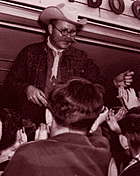 "I don't know where TVparty originates from, but there used to be a local kids' show in the Piedmont North Carolina area called The Old Rebel Show, it ran from the early Fifties until the Seventies.
"The "Old Rebel" was played by a fellow named George Perry. The show followed 'Captain Kangaroo' each day and would start out with a group of children in the audience who would eventually line up and give their names to the Old Rebel on camera. After that, there would be a comedy routine with Lonesome Lee the clown, and later in the 70's, a fellow named Jungle Jim and his puppet dog, Mr. Wiglesworth joined the show.
"The program was a real ratings winner for station WFMY in Greensboro. For years, there was a large painting of the Old Rebel in the station's waiting room area."
- Kevin Squires
---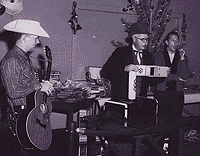 What a bunch of memories I have of The Old Rebel Show! I joined the fan club back in the early Sixties - and I received a page of sheet music with the fan club song. I don't have the sheet, but over thirty-five years later, I still remember the words:
Some of us are rebels
And some are buckaroos
And we are very helpful
From our helmets to our shoes
And when we're asked to lend a hand
We never do refuse.
'Cause some of us are rebels
and some are buckaroos.
Kind of sums up the whole attitude of children's programming at that time - be good, have pride and help others.
Remember, this was before cable TV. We could only get three TV stations with rabbit ears - Channel 2 (about 2-3 miles away), Channel 8 (pretty good reception), and 12 (barely could see it through the "snow"). If you were in Greensboro, you watched WFMY-2, period.
- John Hitchcock
---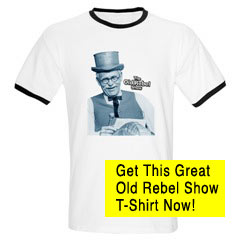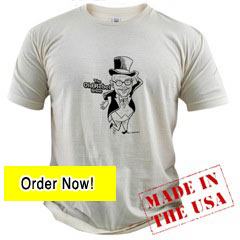 ---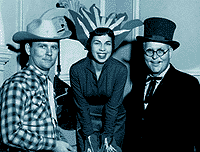 The show's loyal following - at home and in the studio audience - includes 15,000 members of the Old Rebel and Pecos Pete Club - proud owners of club pins, song, code and photo album.
Cast members include Old Rebel, Pecos Pete, Uncle Roy, Lonesome Lee, Coocoo the Clown, ventriloquist Ted Moss and his pal Hal and many special guests. Features include 'Popeye', 'Wally Gator', 'Touche Turtle', 'Lippy the Lion', and 'Space Angel' cartoons plus magic tricks, fancy roping, puppet shows, museum trips and special days such as 'Indian Day', 'Cowboy Day', and 'Favorite Toy Day'. In addition to their popularity on camera, the show's stars are also in demand for personal appearances at parades, shopping center promotions and benefits.
- Press Release from 1964
---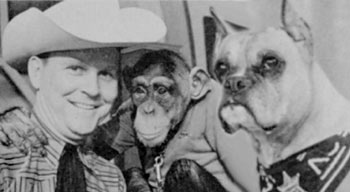 Jim Tucker portrayed Pecos Pete on the 'Old Rebel Show' from 1953-1965. Jim was a great cowboy, easy going and kindly, a congenial CO-host with a wide range of talents from the wild west trail, including rope trick artistry, sharp shooting and melodious guitar picking.
Rebel and Pecos made countless appearances over a three state area, from Charlotte to Siler City (where they guested on top of a drive-in concession stand during a torrential rainfall and earned enough money to buy Grape Nehis and Lance Cheesecrackers.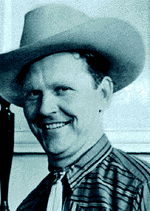 They interviewed big western stars like Gene Autry and Dennis Weaver, and they shared he billing at high school auditoriums with legendary country stars (including a visit once by 'Popeye the Sailor', whose speech was punctuated by foul language as obscene as a Barbary pirate).
Pecos and Rebel went backstage at Greensboro's National Theatre in the Fifties to flirt with the pretty Carter Sisters (June later married Johnny Cash), and a bashful fellow introduced himself to Rebel and Pecos - it was Elvis Presley!
- Timm Perry, (Old Rebel's son)
---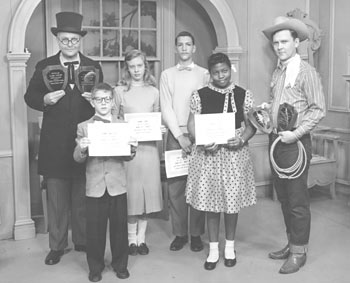 My father (Buddy Moore) was the Chief Photographer for WFMY-TV for many years. Not only did he do freelance work with CBS (Cronkite, Reasoner, etc.); filmed the Miss America Pageants in Atlantic City; he was the first photographer allowed aboard the first US nuclear sub, The Nautilus; he met and chauffeured Jayne Mansfield around Greensboro; he also arranged appearances for me and my brothers on the Old Rebel Show. I made one appearance on the Old Rebel Show, while my two brothers made several.
As I was only 6 or so at the time and I was in "awe" of the TV Station. I had visited the station many times with my Dad, but this was different, I was going to be on TV!
This particular show was a "Christmas Show" and they were handing out presents. I remember getting a "car-carrier" truck complete with cars. It was only a plastic toy, but to me it was the lottery! After all, it was a gift from the Old Rebel. Six years old, on TV and getting gifts. It just doesn't get any better!
I also received (a couple of years later, courtesy of my late father) a Valentine, signed by Old Rebel, Pecos Pete and Lonesome Lee. I still have that valentine in a "memento" drawer. I'm afraid the truck and cars are long gone!
Yeah, I know, it sounds sappy and there is not much substance here. I'm 41 years old now and that's about all I can remember about being on. Sometimes I'm lucky if I remember what I did the previous day! However, I think I'll always remember the excitement of being on the Old Rebel Show and that gift. After all, how many six year olds get gifts on TV?
- Mark Moore
---
A show of this nature today would cost a great deal of money and more than likely be a stand-alone production, not put together by a staff of folks who all performed many additional jobs throughout the station. Not even the Old Rebel did only the Old Rebel Show - George Perry also worked as the station's Farm Bureau chief and regularly did features on Lee Kinard's 'Good Morning Show'.
- Jim Wiglesworth, Co-host Old Rebel Show, 1968-1977
---
First off, I was just delighted when I found TVparty.com. As a certified television history fanatic, I shiver with delight at some of the video clips I've found on the site. How in the world did you find a clip of the old CBS endcap?? When I was a little girl, for some reason watching the eye open and close during a station ID scared me spitless - now it's a precious TV artifact, as far as I'm concerned.
When I saw a tribute to Old Rebel and Pecos Pete, my jaw dropped, and I wondered how in the world you even KNEW about that wonderful show - until I found out you're from Greensboro. I grew up Elon College, and my afternoons weren't complete without Old Rebel. Unfortunately, I never got to see the show in person - but for a very shy little girl, just having Old Rebel as part of my afternoon routine was comforting. There are times when I really miss the era of "3 channels if you were lucky". We received WFMY, WSJS (now WXII) and WGHP from High Point on a good day.
In 1966 my parents separated, and we moved in with my grandparents who lived in Kannapolis, NC. My grandfather had a HUGE Magnavox TV/Radio/Stereo console in the den, complete with a Channel Master antenna rotor AND a remote control. My brother and I just thought we'd died and gone to heaven - chiefly because it meant we could watch "Batman" twice in one night. Once on Channel 8, and then we got to watch it on Charlotte's Channel 9.
- Susan
---
The Old Rebel was a very kind guy, you could tell that he enjoyed talking with the children. At one time they had an art contest for kids to draw a logo illustration to use for transitions to commercial breaks. I got out my crayons and did a crude sketch of the Old Rebel's hat (I was prompted by my sister) and lettered the title beside the hat. I don't know how many kids sent them in, but mine was used on the show - a big thrill.
I was on the show once - I went with my mother's Girl Scout troop (I was their mascot). I was at the top of the bleachers, we were jammed in like mackerels and after a six-ounce Coke, I got sick and threw up. I'm sure that made a lasting impression at Channel 2.
- John Hitchcock
---
When Pecos Pete left the show in 1965 and then turned up on Channel 12 as Jim Tucker (sans the cowboy outfit and lariat), I got kind of confused. Was Pecos Pete gone forever - a buried personality? It seemed odd that he just vanished like that. It was the first time I became aware that television wasn't just a magic box, but a place where real people worked.
Pecos Pete was the closest many of us kids could get to a 'real-live cowboy'. In my mind as a child, only a real cowboy could twirl a lasso like that!
- Billy Ingram
---

Watching The Old Rebel Show is among my earliest TV viewing memories. He always had a nice warm smile, a soothing voice and a laugh that made you feel nothing bad could ever happen. But much as we loved The Old Rebel, everyone in my community had a special fondness for his cowboy costar.
I made one appearance on the show when I was in first grade as a tagalong with my older brother's Cub Scout den. (I didn't have to pull any strings - my mom was den mother.) I remember being amazed to see the cast, the set and the puppets in color since this was during the black and white broadcast era. And everything looked kinda big too! Since our group was from Peco's home town of Troy, he came over to greet us and spend a little time visiting. Wow! The real Pecos Pete standing right there!
Jim's two younger brothers went to my elementary school. I knew this because walking home one afternoon, this older kid came up to me and said, "Hey boy, do you know Pecos Pete?" I silently nodded, in awe of a big kid speaking to me. "Well, that's my brother," he said, and then he was off, leaving me in the glow of greatness twice removed.
Kids who rode the school bus home to the Lovejoy community came in one day talking about seeing an alligator sunning himself by a farm pond. "Nuh uh," we all said, too wise to be taken in by tales of scary beasts in Montgomery County. But the teacher backed up the story, saying it was a little souvenir alligator that Jim had released into the pond when it was young. It only had three legs, she said, because a turtle had bitten off one leg when it still was very small.
About a year after John Glenn's historic space flight, The Old Rebel Show had a very ambitious week-long story line about Pecos Pete making his own journey into space. He appeared on camera all week wearing what I assumed was a sliver space suit (black and white, remember), a space helmet tucked under his arm. Each day was more exciting as further details of the voyage were revealed. I seem to remember a space capsule with flashing lights in the studio at one point. I don't recall how the Friday launch was accomplished, but I think a lot of it was budget-saving audio reports.
I continued to check in on this terrific show years after I was "too grown" to be viewing on a regular basis. I remember being home from college on a holiday, turning on the tv set and going "Wow! The Old Rebel Show is still on." And it appears that even today, The Old Rebel still is playing in the warm memories of the contributors to this site.
- Danny Moore
---
Pecos fascinated me when I as a youngster with stories of Petey the Alligator, a true to life reptile whose royal domain was a pond on Mrs. Tucker's (Jim's mom) farm. I never had the pleasure of meeting Petey face to face, but I always used to caution entering my neighbor's swimming pool, anticipating that Petey might have hiked from Montgomery to Guilford County to pay us a surprise visit!
Jim's lovely family includes wife Bobbie (who often helped Pecos with many a magic illusion) and sons Steve and Scott.
- Timm Perry, (Old Rebel's son)
---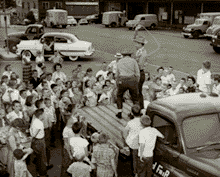 I never really knew Pecos Pete (Jim Tucker). We met a couple of times but that's about it. I do know Jim left WFMY to go to work for WSJS-TV (now WXII) when it first went on the air in the mid '60s. He did a number of things over there but I'm not sure what all that included.
The last I heard, Jim left WXII in the early to mid '70s when he bought the Baskin-Robbins ice cream franchise and opened a shop in the then new Hanes Mall in Winston Salem.
- Jim Wiglesworth, Co-host Old Rebel Show 1968-1977
---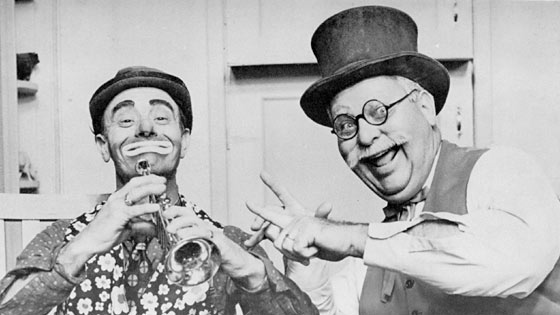 Around 1962, Lonesome Lee the clown joined the show. Lonesome Lee was a strange character to me as a child. He tried to be funny. The one image I will always remember is the worm-in-the-apple, throw your voice bit. Here was a guy in Emmett Kelley make-up, holding his plastic apple with a balloonesque worm named Chee-Chee that's squealing and squawking out unintelligible words to introduce the cartoons.
Every kid knew the old throw your voice gadget (that you could buy at any drugstore novelty rack for $1.50) was being used by Lonesome Lee - and he acted like it worked! Truly classic, wacky stuff.
- John Hitchcock
---
Lonesome Lee Marshall started appearing regularly on the show in the early Sixties and was a cast member in the classic film skit, "Shopping for Gifts". He also wrote and was the sole performer in the short "Cleaning House".
Like Buster Keaton, he was very effective in silent productions, conveying a sadness and depth of feeling through facial expressions and physical technique.
Well read and a frequent traveler, Lee is a fascinating conversationalist behind the scenes, with a soft, tranquil tone. Like so many of the cast, he has a heart of gold, a good family and contributed time and energy to his church.
- Timm Perry, (Old Rebel's son)
---
Lonesome Lee was played by Lee Marshall who lived in Kernersville. Lee was a retired textile worker, I believe, and he was doing a little "clowning" around on the side - churches, local parades, etc. and somewhere along the way met the Old Rebel.
While not on the show every day, Lee was a regular on the program in the Seventies as well. He probably came to the taping once or twice each week. Usually I would know in advance when he was scheduled and would write him into the script. While a wonderful person at heart, Lee was not much of an actor - but his heart was always in the right place.
- Jim Wiglesworth, Co-host Old Rebel Show 1968-1977
---

"My name is Mike Marshall. My father, Lee Marshall, appeared on the Old Rebel Show for many years as "Lonesome Lee the Clown."
"My dad did a lot of clowning including working with Ringling Brothers. He knew many of the famous Ringling clowns over the years.
"He was also fixture in the Piedmont, NC area in Christmas parades, company parties, children's parties, and similar events. He was clowning before he became associated with the Old Rebel Show. His costume evolved over the years, but it was basically of the "sad clown" variety. He still has that outfit in a suitcase at his home. He also has the various props he used on the show--Chee Chee the worm in the apple, Johnny Lee (ventriloquist dummy), and so on.
"When I found this site on the net, I called my dad to tell him some of the items you have. I mentioned the Christmas,1962 film clip. He recalled it well and told me the story line right off.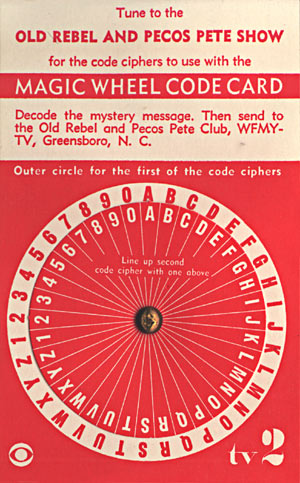 "I sometimes accompanied my dad to WFMY to watch them do the show. My dad would join George Perry and the others in the dressing room before the show to get ready. Most of the time, there was no script for the show--George, my dad, or one of the other characters would have some simple idea. They would kick it around as they put on their costumes and makeup and basically ad lib the show on the air. None of them were real actors and, by today's standards, it would be considered corny, but it was great, wholesome, fun and the kids loved it. I still run into grown ups who fondly recall being children on the show.
"George Perry was a great gentleman and one of the finest human beings one would want to know. He was great with the kids, very gentle, so they felt really relaxed on the air. Uncle Roy was also a great gentleman. All the characters who appeared over the years made a contribution.
"When I went off to college in 1963 (UNC Chapel Hill), the show came on about 4 or 5 in the afternoon. I lived in a dorm and would sometime go down to the TV room to watch it, that is until another student would show up and ask "are you really watching that kid show?" Of course I'd yield the TV and walk away."
- Mike Marshall
---
"(Lonesome) Lee Marshall passed away Saturday, July 3rd 2004 at Forsyth Medical Center in Winston-Salem, NC at the age of 89. Lee had been hospitalized for several days. His funeral is Wednesday, July 7th at Hayworth-Miller-Cain Funeral Home in Kernersville, NC. I had the distinct pleasure of knowing Lee for the past 14 years. He was a fine man and a wonderful Christian role model."
- Smith Patterson, WSJS radio Winston-Salem
---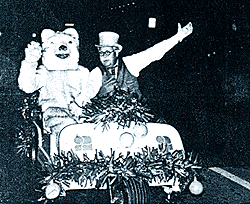 Christmastime on the 'Old Rebel' show always had an appearance by Santa Claus (the real one) and his mute polar bear, Marco.
How do I know this was the REAL Santa?
A - He sounded like Santa
B - He had Marco with him
C - He was on the 'Old Rebel' Show. You know the Old Rebel wouldn't accept a fake Santa Clause.

The downtown Christmas Parade in Greensboro this was the big-time - with floats and high school bands, and of course Santa. But the coolest part was seeing the celebrities going by on floats or cars - in the flesh, waving to you.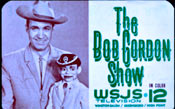 One year there was Uncle Roy in an antique car, Lonesome Lee walking his invisible dog on a leash, Bob Gordon from Channel 12's Sunday afternoon show, local news and weather folks (good 'ole Lee Kinard and Charlie Harville), and of course the Master of Ceremonies - the Old Rebel riding on a vintage fire truck.
From the front steps of Millie Hopkin's nursery school, that's as close to Heaven as a kid gets. (Well, I could have caught a miniature loaf of bread from Little Miss Sunbeam, but you can't have it all).
- John Hitchcock