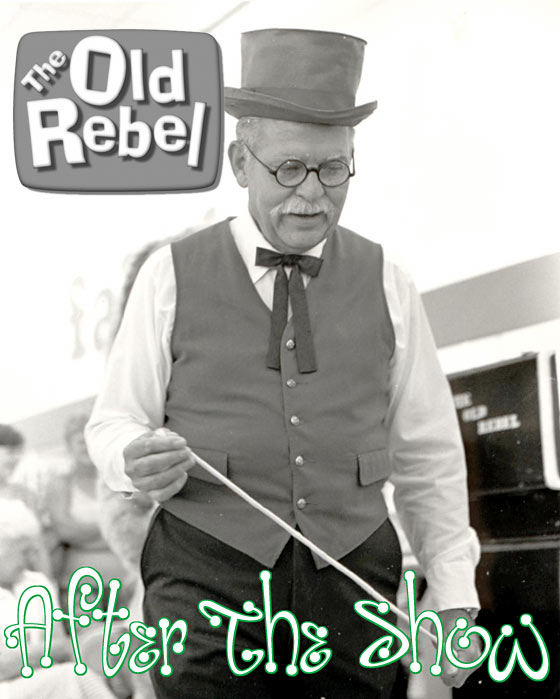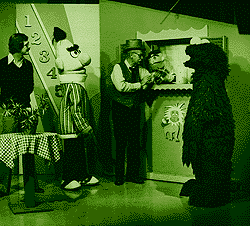 I left the 'Old Rebel' show in March or April of 1977 to take the position of "Director of Public Relations" and Manager of Governmental Affairs for the Greensboro Chamber of Commerce. I heard through the grapevine later that summer that WFMY was thinking of canceling George's show come fall.
I do remember going over one day and sitting in the office of Chuck Whitehurst, the station's General Manager at the time and pleading with him not to cancel this show. His major reason for this decision was that, with all the federal regulations pertaining to advertising certain projects targeted at children, he did not want to mess with it.
I tried with all my powers to get him to see that it just didn't matter if this program generated a single penny in direct revenue, it was worth it all (and then some) in public relations and good will. But he was the boss and I no longer worked there - so guess who won that debate.
- Jim Wiglesworth, Co-host Old Rebel Show
---
During the summer of 77, I was performing in a promotional tour for the Land of Oz theme park in Boone, NC. I played the scarecrow while the lovely Cindy Rorie from Charlotte represented Dorothy in the gingham dress, she was picture perfect. Our costumes and makeup were a bit different from the park characters as we had to interact with folks.
One of our stops was the 'Old Rebel Show,' which was taped on a Friday afternoon then broadcast early Saturday morning. This was one of the last shows for The Old Rebel - there was no longer a studio audience full of screaming kids and George Perry and old 'Lonesome Lee' seemed to know that the writing was on the wall.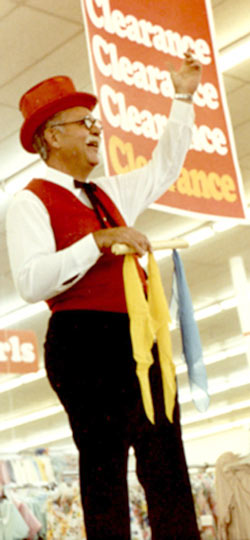 It was an hour-long program, on once a week now instead of five - and lots of fun to tape. We clowned around with the Old Rebel, he developed a "crush" on Dorothy, the puppets came out from behind the curtains and a good time was had by all. There was absolutely no rehearsal and I was amazed at how fast Lee Marshall could apply his make-up. He struck me as a man who just walked in off the farm and right into the studio. I found out later he had a day job in a plant somewhere.
That summer Dorothy and I toured theaters, malls, grocery store openings and attended charity events all over the state and beyond on behalf of the theme park. At every charity function we would attend, there was the Old Rebel.
It got to be a joke between us. Whenever there was a charity appearance - "Well, at least we'll get to see the Old Rebel again!" He was tireless in his devotion to Muscular Dystrophy in particular and worked so hard to entertain those severely disabled kids. And they were an understandably tough audience, let me tell you.
At the end of our tour (late-August), we were in Warsaw, NC doing a shopping center opening. It was one of our last bookings on a three month tour, and out of nowhere, there was the Old Rebel. Warsaw being way out of range of WFMY's signal, I got the feeling that most of the people there had no idea who the Old Rebel was.
He strolled around in his familiar red vest and hat, smoking his ubiquitous pipe, making the best of the situation - as we were all trying to do on a typically smoldering, muggy August afternoon in Eastern North Carolina.
George Perry was a very sweet man, a true gentleman in every sense of the word, with genuine class and dignity to spare. I was so glad that we made it a point to tell him how much we enjoyed running into him that summer.
- Billy Ingram
---
While the station as a whole was strongly behind the United Way, George had a very close working relationship with the Muscular Dystrophy Association. Every year he and I would visit their summer camp and do shows for them, as well as promote their fund-raisers on the show. These were fun times and, for sure, sad times to meet many hundreds of wonderful children each year and the next year realize several of the faces from your last visit were no longer among us.
- Jim Wiglesworth, Co-host Old Rebel Show
---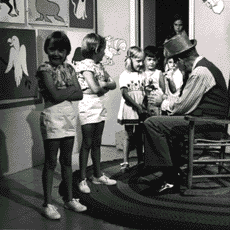 The Old Rebel show made the TV Station part of the community and I feel the loss of shows like this is sad. This was a wonderful way to get children to feel a part of a club. It was a way to celebrate your birthday (in person, and on the 'Birthday Spotlight'), and a chance to go to a television station - not to report news or to hawk some product, but to firsthand see and experience what a real TV show was like. It was very exciting.
- John Hitchcock
---
In 1978, The Old Rebel and Bob Poole from WBIG-AM had a radio show together on Saturday mornings, broadcast live from the K&W Cafeteria inside the Carolina Circle Mall. The mall was struggling get people out there, something they never were able to do. I went to one of the early morning broadcasts which was called, I think, "Breakfast with Bob Poole and The Old Rebel". Even though it was radio, George Perry was still fully decked out.
Bob Poole was having serious health problems at the time (he died a few months later) and The Old Rebel's show had been cancelled the year before. George Perry had been doing occasional segments on the Channel 2 news (Charles Kuralt kind of things), but neither of them looked terribly comfortable in this format - Bob Poole was a radio guy in ill-health suddenly working with an audience, and The Old Rebel was a children's host with an audience full of old people eating biscuits and gravy with no camera.
The show lasted for a while, the Old Rebel passed away in 1980 of a heart attack. He was still in his fifties. It broke his heart not to be able to connect to the audience that had been so much a part of his life for thirty years.
- Billy Ingram
---
Somehow I happened to stumble on this very special website on the Old Rebel Show. Sure brought back wonderful memories.
You see, I worked on the show from the time after I arrived at WFMY-TV News in 1973 till it was canceled and Poor "OR" was fired by a vengeful General Manager.
I'm Dr. Jim Waters, D. Min., now a Chaplain and Catholic Priest in Mesa, AZ. I served for 20 years as an Emmy Award wining News Photojournalist in the News Dept. But in the early days I did just about everything. Shot News, did PR photos, shot features for the Old Rebel Show and became a family friend of George's and a friend to Timm Perry.
What a close family we all were. The Old Rebel was in many respects my Greensboro dad, my own dad lived in Florida so I went to the "OR" for solace, advice, and fun.
HE was the epitome of the word..."FUN". Kids and adults alike loved him and we all loved the people who appeared and worked behind the scenes. To say the least, it was a riot! Thanks so much for the website and keeping the show alive!
- Fr. Jim Waters, D. Min. Mesa, AZ
---

I do feel there is something very nice and friendly about a local show of this type. The nature of the beast, "Broadcasting" has changed so much in recent years that local stations can easily and cheaply buy a "packaged" program from a syndicator rather than create one themselves.
Unfortunately, they don't have a local flavor and children today don't seem to have any more loyalty to one station than to any other. Every television station is just another spot on the dial. Children can't go visit and they don't have any local heroes.
- Jim Wiglesworth, Co-host Old Rebel Show
---
Throughout the years, my dad led a creative, productive life: he married a beautiful redhead named Martha. He painted outstanding artworks, carved figurines and puppets out of wood, wrote poetry, played banjo and tenor guitar, raised vegetables and flowers, read biographies and history voraciously, fished, golfed and hosted WFMY-TV's 'RFD Piedmont'.
I loved the guy. Everybody loved the guy. You would have loved him too if you had known him!
- Timm Perry, (Old Rebel's son)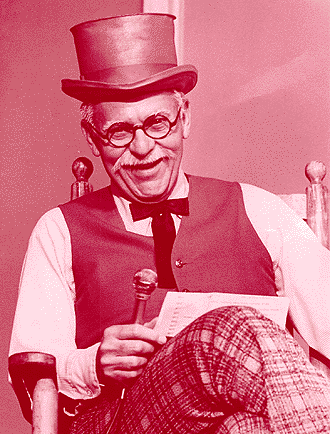 George Perry / 1921 - 1980
| | |
| --- | --- |
| You are welcome to share your memories of 'The Old Rebel Show' for possible inclusion on the site! | |