A U D I O / V I D E O
RARE FIND FROM
THE FIFTIES
In 1957, The Old Rebel and Pecos Pete released a 45 rpm record that was sold in local record stores. Today this rare recording is not only a collector's item, it's a genuine folk classic.
SIDE ONE
Pecos sings and tells
the story of a hunting
trip gone wrong.
Featuring Cathy the Chimp
and Troubles the dog.
SIDE TWO
The Old Rebel tracks a rabbit
- or does the rabbit track him?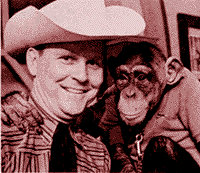 VIDEO CLIPS
FROM THE 50s &amp 60s
George Perry is seen leaving for work in this 1950's promotional film.
'Behind the scenes' at
The Old Rebel Show from the same film.
Around Christmas,1962,
The Old Rebel, Pecos Pete,
Uncle Roy Griffin and Lonesome Lee in a silent clip shot with a portable camera.
An audio clip with guest Dennis Weaver from Gunsmoke.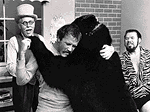 VIDEO CLIPS
FROM THE 70s
Theme Song
for the Old Rebel Show -
written and performed
by Jim Wiglesworth.
The Name Game
The Old Rebel greeted each youngster from his familiar rocking chair. Also seen, the ending to an episode from 1972.
The Old Rebel Show used new video technology (like Blue Screens) to create special effects.
The humor was childlike, basic but timeless.
Humphrey, The Old Rebel and Lonesome Lee talk to Shannon Wiglesworth (sister of Survivor Kelly Wiglesworth).
Humphrey is
interviewing the Old Rebel.
The Old Rebel paints of picture of Jungle Jim in this great clip that shows the large audience in attendance.
---
:BONUS AUDIO:
Another beloved NC host,
Uncle Paul
from Raleigh.
Charlotte host Fred Kirby.
An Old Rebel Video Retrospective,
put together by Jim Wiglesworth
in 1975. Jim is 'Survivor' star Kelly Wiglesworth's dad.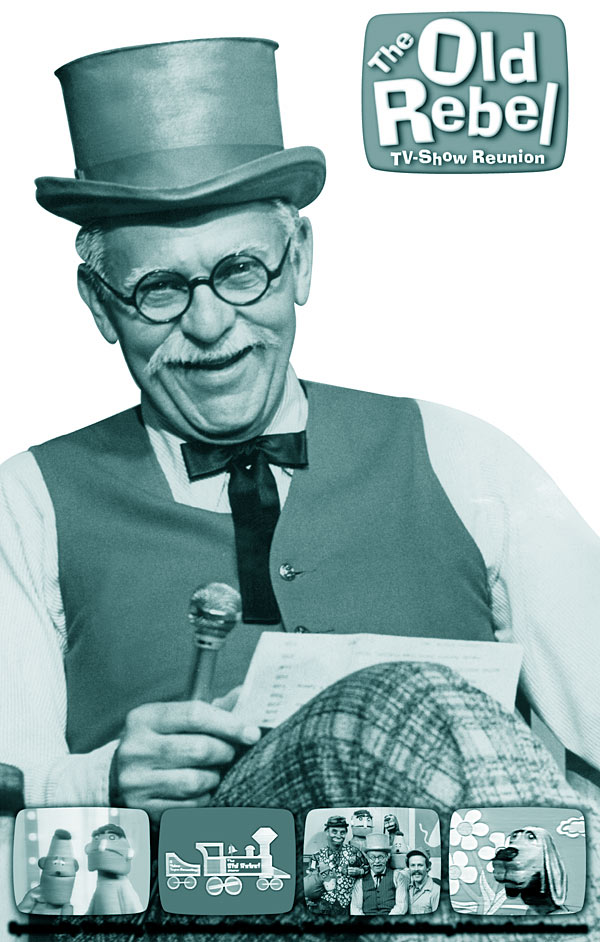 ---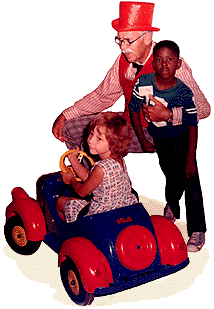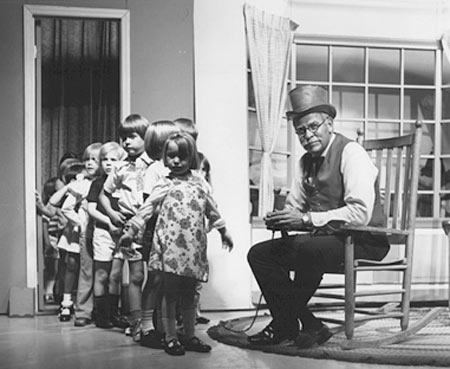 "The Old Rebel was a very kind guy. It just seeped out of the TV, you could tell that he enjoyed talking with the children."
"I was on the show once - I went with my mother's Girl Scout troop (I was their mascot). I was at the top of the bleachers, we were jammed in like mackerels and after a six-ounce Coke, I got sick and threw up. I'm sure that made a lasting impression at Channel 2."
- John Hitchcock
---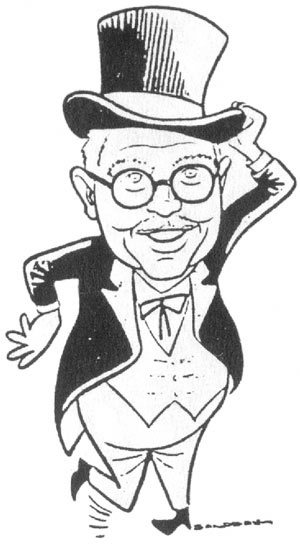 "Throughout the years, my dad led a creative, productive life: he married a beautiful redhead named Martha. He painted outstanding artworks, carved figurines and puppets out of wood, wrote poetry, played banjo and tenor guitar, raised vegetables and flowers, read biographies and history voraciously, fished, golfed and hosted WFMY-TV's 'RFD Piedmont'.
I loved the guy. Everybody loved the guy.
You would have loved him too if you had known him!"
- Timm Perry