1982's FILTHY RICH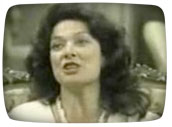 One of my favorite comedies of the early-eighties, Filthy Rich, was another of those star crossed but very funny shows of '82. At least it appealed to my low brow taste.
From Linda Bloodworth who later brought us Designing Women, Filthy Rich centered around the Beck and Westchester families who are brought together reluctantly by the death of 'Big Daddy'.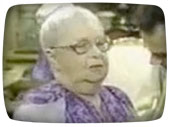 The superb cast included Delta Burke, Dixie Carter, Ann Wedgeworth, Nedra Volz, with Slim Pickens as Big Daddy, seen in videos he left behind. Slim Pickens died not long after the show debuted and from that point on Big Daddy was played by Forest Tucker.
CBS originally ordered a one-hour pilot in 1981 for Filthy Rich but passed on it. The network ordered a second half-hour pilot the next year and again declined to pick the series up for fall. But when they aired the two pilots over three nights after M*A*S*H in the summer of '82 CBS realized they had a hit.
The series was rushed into production for the fall but the critics lambasted it and the production missed the first weeks of the season due to delays. Ratings were lousy thanks to a combination of network interference and being slotted against a new hit, Family Ties.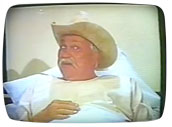 The series was yanked after 6 weeks but returned in January of 1983 only to be cancelled quickly again. The remaining episodes were burned off during the summer of 1983.
Episodes of Filthy Rich have finally turned up on You Tube, here's the first part of the second pilot "Town and Garden."
Tuesday, November 30, 2010 - 10:26am
WOULD YOU LIKE TO RESPOND?
HE LEFT US WITH SOME GREAT TELEVISION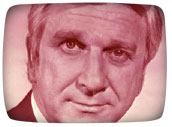 Trivial Tony suggested I post some clips from Police Squad to celebrate the memory of Leslie Nielsen. That's a great idea.
Police Squad was an amazingly funny show that seemed doomed from the start with weak network support, the death of John Belushi coinciding with his guest appearance as a corpse... the eighties were messy. As I recall this was one of only three or four TV series I watched during that entire decade and they were all around the same year as Police Squad, 1982. I think I'll Netflix that series and watch it again.
Here's the first part of one of my favorites, 'Terror in the Neighborhood' where Frank and his partner go undercover by opening a key shop - In Color!
Tuesday, November 30, 2010 - 9:21am
WOULD YOU LIKE TO RESPOND?
1950's CHRISTMAS EPISODE
When I was a wee lad there were a few shows I remember coming on erratically on the weekends, I would always search the newspaper TV listings on the weekends to see if they would pop up. These were shows that had basically run their course in syndication and were now relegated to TV's remainder bin.
Highway Patrol, Whirlybirds, Ripcord, Robin Hood, and Sea Hunt come to mind as examples. Not that these shows were anything extra special, standard 1950's TV fare, but they were often the only thing on other than fishing shows and bowling.
In that spirit here's the Christmas episode of Highway Patrol starring Broderick Crawford. If you're wondering why Broderick Crawford was chosen to be a host for Saturday Night Live so early in the series' run it's because of the indelible mark he made on our generation because of endless reruns of Highway Patrol on local stations.
Monday, November 29, 2010 - 8:00am
WOULD YOU LIKE TO RESPOND?
PETULA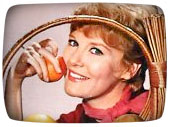 Petula Clark was and is one of the most exciting performers of all time with a song repertoire that ranges from peppy pop to sweet romantic ballads. She had fifteen consecutive Top 40 hits in the US alone.

Here's one of those hits, 'A Sign of the Times' from 1966, don'cha just love those old sixties dance shows?
To wind down a bit, a number 1 pop hit in the UK in 1967 - 'This Is My Song'. I just love those bombastic musical arrangements.
After a string of international smash hits beginning with 'Downtown' in 1964 the lady was given a one-hour NBC special in 1968 filmed aboard the Queen Mary. After an intro here's the first segment, the video has been augmented for You Tube with trivia about the big boat.
There was a history making controversy that swirled around around that 1968 special. When Petula was singing a duet with Guest Harry Belafonte she took his hand, a natural response. The sponsor (Chrysler) flipped, imaging all kinds of protest from their Southern dealers and customers. (Bad enough they were singing an anti-war song.) Chrysler insisted another camera angle with the two standing apart be inserted but Petula's husband, the show's producer, destroyed all of the alternate takes making an easy swap impossible. The show aired as is and earned huge ratings while the switchboards lit up like a bonfire at the affiliates and the network. Such was life then.
One of the groovy commercials from that hour:
She was an acclaimed motion picture actress as well as a winning guest on Dean Martin and Carol Burnett's variety shows. Because of her versatile nature, Petula was offered a weekly series in the seventies by ABC but she declined, reportedly because her kids hated LA.
Sunday, November 28, 2010 - 10:50am
WOULD YOU LIKE TO RESPOND?


Read more TV Blog entries here!