LET IT SNOW
A. J. McWhorter has a terrific article you have to read about the impact of a hit show on Hawaii television production - Fond memories of 'Magnum' last 30 years after TV debut.
We had our first white Christmas since 1969 where I live (and my party that night was a great success by the way). I have very fond memories of that holiday season in 1969. We were out of school for a few days not long after that Christmas and, between sledding runs, I remember watching a daytime show called Life With Linkletter with hosts Art & Jack Linkletter. Art had just been cancelled after 25 years on CBS in the fall of '69 so he started up again on NBC on December 29th with his son Jack (Hootenanny) co-hosting and a more fast-paced, newsy format.
When the afore mentioned A. J. McWhorter asked me if there was some footage I'd like to locate I asked him if he had a show from that series that ended just a few months after it began - and indeed he had an episode and was kind enough to dupe it for me, commercials and all.
Here are some clips from Life With Linkletter from late January 1970 as seen on WRC TV 4 in Washington, DC (in Real Player format):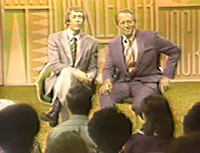 In this clip, Herb Klein remarks about one of the first things Nixon did upon taking office - it has to do with television.
In my next posting I'll have footage (not in RealPlayer format) from Art Linkletter's interview with Sugar Ray Robinson where the Boxing champion talks about going broke, a bout with Joey Bishop and rare footage from his 1950 fight with Jean Stock in Paris.
Monday, December 27, 2010 - 9:06am
WOULD YOU LIKE TO RESPOND?
MERRY CHRISTMAS!
Sorry for being AWOL the last week, I had tons of work and also decided to relax a little bit and try to enjoy some of the socializing aspects of Christmas. That's a fancy way of saying I was partying. In fact I decided to throw a party today - and wouldn't you know it a freak snow storm blew in and I doubt anyone will come!
If you happen to pop by today here's a Holiday delight, I've posted this before but it's so funny - from The Carol Burnett Show, 'Merry Christmas Mama.'
Saturday, December 25, 2010 - 2:34pm
WOULD YOU LIKE TO RESPOND?
1978 CHRISTMAS
Here are some 1978 Christmas treats just for you! First up, the WPIX Yule Log. This year there's a twist to The Yule Log - it's being broadcast in 3-D for the first time over most cable systems.
Remember Zayres, the cheesy department store chain that disappeared in the eighties? (You folks out West won't, they were found in Northeastern, Southern and Midwestern states.) Here's a holiday commercial from 1978.
Also from 1978 a McDonald's commercial that featured a Norman Rockwell ornament promotion. Rockwell was all the rage in the seventies but fell out of favor in the eighties despite creating some of the most memorable Christmas images of all time.
Friday, December 17, 2010 - 7:20am
WOULD YOU LIKE TO RESPOND?
GREAT READ!
Ken Levine has reposted Peter Casey's story of the creation of Frazier and it's one of the most fascinating stories, at least to me.
Wednesday, December 15, 2010 - 1:18pm
WOULD YOU LIKE TO RESPOND?


Read more TV Blog entries here!