MY TWO QUESTIONS
WITH KATHY BATES
by Billy Ingram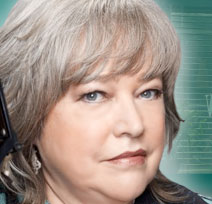 On January 4th 2010 I participated in a conference call with Kathy Bates and Executive Producer David E. Kelley ('Ally McBeal', 'Boston Legal') about their new drama series on NBC 'Harry's Law' which premiers Monday, January 17 at 10:00pm.
I used the opportunity to talk about Jessica Tandy and the shows she enjoyed growing up. You can listen to it here.
Billy Ingram: Hi Kathy. In my previous life I was a movie poster designer and I worked on a bunch of your movies. One of them was Used People. And I have a picture here of Jessica Tandy from the photo shoot that we did. She's got her hands raised and she's feisty and full of life... I wonder if you could tell me what it was like working with her and if you learned from her as an actress?
Kathy Bates: Well she was great. She was a one of a kind great lady, a great dame. And she always told me to go back to the theater. That was her way of staying connected to what she was so passionate about which was acting.
And the one thing I remember the most about her was how - what a source of life her work was for her.
When we started working on 'Fried Green Tomatoes' she came to work with jeans and a little jean jacket on. And she looked like a 16-year-old girl out of drama school with her first role. And she was 84 at the time.
And that taught me more than anything that you stay in love with what you do, you know, right the way through and it'll support you.
Billy Ingram: And where their TV shows that you enjoyed growing up?
Kathy Bates: Yes Route 66 was one of my favorites. I used to watch Bonanza. I went more for like who was the guy that was Paladin? Was that a show?
Billy Ingram: Yes, Have Gun - Will Travel.
Kathy Bates: I'm talking way back there in both phases.
Billy Ingram: Richard Boone I think...
Kathy Bates: Yes... right, yes. And Perry Mason. I used to watch Perry Mason. I think a lot about Perry Mason when I'm doing this show and those types of things.
Billy Ingram: Thank you very much. I appreciate it.
Kathy Bates: You're welcome.