* Classic & Current Television Blog *
STUFF
Principal photography has wrapped on the film I've been working on, just a few pickup scenes to do with my character. Since everyone was thrilled with what I did I guess I can relax behind it - if I was that type of person. Me, I'm the constantly worrying and revisiting type. Despite being battered and bruised and nearly catching pneumonia it was one of the best experiences of my life. The wild thing about that project - I got to do everything I always dreamed of doing in a film role all in that one character part - including singing and making a drunken fool of myself.
As promised, here's another of my very few favorite Christmas tunes recorded since 1964. Other than the entire soundtrack to A Charlie Brown Christmas I can only think of a handful of holiday tunes recorded in the last 45 years that tripped my trigger.
This one's 'Christmas Wrapping' by The Waitresses released in 1981. The Waitresses were a subversive little New Wave band from Ohio that became massively popular in Southern California with 'I know What Boys Like,' a very minor 1982 hit nationwide but a huge smash in So Cal. The Waitresses were a cut above the other local New Wave groups around LA, mostly due to the superior songwriting skills of Chris Butler, but they broke up before fully taking flight. I think I must have latched on to this song because it came out around the time I was looking for my own meaning in Christmas and I was listening to KROQ a lot. Great times!
Monday, December 14, 2009 6:44am
WOULD YOU LIKE TO RESPOND?
MERRY CHRISTMAS!
You could count on one hand the number of Christmas songs recorded since 1964 that I enjoy hearing. I don't even like the Motown versions. I'm a purist, I go for the tunes I heard as a wee kid, Crosby, Andy Williams, Perry Como, Sinatra, you know the ones. One tune that made my Christmas Hit Parade is Robert Earl Keen's 'Merry Christmas From The Family' from 15 years ago. In the days leading up to the Christmas I'll link you up with my other Holiday faves.
Saturday, December 12, 2009 6:50am
WOULD YOU LIKE TO RESPOND?
ANOTHER TV LOSS
Kevin Butler writes: Actor and singer Gene Barry, TV's Bat Masterson and Amos Burke, is dead. Mr. Barry Died recently at a Woodland Hills, CA nursing home (not the Motion Picture and TV Country Home), he was 90 years old.

Born Eugene Klass in NYC in 1919 Mr. Barry had been a film actor appearing in such movies as George Pal's screen adaptation of War Of The Worlds and Soldier Of Fortune with Clark Gable.

He would leave movies for a career in TV in 1958 as Mr. Barry appeared during the last season of Our Miss Brooks with Eve Arden and later that year as Bat Masterson. The NBC TV depiction of the infamous gambler, ladies' man and gun fighter was a highly fictionalized vision of Masterson but viewers didn't care. They fell in love with Barry's version of the character, Lord knows I did. The show became a popular series on NBC and remained on the air until 1961.

Mr. Barry would go on to play well-to-do police official Amos Burke on Burke's Law on ABC where he would solve crimes and appear with many well know actors such as Zasu Pitts and Buster Keaton.

He also appeared on The Name Of The Game and The Adventurer. After The Adventurer went off the air Mr. Barry made the move to the stage where he appeared in such musicals as Kismet, Destry, and La Cage Aux Folles playing the gay nightclub owner Georges.
These stage performances gave him the opportunity to utilize his talents for acting and singing.

Barry would also make guest appearances on many TV shows during the 1980s; he acted and sang on an episode of Charlie's Angels with Cheryl Ladd, he played the unfaithful husband of politician wife Jean Simmons on a Perry Mason TV Movie and he played Bat Masterson one more time as an aging sports promoter on a CBS TV western.

His last TV appearance was on a forgettable CBS TV remake of Burke's Law where he solved crimes with his estranged son and his Asian driver and crime fighting aide de camp. The series was not a hit and it left the air after a few shows.

Mr. Barry is survived by his three children, his wife Betty died in 2003.
Bob Mills writes: Bursting the buttons on my L.L. Bean corduroy jacket, pride engulfs me as I announce that today THE LAUGH MAKERS was chosen one of Leonard Maltin's "Top 20 Entertainment Books of 2009." I really appreciate your support and encouragement while I was writing and promoting the book -- having folks cheering you on really makes a big difference and for that I thank you all. And while I'm at it, Shelley and I wish you a Joyous Holiday Season and a Happy & Prosperous 2010!
Saturday, December 12, 2009 6:30am
WOULD YOU LIKE TO RESPOND?
THEN THERE'S THIS
Well, since I've been talking about this movie I'm co-starring in, Lake of Fire, I thought I'd show you a couple of snippets. Don't tell anybody.

I mentioned in an earlier post a long night at the Rockingham County Detention Center - we shot most of what they needed downstairs in the administrative offices but around 3:00am we went upstairs to film my scenes in the holding cell just outside of gen pop (I watched Oz!). We were really afraid that the inmates would catch on that we were filming a movie and get rowdy and try to ruin all of our takes. I mean, why not, what else do they have to do? But by that hour things were very pretty quiet and we were just outside of eyesight. They run a tight ship down there. We just had to be quiet and get the job done.
This first bit was myself with Seth behind the camera fooling around - don't I look natural behind those iron bars? I should, it's my second time in a jail cell - the first time was in a movie from the same director in 2001 if you must know!
This next bit is an outtake. Thank goodness the dolly messed up and ruined the take because it's way too overwrought. But everyone seems to think this is funny so I'll share it with you.
Lake of Fire is a Southern Gothic tale of murder, intrigue, drunkeness and debauchery that will hopefully smack you upside the head in 2010. This same crew goes to work on a film that starts in January called Elephant Sighs starring Ed Asner and other familiar faces. It's an AMAZING script, something to look forward to next year, you heard it here first.
Wednesday, December 9, 2009 11:11am
WOULD YOU LIKE TO RESPOND?
ANGELS & DEVILS
One Bank of America customer advocate has been actually helping out customers that are trapped with exorbitant interest rates and ridiculously high late and overdraft fees. Nice to know someone in corporate America is on our side! Oh wait - BofA fired her for it. Ho Ho Ho!
OM writes: You might want to add this YouTube clip featuring the clipped-off part of the ending of "A Charlie Brown Christmas". Triggered the memory of the night it premiered in 1965, and proved that I wasn't wrong in remembering that the song ended in a higher pitch crescendo than most versions of the song tend to end with: Always surprised me why they just didn't redub the audio from the original masters after Coca-Cola ceased being the sole sponsor in 1967.
Then there's this: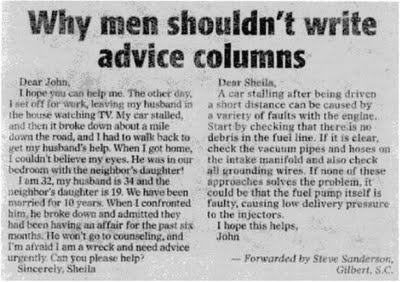 Tuesday, December 8, 2009 6:10am
WOULD YOU LIKE TO RESPOND?
MORE ON EDGAR BERGEN
Kevin Butler elaborates on a previous post about Edgar Bergen on television: Mr. Bergen never really performed with his puppets on a regular comedy/variety show or a sitcom. He made guest appearances with his puppets on variety specials (oftimes his own). He appeared on variety shows hosted by persons like Jackie Gleason and appeared with his puppets on game shows like "What's My Line?" and the 1950s and 1970s versions of "Masquerade Party" (On the 1950s network version of "Masquerade Party" Mr. Bergen was joined by TV's most popular ventriloquist Mr. Paul Winchell).

His only regular TV stint was as the first host/performer of "Do You Trust Your Wife?" (later in the show's run the program's title was changed to "Who Do you Trust?") on NBC TV. Bergen and his puppets would have a husband and wife try to see if they really knew about each other by asking them questions. The show's other hosts were Johnny Carson and Woody Woodbury. In the 1980s the concept was revived by ventriloquist Jay Johnson as a short lived syndicated series.

Bergen and his puppets also appeared on Walt Disney's first TV special "One Hour In Wonderland" a Christmas special that featured a preview of Disney's feature length animated version of Lewis Carroll's children's classic "Alice In Wonderland" and some scenes from his many animated films. There was also guest appearances on that Christmas show by Kathryn Beaumont, the voices of "Alice" and "Wendy"; Bob Driscoll, the Voice Of "Peter Pan"; Hans Conried as "The Magic Talking Mirror"; and Mr. Disney's two daughters Sharon and Diane. "One Hour In Wonderland" aired in 1950.
Susan Walker adds: Ever noticed that Jeff Dunham's "Bubba J" bears a distinct resemblance to Mortimer Snerd?
Monday, December 7, 2009 8:30am
WOULD YOU LIKE TO RESPOND?
GET THIS
Just to demonstrate how behind I am, this came last month - but it's great news for folks who love local kid shows and Twin Cities viewers in particular. Julian West tells us: Holy smokes! That "Hi kids! A Retrospective of Twin Cities Children's Television" event at the Heights Theater in September was such an overwhelming success that the Museum of Broadcasting is issuing a DVD of the whole thing! The DVD is two hours long and has all the material that was shown at the Heights -- rare, vintage video of Axel, Carmen, Casey & Roundhouse, T. N. Tatters, Clancy & Willie, Grandpa Ken, and more -- as well as edited video of everyone who was on stage. Wow! It'll almost be like being there!
Contact the Museum of Broadcasting:
3515 Raleigh Ave
St Louis Park, MN 55416
(952) 926-8198
Now that would make a unique Christmas gift!
Monday, December 7, 2009 7:39am
WOULD YOU LIKE TO RESPOND?
Read more Blog entries here!