* Classic & Current Television Blog *
BETTY
Did you know there was a Family Feud special in 1994 that pitted Carol Burnett's family and Betty White's brood against each other?
Betty White didn't become TV's first female game show host when Just Men debuted in 1983, that honor goes to Arlene Francis host of Blind Date, but she's been credited with that. She was one of very few women to do so in the 20th century; Just Men lasted only three months but Betty won the Daytime Emmy Award for Outstanding Game Show Host. Here Betty takes a stab at hosting a segment of The Match Game.
Betty White does not put pot in her brownies.
Saturday, October 17, 2009 10:10am
WOULD YOU LIKE TO RESPOND?
HEY, IF WE DON'T REMEMBER THEM WHO WILL?
Two more TV pioneers have passed. Kevin Butler has the details: Former TV producer Jules Power, the man who co-created and produced Watch Mr. Wizard with Don Herbert for NBC TV and Time For Fun / The Johnny Jellybean Show for WBKB TV 7 in Chicago and WABC TV 7 in NYC during the early to late 1950s and early 1960s is dead. Mr. Power passed away in Baltimore, Md.

Born in Chicago in 1929 Mr. Power began his career in broadcasting by producing radio programs for FM stations.

He would leave radio for TV when he got together with Mr. Herbert to create and produce kid TV's first educational science series Watch Mr. Wizard in 1951.

From there he created and produced two kid's shows in Chicago - Time For Fun hosted by former Super Circus regular Nicky Francis The Tramp Clown and Lunchtime Little Theater for WGN TV 9 hosted by Ned Locke (as "Uncle Ned"), Ted Ziegler (as "Uncle Bucky") and Dodgenal Hadley (as "Aunt Dodie"). Later he and his producing partner Danny Wilson moved to NYC to do another version of Time For Fun for WABC TV 7 in NYC. The NYC edition of Time For Fun debuted on Monday afternoon September 21, 1953 and was MC'd by former Howdy Doody regular Bob Keeshan as 'Corney The Clown.' The series continued to be seen weekday afternoons and later weekday mornings on Ch. 7 hosted by Uncle Joe Bova, Johnny Jellybean (Bill Britten) and by JJ Jellybean / Johnny Jellybean" #2 (Keith Hefner) until June, 1960.
Wilson and Power tried to create another version of Johnny Jellybean for the CTV Network in Canada. The Johnny Jellybean Show / Johnny Jellybean's Factory was hosted by Ted Ziegler in the early 1960s. Wilson and Power's last kid's series was Discovery, a children's news magazine and travelogue seen Weekday afternoons and later on Sunday mornings on the ABC TV network from 1962 to 1971.
Frank Buxton, Virginia Gibson and Bill Owens were the series hosts/ performers/instructors and narrators. Wilson and Power would eventually go their separate ways.
One of Mr.Power's last projects was re-releasing the 1960 NBC TV network version of the Broadway musical Peter Pan starring Mary Martin and Cyril Richard to the home video market in the 1990s. I was lucky enough to do a phone interview with Mr. Power back in the early 1990's and he was generous enough to share his knowledge of his work in kid's TV with a young writer.
Mr. Pady Blackwood who was the second and last head puppeteer and puppetmaker on The New Howdy Doody TV Show has passed.

On Tuesday October 14, 2009 Pady was driving in his pickup truck to a Target store in Casselberry, Fl. He suffered a heart attack and lost control of his truck, it jumped the curb and he ran into a lamppost. He was killed instantly. Pady was 70 years old.

He had worked for many puppet theaters including his last stint with The Pinocchio Marionette Theater in Winter Park, Fl. for former kid's TV host/performer David Eaton - "Charlie Goodtime" - but he will be best remembered for his work on The New Howdy Doody Show back in the late-1970s. I was lucky enough to interview Pady in NYC back in the late 1980s and he was gracious enough to provide me with info about his work on that series.
Friday, October 16, 2009 5:12am
WOULD YOU LIKE TO RESPOND?
COKED UP
Okay, this is some of the most shocking videos I've seen - did you know pouring Coke on raw pork will cause maggots to crawl out of the meat?
But is it for real? Here's a hard hitting follow-up investigative report. If I hadn't already sworn off pork after that HBO documentary...
Snopes says it's not true. Hmmm.
Thursday, October 15, 2009 12:50pm
WOULD YOU LIKE TO RESPOND?
FUN!
This looks like fun, from the press release: Super Dave Osborne, self-described as the greatest daredevil superstar entertainer of all time, makes his triumphant television return in Spike TV's "Super Dave's Spike-Tacular" premiering Saturday, November 14 at 11 p.m. The half-hour, four-week special event will air Tuesdays at 9 p.m., beginning on November 17 and stars Emmy® award-winner, Bob Einstein, as Super Dave, as he prepares for a weekly death-defying stunt. Bob Einstein is available for interviews. Please let me know if you're interested in speaking to him or if you'd like to receive a copy of the first episode.

Each week, Super Dave will tackle a terrifying stunt that puts his life on the line and pushes him to the limits. The stunts include attempting to break the NASCAR speed record on a track loaded with explosives, breaking the speed record in the Guinness Book of World Records for a hybrid vehicle, challenging the world's six greatest paintball players and stepping into the Octagon with former UFC light heavyweight champion, Quinton "Rampage" Jackson. Plus, Super Dave will be visited by several surprise guest-stars throughout the season including Larry David, Sugar Ray Leonard, Jose Canseco, among others.
I'm a big fan of Bob Einstein.
Have you been paying attention to the Dustin Diamond (Screech) controversy? He's got a tell all book and a sex video despite the fact that
the book is light on revelations and his member is less than spectacular. A lot less. His Saved by the Bell co-star Mark Paul Gosselaar has a bit to say about it.
Thursday, October 15, 2009 11:54am
WOULD YOU LIKE TO RESPOND?
A LEGEND PASSES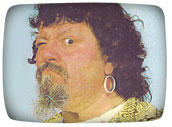 Kevin Butler writes: Another loss to TV sports and to kid's TV cartoons - "Captain" Lou Albano, the former wrestling sport promoter who staged WWF matches for television and who was the voice of Mario the Plumber and the live action counterpart on The Super Mario Brothers Super Show is dead.
Capt. Lou died recently at the age of 76, the cause of death is not known.

Aside from promoting wrestling he also served as the co-host/ performer of the live action segments of The Super Mario Brother Super Show with comic/character actor Danny Wells (Mr. Wells also portrayed The bartender on The Jeffersons) playing his equally inept brother Luigi on the series.
Together they performed skits with guest performers and introduced the cartoons based upon The Mario Brothers video games (Albano & Wells also did the voices of the two bumbling heroes).

In the cartoons the two fools were somehow able to aide Princess Toadstool and her people in their battles with the fat, abusive, evil, loudmouth lizard villain King Cooper and his Cooper Troopers. The series also featured other animated cartoons patterned after other well known video games like Zelda.
The Super Mario Brothers Super Show was first seen on the Fox TV network in the 1990's (WNYW TV 5 in NYC screened the series as part of The Fox Five Kids Club hosted by Craig Marin's Flexitoon Puppets weekday afternoons). The program was later seen on cable TV.

Despite his rather gruff exterior Captain Lou occasionally did show off his kind and gentle side. He was a guest on Steampipe Alley with Mario Cantone on WWOR TV 9 where he told the kids in the studio audience and those at home about the importance of sports - but not to use sports as a means of hurting people or using it to extract revenge.

He also did PSA's for the children as Mario warning kids not to deal with dangerous strangers and to report such individuals to the proper authorities.
Thursday, October 15, 2009 7:19am
WOULD YOU LIKE TO RESPOND?
HA!
Time to laugh. Here Dean Martin and the lovely Golddiggers are cutting up for the camera in an outtake from Dean's show.
With all of the silly right wing whining about the census it's important to remember what an important job it is, watch as these three gentlemen show us how the census is supposed to work.
Wednesday, October 14, 2009 10:52am
WOULD YOU LIKE TO RESPOND?
Read more Blog entries here!