* Classic & Current Television Blog *
RANDOM STUFF
For some reason, when I think of summer I think of The Hollywood Squares. I guess that's when I had the opportunity to watch it growing up. Here's part of a 1968 primetime episode, this was before Paul Lynde became a regular.
Steven Thompson points us this a way: Thought you might be interested in my current interview with Kip King. Kip King has been a character actor since the 1950's, mainly on television. He has gone from MEDIC and DRAGNET to RENO 911 and the just about to premiere IFC mini-series, BOLLYWOOD HERO. He was also an early member of the Groundlings and is the father of actor Chris Kattan. Part one went up on my blog overnight with the second and final part probably up before Thursday.
Does anything look un-funnier than the movie Funny People? Just sayin'...
Thursday, July 30, 2009 - 12:06pm
WOULD YOU LIKE TO RESPOND?
NEW SHOW REVIEW: Boy Interrupted

They say there are few experiences in life worse than losing a child, this is especially true when that child commits suicide. With wounds still raw, director Dana Perry and her husband cinematographer Hart Perry invite us into their personal horror to relate the story of their 15 year old son Evan who killed himself in 2005.
This is undoubtedly one of the most devastating 60 minutes you'll ever spend in front of the tube.

Meet Evan Perry, a bright kid obsessed since pre-school with a matter of fact attitude toward suicide and the parents who valiantly try to get his life on track. It's a story you might say is filled with hope if you didn't already know the devastating conclusion.

Here's an adolescent who really had everything a child needs - affluent, loving parents, a solid home, good schools, and true friends. If only every young person could have such a nurturing environment and be blessed with such cool friends. And yet, inexplicably, Evan's mental illness didn't allow him to appreciate any of this.
Throughout the film we see the potential this prodigy possessed, future rock star, Pulitzer winning playwright, Academy Award winning actor, any of these could have been his future. Seriously, I'm not just saying that. Watch the sequence where Evan, at 12 years old, composes some original tunes on the guitar. The lyrics are deeply mature and hauntingly poetic.
Boy Interrupted is sure to have the more sensitive of us sobbing more than once, it has an emotional impact that sticks with you. And it's an important film.
Many people aren't aware that suicide is contagious and this documentary drives that point home in a stark and startling way. As the filmmakers lay their son to rest at the foot of a monument sculpted to honor Evan's uncle who killed himself in 1971 you may detect a disturbing, unintended pattern developing that could continue to echo down the generations.
Although I was hesitant because of the subject matter, I'm so glad I watched Boy Interrupted and you will be too. You would think a film this emotionally raw would be difficult to watch, and it is at times, but it's a cathartic experience for those who've been touched by the suicide of a loved one and wondered why. The answer is here in this film. There is no why.
Boy Interrupted debuts Monday August 3rd at 9:00pm EST on HBO. The official site is here.
Wednesday, July 29, 2009 - 9:20am
WOULD YOU LIKE TO RESPOND?
BEAM PALIN UP
Wow. Who would have ever guessed William Shatner would find a second career as a comedian? He's one of the funniest guys around today and check out his latest - he's reading Sarah Palin's farewell speech in his own inimitable way, as beat poetry, on Conan's Tonight show.
Tuesday, July 28, 2009 - 1:05pm
WOULD YOU LIKE TO RESPOND?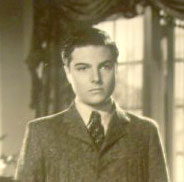 ANOTHER PASSING
Sean Dougherty writes: Donald Buka, a great character actor of the 1940s and 50s, died yesterday at age 88 in Massachusetts.

I know him as a frequent guest of the Friends of Old Time Radio Convention in Newark, NJ, but he also was a frequent star of early television.

I found his obituary in Playbill, which seems to be the most extensive. His IMDB entry lists about a page of TV appearances, which included the TV versions of Lights Out and Dragnet.

The only video I found so far was for his pivotal role in Lillian Hellman's "Watch on the Rhine," which in his later years he had said he felt was his most important film.

He had an infectious love for theater and performing that stayed with him until the end. A recent memorable performance at The Friends of Old Time Radio Convention had him playing a zombie in an episode of "Superman." He was doing a radio recreation without lines and he still stole the show with some humming and mugging for the audience!

He was a tremendous, friendly, wonderful man who always made you feel that he was as thrilled to meet you as you were to meet him. A terrible loss.
Monday, July 27, 2009 - 8:45am
WOULD YOU LIKE TO RESPOND?
MORE CAROL BURNETT FAMILY FUNNY STUFF
Here's one of the funniest skits ever on The Carol Burnett Show - the family plays monopoly.
Sunday, July 26, 2009 - 8:55am
WOULD YOU LIKE TO RESPOND?

PROFANITY LACED OUTTAKES
Sorry my blogging has been a little light in the loafers lately my moms has been sick. Meanwhile, let's look at some celebrities and how they handle adversity - like "Papa Bear" Bill O'Reilly who flips out on the set of Inside Edition:
Sweet, gentle humanitarian Richard Simmons speaks from the heart and spreads the love on the set of some TV show.
While we're on the subject of Richard Simmons here's an appearance he did on The Late Show with David Letterman. There's no profanity in this clip but I have no doubt the curse words flew backstage after what happened during Richard's product demonstration.
My all time favorite has Casey Kasem losing it in the studio while recording his American Top 40. "Somebody use his f*cking brain!"
And I thought I had it bad...
Saturday, July 25, 2009 - 8:45am
WOULD YOU LIKE TO RESPOND?
ANOTHER LOSS
Allen Kirshner points us to this: Actor Les (Leslie) Earnest Lye, best known for the 1979 hit children's program You Can't Do That on Television, died Tuesday in Ottawa. He was 84.
Lye's career as an actor and broadcaster on television and radio has spanned half a century.
The show You Can't Do That on Television, which featured teenage actors performing comedic skits, was a Canadian success. It went international a year later and earned a large following. The program went on for 10 seasons and was later syndicated on Nickelodeon.
Friday, July 24, 2009 - 3:12am
WOULD YOU LIKE TO RESPOND?
TV NEWS
This looks interesting: DIRECTV's brand new series THE DAN PATRICK SHOW, airs weekday mornings from 9 am – 12 pm ET/PT on DIRECTV's The 101 Network, beginning Monday, August 3rd. THE DAN PATRICK SHOW has an unpredictable, anything-can-happen format that will use Patrick's trademark humor and interaction with his production staff to create a unique blend of situational comedy and sports radio commentary.
The audience for the Sci Fi channel's Eureka is growing steadily and it looks like the new series Warehouse 13 is a hit as well. Guess I'll have to check them out.
The Star Trek movies are coming to Blu-Ray next month with a raft of extras to thrill any Trekkie. The Star Trek the Next Generation movies and the Original Series season 2 are also slated for Blu-Ray release on September 22nd.
Tuesday, July 21, 2009 - 10:32am
WOULD YOU LIKE TO RESPOND?
FLASHBACK
Remember the flashbacks on Kung Fu, probably the most interesting thing about the series? In them, a young Kwai Chang Caine gets schooled by Master Po on the ways of the Shaolin Monk who possess great powers by harnessing the -- of mind and body. In these vignettes some great wisdom was imparted.

I remember one episode where that week's gang of racist bad guys threw Caine down a well filled with snakes so naturally he had to have a flashback wherein he learned to be one with the snakes because they won't bite each other. I used to run into Radames Pera who played young Grasshopper in LA punk / underground clubs like The Brave Dog back in the early-80s, we liked the same music. Really nice guy, and boy was he good looking!
Did you know I Love Lucy invented the flashback episode where the characters reminisce about the past as an excuse for airing clips from old shows?
Monday, July 20, 2009 - 2:04pm
WOULD YOU LIKE TO RESPOND?
Read more Blog entries here!