* Classic & Current Television Blog *
FROM THE MAIL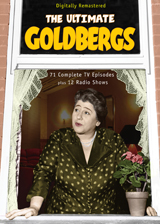 Jim writes: In your review of the ULTIMATE GOLDBERGS you state at the top of the page in large letters that the DVD set is only available through Shout Factory. This is not accurate. The DVD was created by UCLA and is available directly from UCLA as well as from the distributor Shout. Could you please change the text to read available from the UCLA Film & Television Archive or Shout. Our website address for the DVD is www.cinema.ucla.edu/goldbergs
This is important to us because being able to sell some of the DVDs ourselves is what will allow us to put out additional classic television shows like Mister Peepers, and others where we have the only or best material.
The UCLA Archive does so much great work and that Mr. Peepers collection is a wonderful DVD set - and I heard talk that a Mr. Adams & Eve DVD collection may be in the works. That's one of the funniest sitcoms ever produced but how many episodes exist of this two season wonder is in question - as is ownership I'll bet.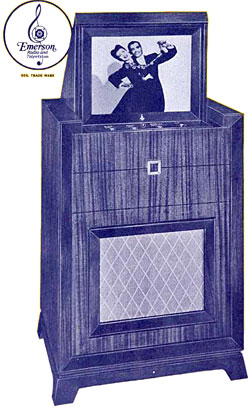 Susan Walker went shopping and found a rare treasure: I was messing around on Craigslist last weekend when I found an ad for vintage antiques in Belmont/Cramerton. When I clicked on it, I found not only a console Philco radio, but a very old Emerson console TV that I thought was probably 1950-51.
I'm picking the TV up tomorrow. The man selling it says that his family owned a TV store in Cramerton for years. Just out of curiosity, I asked him what the model number was on the TV and what year it might have been manufactured. This morning I had an email stating that it's an Emerson model 638... manufactured in 1948. Since I love the 40s era I am just thrilled. No, it doesn't work. For $50 I didn't expect it to - however, I don't care.
I've been asked why in the world I'd want an old TV sitting around my house. Hmmm... let's see. Character. Nostalgia. Something to bring back warm memories - the first TV I remember our family having was an Emerson. I wish it worked... I'd love to watch "I Love Lucy" on the 10 inch screen.
I'll bet few people in 1949 dreamed one day you could watch I Love Lucy on a 40 inch screen! (That picture is of a 1949 Emerson projection TV set.)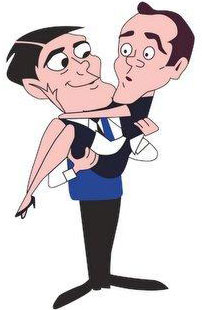 Finally, Jay Blotcher throws this illustration of unknown origin our way. So wrong and yet so funny! Remind me again WHY they made that Bewitched movie a few years ago?!?
Sunday, March 21, 2010 10:59am
WOULD YOU LIKE TO RESPOND?
SUNDAY FUNNIES
Dan Wingate points us to this, from the same guys that did the Long Long Trailer parody, a HILARIOUS send up of Liza and Judy having breakfast! This is one of the most devastating imitations I've ever seen!
Which can't help but remind me of another Diva doing a parody of morning radio shows - it's Tallulah Bankhead and Fred Allen from a radio show of the 1940s.
As long as we're on the subject, here's Judy Garland guest starring on Tallulah's The Big Show, radio's last stand.
Sunday, March 21, 2010 10:20am
WOULD YOU LIKE TO RESPOND?
REMINDER
Jeff Pickens points us to a project that sounds like a great idea: I thought you'd be interested in knowing about this project, a re-do of Sandy Becker's "Christmas Carol" using Sandy's original puppets. We are sending out feelers now to see if there is enough interest before we start soliciting financial backing. There's more information here. There's a Facebook page that you can join to show your support.
East Coasters (and anyone else) should be looking forward to the Mid-Atlantic Nostalgia Convention, a three-day non-profit film festival benefiting the St. Jude Children's Hospital. Check out the stellar lineup of classic TV stars you can meet - VAN WILLIAMS
(The Green Hornet - this will be his first signing in twenty years); DAWN WELLS (Gilligan's Island); ROY THINNES (The Invaders - his first signing in twenty years); MARK GODDARD (Lost In Space); WILL HUTCHINS (Sugarfoot) and others - and it's all for a good cause. There's also a Drive-In Theater on Friday Night outside the hotel in the parking lot! Click on the banner link for more details.


By the way, did you know Mark Goddard just released his autobiography?
Thursday, March 18, 2010 12:19pm
WOULD YOU LIKE TO RESPOND?
TV NEWS
HBO miniseries The Pacific is a hit with 3.1 million viewers watching the debut and FX's new drama Justified was the second most-watched series-opener for the cable network, right behind The Shield.
Am I the only one who thinks those Ghost Hunter type shows are the most bogus programs on TV today?
Fox has renewed Kitchen Nightmares, one of my favorites, for the 2010-11 season, no word on how many episodes there will be. Did you know you can watch that show for free on Hulu?
Showtime announced their summer series premiere dates:
Penn & Teller: Bullshit!: Thursday, June 10, 10 p.m.
The Green Room with Paul Provenza: Thursday, June 10, 10:30 p.m.
The Real World: Sunday, June 20, 10 p.m.
Weeds: Monday, August 16, 10 p.m.
The Big C: Monday, August 16, 10:30 p.m.
They're calling him the Dating Game killer - a psychopathic mass murderer who once made an appearance on the game show in the 1970s, after he had been convicted in the rape and beating of an 8-year-old girl. They may never get to the bottom of just how depraved this sicko is.

Sure you've seen the video of the angry white guys shouting down a Parkinson's sufferer but did you see this? Regis farted on the air.
Thursday, March 18, 2010 11:55am
WOULD YOU LIKE TO RESPOND?
STUFF
TVparty-er Jay Blotcher has written a boffo article on Confidential magazine, jump over and read about the origin of today's tabloid media.

A few weeks ago I remarked about how young some of the bands are today out on tour. This press release tells me it's worse than I thought: I want to pitch you on a really cool and interesting new band called, The Thrashers. All the member are 9 years old and yes, really good musicians. This is not your Disney scene. The band is out of the bay area and are playing their first LA gig on Saturday at The Whiskey. I'd love for you to consider for a blurb or a story.

Here's the band's web site. 9 years old and they already have representation. Yeah, nothing could go wrong with that.
NBC's 10pm ratings are up a whopping 45% since Leno moved back to 11:30.
Wednesday, March 17, 2010 8:45am
WOULD YOU LIKE TO RESPOND?
MORE BETTY WHITE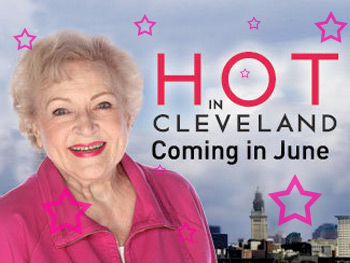 This is unexpected news, her TV Q must be through the roof - TV Land announced today that it has signed Emmy® Award-winning and audience-adored actress Betty White to star in the highly-anticipated TV Land PRIME Original sitcom "Hot in Cleveland" scheduled to premiere in June. Betty White will take on the role of the snarky but lovable Elka Ostrovsky, property caretaker of the home that co-stars - Valerie Bertinelli, Jane Leeves and Wendie Malick - rent after their plane makes an emergency landing in Cleveland and they decide to stay. "Hot in Cleveland" is written by Emmy® Award-winning Suzanne Martin ("Frasier," "Ellen") and is produced by Emmy® Award-winner Sean Hayes ("Will & Grace") and Todd Milliner of Hazy Mills Productions. "Hot in Cleveland," a TV Land PRIME original production has been picked up for ten episodes and is the network's first venture into scripted comedy series.
"The talented Betty White is the finishing touch to this outstanding sitcom ensemble," states Larry W. Jones, president, TV Land. "Betty's illustrious career spans more than 60 years and makes her one of Hollywood's most iconic and sought after actresses in television today. Her lively role as Elka in "Hot in Cleveland" is what viewers love to see from her - an amazing sense of timing and fantastic comedy genius. We are confident audiences will love her in this project, TV Land's first foray into scripted television."
One of television's most beloved and talented actresses, whose career has spanned over 60 years, Emmy® Award-winning actress Betty White is best known for her roles in the classic sitcom "The Mary Tyler Moore Show" and the beloved series "The Golden Girls." White won an Emmy® Award for Outstanding Actress in a Comedy Series for the first season of "The Golden Girls" and was nominated every year of the show's run. The series ran from 1985 to 1992 on NBC. White has also guest-starred on a number of television programs including "Ally McBeal," 'The Ellen Show," "That 70s Show" and won an Emmy® in 1996 for Outstanding Guest Actress in a Comedy Series, appearing as herself on a memorable episode of "The John Laroquette Show." White had a recurring role in ABC's "Boston Legal" from 2005 to 2008 as the calculating, blackmailing gossip-monger Catherine Piper, a role she originally portrayed as a guest star on "The Practice" in 2004. Most recently, White appeared in the 2009 major motion picture, "The Proposal" with Sandra Bullock and Ryan Reynolds. In January 2010, White was honored with the Screen Actors Guild Life Achievement Award.
"Hot in Cleveland" revolves around three fabulous, LA women of a certain age and best friends (Bertinelli, Leeves and Malick). Their lives are changed forever when their plane – headed for Paris – unexpectedly lands in Cleveland and they soon rediscover themselves in this new "promised land." Loving their new home, the women find themselves living under one roof and battling the sassy caretaker of the property they have rented, played by Betty White.
Tuesday, March 16, 2010 1:00pm
WOULD YOU LIKE TO RESPOND?
JERRY CLOWER
Sorry for the light blogging, we've been filming at a frantic pace. You wouldn't think something like acting could be so exhausting. Next weekend I get shived by the side of the road in a prison work gang. Still, that has to be better than the day out in the country, 25 degrees, in a t-shirt and jeans getting drenched in fake blood. We were filming in and around a farm house with no electricity with a bonfire to keep us warm. That's when I realized, once and for all, that I really and truly am a city boy down to my toes.
It was kinda funny, there was a herd of cattle there that graze on the land and they all came up to watch us as we set up in the morning, mooing and gazing intently with those giant cow eyes. We had to go Rowdy Yates on 'em to disburse the herd so we could shoot.
Anyhoo, that all reminds me of the late, great Jerry Clower, one of the funniest guys to come out of the South and one of the few that made it somewhat into the mainstream before the days of Jeff Foxworthy (who forever mainstreamed redneck humor).

Jerry Clower had some great comedy bits but his unique delivery was enough to carry over any bit. He loved to talk about Marcel Ledbetter, these stories were based on true events and actual people although there was some exaggeration to be sure. Here Jerry talks about 'Idiotic Lawsuits', always a timely subject, from one of later releases.
Clower's most famous routine might be The Coon Hunting Story from his first hit, platinum selling comedy album. Southern comics relied on an authenticity in the same way Richard Pryor, Bill Cosby and Jackie Mason did, the audiences wouldn't have it any other way.

Here's Jerry Clower from the Jerry Reed When You're Hot You're Hot Show in the summer of 1972. Clower's solo bit is followed by a minor Jerry Reed tune. Reed was fantastic as long as he wasn't trying to make another hit song like the ones he had before and this tune is an example of that. 'When You're Hot You're Hot' and 'East Bound And Down' are such originals that attempting to recreate that riff just rang hollow to me.
Tuesday, March 16, 2010 10:00am
WOULD YOU LIKE TO RESPOND?
NEW STUFF TO WASTE YOUR TIME ON
Pete Delaney has a great article on the Cartoon All-Stars To The Rescue special that was meant to turn kids away from drugs in the early-1990s. It aired almost exactly 20 years ago. Don't miss it!
Speaking of public service cartoons, here's a Time For Timer segment that ran on ABC Saturday mornings in the 1980s, these musical messages were burned into the minds of a generation.
Now this is really cool! Charles Brogdon is building miniature Hollywood studio sets, right down to the overhead lights, from your favorite classic TV shows. It's really amazing work - I Love Lucy, The Love Boat, Good Times, Seinfeld - in vivid detail, right down to the area rugs.
Saturday, March 13, 2010 10:30am
WOULD YOU LIKE TO RESPOND?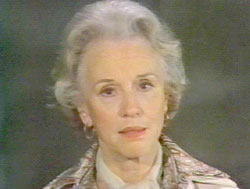 BLOG RERUN: THE BICENTENNIAL MINUTE
Remember the Bicentennial Minute? It aired each weeknight at the 9:00pm hour on CBS from 1974 until 1976; 60 seconds detailing a factoid from our nation's history 200 years ago from that date.
Each segment was narrated by a different star and they were sponsored by Shell (finally something good from an oil company). Every major star you can think of took part in the series. In this one, Oscar winner Jessica Tandy does the honors.
These spots are pretty rare, I was surprised no examples could be found on You Tube. If I get enough requests I'll load up the only other one I have with Bella Abzug - but I doubt she's as popular as Ms. Tandy. Thanks once again to A. J. McWhorter from Television Archives.
Saturday, March 13, 2010 9:30am
WOULD YOU LIKE TO RESPOND?
IT'S OFFICIAL!
Betty White is the announced host of SNL for May 8th, Mother's Day with former SNLers as guests: Tina Fey, Amy Poehler, Molly Shannon, Maya Rudolph, Ana Gasteyer and Rachel Dratch. "Years ago, I turned it down three times," White told USA Today. "It's so New York, and I'm not New York at all. But my agent said he'd divorce me if I didn't do it, and I love my agent." Betcha that's the highest rated episode in a decade or more.
Former NFL player and Little House on the Prairie star Merlin Olsen has died.
Thursday, March 11, 2010 11:52am
WOULD YOU LIKE TO RESPOND?