* Classic & Current Television Blog *
FAWLTY
There are / were so many American TV classics that were spawned in England, as I'm sure you're aware - shows like All In The Family, Sanford & Son, Three's Company, Hell's Kitchen, Life on Mars, The Office - the list is very long. It seems like every hit British show gets an American makeover.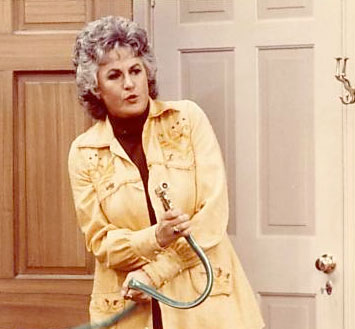 Did you know Fawlty Towers, surely one of the funniest shows ever on either side of the pond - was remade here as a vehicle for Bea Arthur (Maude) in 1983? It was called Amanda's and it may have been a reasonable idea in theory - if you had to remake the show I suppose Bea Arthur at her peak could probably pull off a Basil Fawlty type - the result was horrible. Some of the best moments in Fawlty Towers were the hilarious battles between Basil and his shrewish wife; Amanda had no henpecked husband but instead a son and daughter-in-law. Not the same, even John Cleese noted that a female Basil defeated the entire purpose of the series.
Here's what John Cleese had to say in an interview with Digital Spy: "I remember at a party I met these chaps from Viacom, who said they were working on a new Fawlty Towers. My ears pricked up at the sound of cash registers and said, 'That's wonderful, are you going to change anything?'. They said, 'Well we have changed one thing, we've written Basil out'. And that's absolutely true, they took Basil and Sybil's lines and gave them all to Bea Arthur. I always thought Peter Boyle could have played Basil well, but sadly he is no longer with us."
Nothing on the Tube from Amanda's but this brief glimpse of 2 mid-season ABC flops.

Here Bea Arthur talks about that series.
Amanda's wasn't the first time ABC tried remaking Fawlty Towers. There was a even worse attempt in 1978 - a pilot called Snavely starring Harvey Korman with Betty White as his wife. I remember seeing it and it was as awful as it sounds, the stars just didn't get it. ABC lured Korman away from The Carol Burnett Show in 1977 with the promise of a hit sitcom but audiences weren't interested in seeing the comic playing the same character week after week when The Harvey Korman Show debuted in 1978 and Snavely cemented his sitcom doom despite a few more attempts.
Don't mention the war.
Then again...
There were even a few American shows that inspired UK knockoffs. For instance, our Match Game became the long-running popular game show Blankety Blanks, right down to the host's weird wand like microphone.
Monday, October 12, 2009 10:12am
WOULD YOU LIKE TO RESPOND?
BLOG RERUN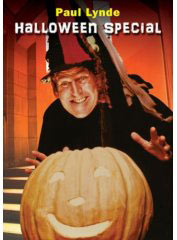 Paul Lynde Halloween Special
I've really been looking forward to this one, this is one of the most anticipated DVD releases in a long time for fans of 1970's variety shows (of which I'm one) and fans of early KISS (count me in once again).
This 1977 holiday themed hour was a star-studded affair with Paul Lynde and some of the greatest stars of that era.
The immortal Margaret Hamilton reprises her role as the Wicked Witch of the West from the Wizard of Oz and things really get rolling when they're joined by Witchiepoo from H.R. Pufnstuf (Billie Hayes) and the diminutive Billy Barty. Nothing matches the joy of seeing Margaret Hamilton and Billie Hayes with a large role to play in a musical comedy setting; when they are on the screen it's magnetic, two artists at the peak of their craft.
Also on hand are Betty White, Florence Henderson, Tim Conway and Pinky Tuscadero (Roz Kelly) who was enjoying a fleeting fame as Fonzie's short term girlfriend.
Most of the jokes are standard 1970's variety show which means occasionally they're actually funny. At the time Paul was appearing on the Donny & Marie program (and they make a cameo here) so naturally there are silly, arbitrary comedy sketches (like Paul picking up truckers with his CB Radio) and requisite disco-ed up dance numbers to contend with but that's part of the charm of shows like this.
All else aside, this special is the Holy Grail for KISS fans.
The Paul Lynde Halloween Special was the first prime time appearance for KISS and it's an auspicious debut, they rock out on three explosive numbers - 'Detroit Rock City, 'King of the Night Time World,' and 'Beth' which was climbing the charts at the time. Great stuff, especially 'Beth' (all numbers were lip-synced) which gets the full-on variety show musical number treatment, it could easily have been Cher or Dinah Shore in the same setting.
This was the first exposure of this seminal band to most teens; they had only been on national TV twice before, once in the afternoon and again late at night. This was a revelation for hardcore fans of the band. By the next year KISS was the hottest group in the nation and I was bored to death with them.
The source tape for this special wasn't in the best of condition (it's a miracle it survived at all) but the DVD looks pretty much like the program did when it was first broadcast, so I'm not complaining.
Another great feature is the bonus audio interview with Peter Marshall, in it he reminisces about Paul in a very frank and revealing chat.He has some delightful stories to tell.
Quite frankly, I can't think of anything better to pop into the DVD player this Halloween, it's kitschy, campy fun that will undoubtedly rocket you back 3 decades in time. It's only $8.00 if you order online now, well worth the price.
Sunday, October 11, 2009 2:09pm
WOULD YOU LIKE TO RESPOND?
RATINGS ROULETTE
NBC has cancelled Southland with 6 episodes in the can for the second season that may or may not see the light of day on another cable network. Meanwhile ABC has ordered 9 more episodes of Modern Family, Cougar Town and The Middle. Also full season pickups for - NCIS: Los Angeles, The Good Wife, Glee and The Cleveland Show. Hank, starring Kelsey Grammer, is a toss up after 2 episodes aired. CBS has ordered a pilot to see if a revival of Hawaii Five-0 is in order.
Thursday, October 8, 2009 2:20pm
WOULD YOU LIKE TO RESPOND?
FAIL!
Whoa! Pee Wee Herman was scheduled to make his comeback in a few weeks in a re-imagined version of the stage show that launched his career in the 1980s. For whatever reason, he cancelled the show after selling out and rescheduled for another venue at a later date in January. Check out the comments from the LA Times story and you'll realize this was probably one of the dumbest moves he could have possibly made, his formerly loyal fans who planned to attend from around the country - and bought airline tickets they're stuck with - are furious. Monumental fail!
What was NBC thinking? The Jay Leno Show's ratings continue to drop and drop. I'd watch the show myself if I could just think of one good reason to do so. Maybe if Bob Einstein took over as producer. Come to think of it, give the 10pm slot to Super Dave Osborne, it couldn't do any worse. And Conan O'Brien's stint as Tonight show host is an ongoing disaster, his numbers are about half of what Leno's numbers were. Ouch!
Who could have ever guessed? From the news: A Pennsylvania woman who drew national attention for carrying a loaded handgun to her daughter's soccer game has been shot and killed in an apparent murder-suicide, the Lebanon Daily News reports. Hain was dubbed the 'pistol-packin' mom' after wearing her holstered 9mm Glock pistol to her 5-year-old daughter's soccer match in 2008. The most disturbing part of that story - 5 year olds on a soccer team. Wouldn't you just hate to be the coach for that?
Thursday, October 8, 2009 12:50pm
WOULD YOU LIKE TO RESPOND?
BOO!
On October 30th, 1977 there was an attempt - a lame one but an attempt none the less - to resurrect The Addams Family with a TV movie, Halloween with The (New) Addams Family, that featured all of the original cast except Blossom Rock who played Grandmama (she was ill).
This telefilm is not to be confused with the 1972 ABC pilot The Addams Family Fun-House which was a musical-variety hour starring Jack Riley as Gomez and Liz Torres as Morticia, Stubby Kaye as Uncle Fester, Pat McCormack as Lurch and Butch Patrick as Pugsley. I didn't see it but I'm guessing it was really weird.
Halloween with The (New) Addams Family is also not to be confused with the 1998-99 syndicated series The New Addams Family that occasionally had John Astin pop in but was otherwise a ho hum affair. No, Halloween with The (New) Addams Family was our first and only shot at seeing the original TV Addams' in color, 11 years after the show left the air.
More scary stuff - watch as a terrified news reporter is surrounded by turkeys (?) and a vicious duck attacks another news guy.
Wednesday, October 7, 2009 9:12am
WOULD YOU LIKE TO RESPOND?
Read more Blog entries here!