* Classic & Current Television Blog *
RADIO
Sean Dougherty from the Friends of Old Time Radio writes about Fred Allen: The funny thing is Fred hated radio as much as he hated television. His preferred form of entertainment was vaudeville, where he could hone an act across the country and the world and keep improving it. He called radio the "treadmill to oblivion," in which his genius was used up the first time he uttered a joke and he had to start from scratch every week.
He was also in failing health by the time television really hit and my guess is that he would have found a home as a talk show host eventually if he had lived longer.
He was a marvelous talent and I still find his radio shows among the best of golden age of radio comedy.
Sean is right - most of the old radio broadcasts are unlistenable to my ear but Fred Allen still sparks fresh.
If you haven't explored home entertainment's checkered past you've got a treat in store - and tons of marvelous entertainment to enjoy at work or lying on the beach, or driving to the mountains. Even the commercials are fun to listen to.
You can't go wrong with Jack Benny and Edgar Bergen & Charlie McCarthy. Bob Hope was in his prime, and a few of the sitcoms like Amos 'n' Andy and The Bickersons will always have me laughing. When I was a teen I enjoyed listening to The Shadow, especially the Orson Welles episodes. Like Burn Notice? Try Johnny Dollar, another tongue-in-cheek private eye: "the man with the action-packed expense account." If you're a music-of-the-period lover those radio variety shows are a treasure trove of unforgettable performances. Like game shows? You'll find some familiar TV programs started out in radio.
The best part is - most of those broadcasts are readily available on the internet for free at otr.net and many other sites.
To start you off laughing, another of those comedy bits you have to hear before kicking off - The Bickersons starring Don Ameche and Frances Langford in 'Blanche's New Coat' (in Real Player format).
Dig this: The Friends of Old Time Radio Convention now has a page on Facebook where you can get the latest information about the 2010 event, scheduled for October 21-24, 2010 in Newark, NJ.
Saturday, May 8, 2010 - 1:50pm
WOULD YOU LIKE TO RESPOND?
LA'S SHERIFF JOHN TODAY
David Grudt writes: FYI, I visited with Sheriff John this past weekend in Boise, ID at his assisted living apt. He is 90 years young and in decent health. Attached is a pic. My friend and I spent 90 minutes with him. He loved talking about his career at KTTV.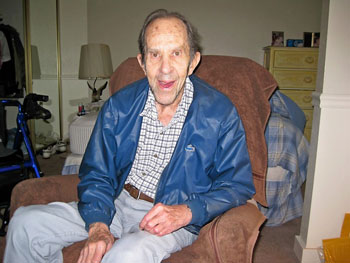 Today in BestofTVblog - What cancelled CBS show got picked up by the CW? And more movie sequels coming.
Friday, May 7, 2010 - 11:48am
WOULD YOU LIKE TO RESPOND?
IT'S THIS SATURDAY NIGHT
Look, I know this whole Betty White thing is overblown media hype like everything else these days and it's not really cool to fall in with that but it's Betty White, who I think is one of the most remarkably funny persons in TV history. To get this kind of attention while she's still spry enough to work is a wonderful thing.
Normally when the hype machine goes into overdrive it's for some bimbo like Britney or whoever the flavor of the month is. Here's hoping Carol Burnett gets rediscovered in the same way - why hasn't Carol been asked to do Saturday Night Live - it's a natural, right? If Betty White gets the ratings I suspect she will, maybe Carol would be the perfect host for the fall premiere.
Friday, May 7, 2010 - 10:45am
WOULD YOU LIKE TO RESPOND?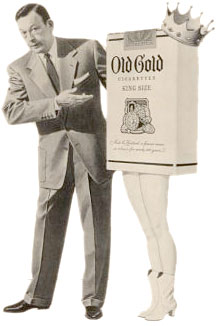 JUDGE FOR YOURSELF
When television first began it made perfect sense to transplant primetime network radio programs into the hot new medium. Many network radio stars made that transition - Lucille Ball, Bob Hope, Jack Benny - but one of radio's biggest talents, Fred Allen, failed to make the TV grade. Allen's freewheeling, satirical radio show, Allen's Alley (also known as The Fred Allen Show), really was one of the funniest programs on the air in the 1940s, I would say comparable to The Daily Show today.
Here's a 1945 Fred Allen radio broadcast from the end of World War II (with a young Frank Sinatra as guest, imagining what his career will be like in 1995) that includes a prime example of the Jack Benny - Fred Allen feud that was a highpoint of both of their careers.
A lot of ink has been spilled over the decades to try to explain Fred Allen's inability to translate to the box but I'm not sure there ever was a definitive reason. He had health problems in the fifties, that was one major factor, then there's the fickle public. Who knows, if he had lived longer than 1956 maybe he might have found the right format.
He initially tried bringing his popular radio format Allen's Alley to the tube but that was a no go. Here's part of one of Allen's TV forays called Judge For Yourself, a game show that allowed the witty host to verbally spar with the contestants. It worked for Groucho but then Groucho had that unmistakable leer that made all of his quips sound like double entendres even in the rare instances when they weren't. Then again, Judge For Yourself gets bogged down by a needlessly clumsy format.
A subsequent show, Fred Allen's Sketchbook, also fizzled so Fred Allen settled into a regular slot on the game show What's My Line in 1954 where, presumably, he could have stayed for a decade or two had he not died of a heart attack two years later.
But Fred Allen got the last word on television, "You know, television is called a new medium, and I have discovered why they call it a medium — because nothing is well done." He was vociferous in his view that TV was for, "people who haven't anything to do to watch people who can't do anything." I believe he also originally quipped what I've been saying for years: "Television isn't for watching it's for appearing on." Touche.
Here's a link to an archive of Fred Allen radio programs.
Friday, May 7, 2010 - 9:42am
WOULD YOU LIKE TO RESPOND?
DOUBLE TROUBLE
A guy took one of those KFC Double Down sandwiches and left it in his back yard, in the scorching Southern California sun. 5 days later it still looks the same and no animals or bugs will touch it. He even led a dog over to it that just sniffed and walked away. Seriously, a dog will eat its own ass! The ants won't touch it nor will the flies. But you feel free to enjoy it.
Wednesday, May 5, 2010 - 12:49pm
WOULD YOU LIKE TO RESPOND?
HA!
The new sitcom starring Betty White, Valerie Bertinelli, Jane Leeves and Wendie Malick is coming to TV Land next month - here's a preview. I thought this clip was funny as heck, mostly because of Ms. White. A well made sitcom is a wonderful thing, I hope this works out.
Today in BestofTVblog - Drunken whore sues MTV's The Real World for $5 million because she acted like a drunken whore.
Wednesday, May 5, 2010 - 10:08am
WOULD YOU LIKE TO RESPOND?
MOMS DAY
I mentioned Moms Mabley in passing in a previous post and that reminded me of more comedy routines you have to hear before leaving this life. That's because there'll be a test in heaven!
Jackie "Moms" Mabley was one of the most ingenious women ever to take the stage, she was 81 years old when she died and she used her advanced age as the lynchpin of her comedy. She dressed like the crazy, toothless lady up the street who wears her nightgown out in public.
This diminutive, seemingly harmless old lady would shuffle out from behind the curtain and tell the most outrageous bawdy stories and the audiences loved it. She was a popular guest on variety shows like The Ed Sullivan Show, The Smothers Brothers Comedy Hour, The Carol Burnett Show and the mid-day talk shows like The Merv Griffin Show. Before she was discovered by the TV audiences in the 1960s she was commanding big bucks playing the Apollo Theater and before that she toured the "chitlin' circuit." She was billed as "The Funniest Woman on Earth" and I suspect she was in her time. In this bit from her 'Live at the Apollo' album in 1969, Moms Mabley reminisces about 'The Good Old Days'
In this next bit Moms talks about raising children, this is one of the funniest monologues I've ever heard. Listen as Moms lets the comedy tension build to a rousing conclusion, she was a master of timing and pacing. I know from a recent interview with another performer that Moms Mabley was still performing in nightclubs a couple of years before her death and she starred in a pretty good movie called Amazing Grace just before she passed away. There's a comprehensive article on Moms Mabley here.
Wednesday, May 5, 2010 - 9:34am
WOULD YOU LIKE TO RESPOND?
BIG RATINGS FOR A LOCAL PRIMETIME SHOW
Chicago's legendary horror host Svengoolie (Rich Koz, the second Svengoolie) recently presented an HD presentation of Alfred Hitchcock's 'The Birds' on WCIU, The U. Guess what? According to Nielsen Media Research, Svengoolie captured more viewers than any other broadcast TV station in the market. Now that is creative programming, these guys are obviously tapping into a hungry market. It seems to me there's an audience for programming with a local flavor, not just in Chicago but all over. Look at the crowds that Julian West attracted to his Museum of TV tribute to the local kid show hosts in the Twin Cities. Svengoolie will host an encore presentation on Saturday, May 15 at his regularly scheduled time, 9 PM.
NBC has picked up J.J. Abrams' (LOST) new drama Undercovers for the 2010-11 season. Abrams co-wrote, produced and directed the pilot about a married couple who are re-activated as CIA agents after five years of retirement.
Today in BestofTVblog - More TV news, like Stan Lee hosting a TV show!
Tuesday, May 4, 2010 - 6:00am
WOULD YOU LIKE TO RESPOND?
COMING TO A TV NEAR YOU
There's a new post by LocateTV Blogger Ed Bark entitled, "History Channel's Kennedy miniseries lands big fish actors despite being branded 'vindictive' and 'malicious'." The article discusses the fact that, regardless of the script being called a "salacious right-wing hatchet job," the History Channel has landed Greg Kinnear and Katie Holmes to star as JFK and Jackie.
For those of you in Chicago this is worth checking out, the Sue Anne episodes are the funniest: I've got some info for you about one of our broadcast events on Me-TV. Since Betty White's Saturday Night Live appearance next Saturday is so topical and she was born in the area (Oak Park), not to mention America's current 'It' girl, I wanted to make sure you knew we were having a two week celebration: Betty White Nights! We'll be airing Sue Ann Nivens episodes of 'The Mary Tyler Moore Show' at 7 PM beginning Monday - hosted by Melissa Forman.
Today in BestofTVblog - What Adult Swim cartoon has been turned into a stage show? And just how messed up were The Village People?
Monday, May 3, 2010 - 11:00am
WOULD YOU LIKE TO RESPOND?
CLASSIC TV COMMERCIALS
One of the most frequent classic TV questions I get is - "What was that commercial that talked about an 'Ancient Chinese Secret?'" It was an ad for Calgon laundry detergent in the early-1970s, here it is from You Tube.
Kind of reminds one of "Ring Around the Collar!"
And then there was Madge the Manicurist who loved Palmolive liquid so much she had her customer's hands "soaking in it" for three decades or so.
Notice how much more finely crafted these commercials are as opposed to today's ads - like everything else these days, I guess.
Monday, May 3, 2010 - 9:28am
WOULD YOU LIKE TO RESPOND?