* Classic & Current Television Blog *
HUH
South Park looks at the economic crisis:
Tuesday, August 11, 2009 - 12:43pm
WOULD YOU LIKE TO RESPOND?
CRONKITE
OM writes: Wasn't sure if you'd noticed this or not, but Unca Walter's two finest moments are actually up on YouTube. The moment where he gave us a strong shoulder to cry on at our worst moment since Pearl Harbor, and the moment of our greatest achievement as a species;

See-BS JFK Assassination Coverage (First 2 hours, 9 parts total) Part 1:

See-BS Apollo 11 Landing Coverage (six parts):

The 1989 Dan Rather documentary on See-BS' A11 coverage is also on YT:

I haven't been able to find his "We are fucked in Vietnam" speech, but his entire final broadcast is also online as well as an abbreviated version of his first:

Unca Walter's First:



Unca Walter's Last (5 parts):
…Note that the final show is listed as the "West Coast" version, but from my recollection the show was aired live for the East and Central time zones, then the tape was played back for the West Coast. I have no idea where the Mountain Time Zone figured into that, but almost three decades later that zone still really doesn't matter :-P

…On a side note, coverage of the JFK assassination for all three networks are also online, and comparing and contrasting the first two hours or so would make a great article for TVparty. From my own observations, four things become very obvious:

1) Unca Walter provided the strongest shoulder to lean on. Even though this tragedy kicked America right in the balls, you knew that we were going to get through this somehow. NBC and ABC simply reported the facts for the most part, although Chet Huntley did try to provide some comfort with one short opinion piece. Still, neither had the presence that Walter Cronkite had, and that's why everyone remembers mostly watching See-BS coverage of the assassination. Especially those embarrassed at having watched the other two networks.

2) To their credit, Frank McGee, Bill Ryan, Chet Huntley, and David Brinkley actually provided more concise updates than the other two networks. There's also more of their coverage available online, mostly because of the A&E "As It Happened" rebroadcast for the 25th anniversary in 1988. IIRC, NBC allowed either 6 or 8 hours of continuous archive tape to be aired, with some of the local Dallas footage being replaced by local archive copies – which explains why only those short segments are in color, while everything else from NBC was in living black and white.

3) To put it bluntly, ABC's coverage just plain SUCKED. I've seen some botched newscasts before, but even when you take into account the chaos that was going on in the first 2 hours between the first shots and LHO getting ID'd as the prime suspect in custody, ABC's entire network news department was pretty much lost. The fact that most people can't recall who the old guys were who anchored through a lot of "Dicknical Tefficulties" (or was that "Dechnical Tifficulties"?) is a testament to why most people who started out with ABC recall switching to See-BS or NBC. ISTR that the only reason ABC failed to overhaul their news department after this was that they simply didn't have the money to recruit top-quality news anchors, and the one they had – Howard K. Smith – was doing more documentary and long-form commentary(*) for the network at the time.
(*) "News and Comment", ISTR was what his show was called at the time.

4) The sole saving grace to ABC's coverage was the fact that they had exclusive access to WFAA's live coverage, which included the interview with Abe Zapruder who verified on live TV just how JFK's head exploded from the front – a live testimony that pisses off more Conspiracy Theorists than any other Lone Nutter evidence.
That got me to thinking - Since everything is digital now and we have the technology, why don't the networks start their primetime offerings at 8:00pm in the central time zones? Are viewing habits that ingrained? Wouldn't the networks like the consistency of having their products air at the 'same' time all across the country, that is from 8:00 - 11:00pm?
Tuesday, August 11, 2009 - 9:55am
WOULD YOU LIKE TO RESPOND?
OVERHEARD CONVERSATIONS
Here's another in my series of conversations with show biz folks, this time with musical director Tim Fowlar. In this excerpt from a phone call for a project I'm working on, Tim talks about Jackie Vernon and Tiny Tim when they were on tour in the mid-1970s with the Roy Radin Vaudeville Review - or as Tiny Tim called it, "the cavalcade of has-beens."
Radin, a notorious promoter who cobbled together stars like Milton Berle, Donald O'Connor, Frank Fontaine and Georgie Jessel, poured their drunken carcasses on to a bus, and put on shows in VFW halls and school auditoriums all over the northeast.
Friday, August 7, 2009 - 8:15am
WOULD YOU LIKE TO RESPOND?
NEW SHOW REVIEW: The Nine Lives of Marion Barry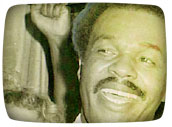 There are plenty of legendary show business comeback stories but there aren't so many from the political arena. Marion Barry's spectacular rise and devastating fall from grace after being busted for smoking crack is a well-known tale from the first Bush era, his public collapse came to personify the pervasive crack problem in America and the general lack of role models in public life for youngsters to emulate.
This documentary takes you up close and personal with the controversial, troubled former Washington, DC mayor and delves into the city's violent past during the civil rights era. This film is shocking in some ways (it's only been since 1974 that Washingtonians could vote for their mayor and city council) but the subject himself is not the most sympathetic of characters.

There's so much I didn't know or realize about this wiley politician - for instance that he came in with the first wave of elected officials in Washington DC or that he'd been shot in a terrorist act in the late-1970s - but it's Barry's proverbial high dive into an empty pool that overshadows anything that came before.

It's a bit pathetic as this once proud lion who won three mayoral elections, a one time shining light of the African-American community, debases himself in a remarkable act of hubris leading up to his videotaped hit on a crack pipe provided by a woman of ill repute working for the FBI. This documentary exposes the racial fissures that opened when the Mayor audaciously played the race card in a desperate attempt to stay relevant.
And it worked; Barry remained a popular figure in the community after he served his time and won back the Mayor's office to the astonishment of most of the nation.

Watch in awe as Marion Barry rises up like the Phoenix to run for City Council again in 2004; a brazen act that was not just unusual but peculiar when you consider the depths to which this former felon sank - and was willing to continue to sink to. But then, as they say, politics ain't beanbag.
The Nine Lives of Marion Barry debuts Monday at 9:00pm on HBO.
Friday, August 7, 2009 - 8:15am
WOULD YOU LIKE TO RESPOND?
Read more Blog entries here!