* Classic & Current Television Blog *
LIVE TV CHRISTMAS PARTIES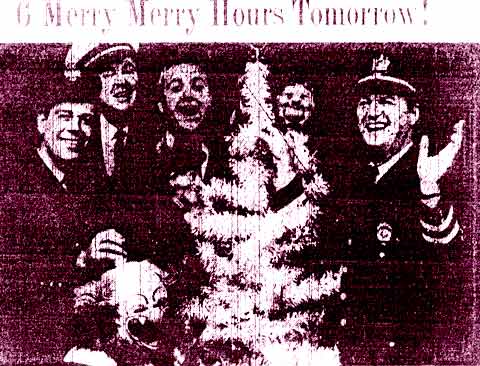 I brought up a few anniversaries recently - Kevin Butler, the king of the local TV anniversary salutes, points out that this Christmas Day holds a special place in NYC TV history: This coming Friday, December 25, 2009 marks the 50th anniversary of the very first broadcast of WPIX 11's annual Christmas Party TV specials.

On that very first Christmas Party the station had their resident kid's TV hosts/performers "Officer Joe" Bolton, "Bozo The Clown" (Bill Britten) and "Captains" Allen Swift and Jack McCarthy engage the viewers in games, craft making songs, holiday stories, magic tricks, comedy and puppet skits along with informational segments.
All of this was wrapped around reruns of old movie cartoons and syndicated TV shows like "The Adventures Of Superman", "Jeff's Collie"("Lassie"), "Sgt. Preston", "Casey Jones", and "The Abbott & Costello Show."

The 6 hour live program was set against the backdrop of the living room of a private house and was sponsored by The Ward Baking Company (the bakers of Bond Bread, "Tip Top Lucky" snack cakes And "Bit O'Honey" and "Chunk Candies").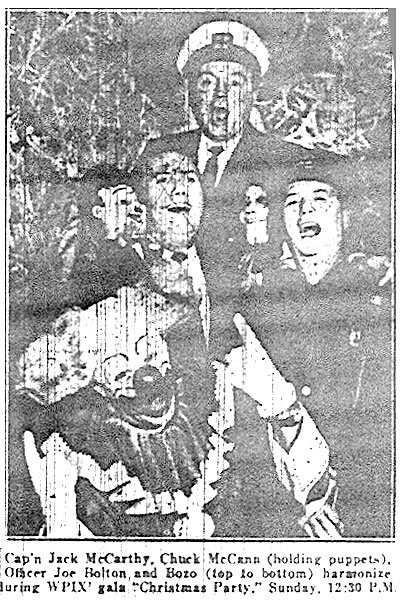 The show was a hit and Channel 11 decided to air another Christmas Party on Sunday December 25, 1960.

"Officer Joe", "Captain Jack" and "Bozo" returned as the show's hosts ("Captain Allen" Swift had left Channel 11 and "The Popeye Show" months earlier) along with Chuck McCann who was beginning his stint as the MC of "Laurel & Hardy & Chuck" and "Let's Have Fun."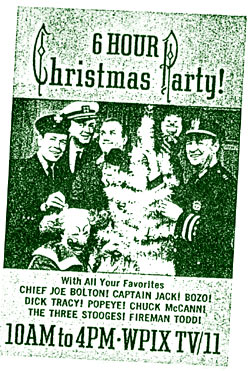 The show was again a hit and TV 11 aired another show on Monday, December 25, 1961 with "Fireman Todd" Russell (formerly "Big Todd" on NBC and ABC's "Rootie Kazootie Clubs") who was then hosting "The Three Stooges Firehouse" added to the list of personalities on the program.
Bolton (who was hosting "The Dick Tracy Cartoon Show") appeared in the show as "Police Chief" Joe Bolton.

Channel 11 aired the fourth Christmas Party on Tuesday, December 25, 1962 only "Police Chief" Joe Bolton, "Captain Jack" McCarthy and "Fireman Todd" Russell appeared on the show as the hosts.

WPIX aired the fifth and final Christmas Party on Wednesday, December 25, 1963. This time "Officer Joe", "Captain Jack", "Fireman Todd", "Bozo", and Chuck McCann were joined by "The Merry Mailman" (Ray Heatherton), "The Old Philosopher" (Eddie Lawrence) and by John Zacherley ("The Cool Ghoul").

Unfortunately, the show's hosts/performers never appeared on camera. Since many TV stations were giving their airtime to covering the investigations into the murder of President John F. Kennedy, Channel 11 didn't tape any on air segments, they simply had the hosts pre-tape voice-overs for the purpose of introducing the films.
Those young viewers lucky enough to participate in those holiday TV specials were able to retain happy memories of spending Christmastime with their favorite television friends while mother cooked the holiday meals.
Saturday, December 19, 2009 8:56am
WOULD YOU LIKE TO RESPOND?
WAY BACK WHEN
It was Christmastime 35 years ago that Bob Eubanks bid an emotional goodbye on the last (for a while) episode of The Newlywed Game.
Thirty years ago we were saying, "Tonight, let it be Lowenbrau."
It was Christmastime 25 years ago that Band Aid's single 'Do They Know It's Christmas' hijacked the airwaves.
Who can forget (remember?) The Solid Gold Christmas Special where Rick Dees, Crystal Gayle and the Solid Gold Dancers counted down the Christmas hits. It happened 25 years ago in 1984 and it's not that bad. Considering.
Friday, December 18, 2009 9:32am
WOULD YOU LIKE TO RESPOND?
LET IT SNOW?
They're calling for snow where I live and once again I'm shaking my head. With a low of 31 and a high of 36 I can't understand why the local media treats it like the coming of the rains of Ranchipur. I've said it before, I think the TV stations are in league with the grocery stores to terrify the population and send them like lemmings into the Piggly Wiggly in a mad dash for milk, bread and comfort foods, most of which will go bad when nothing happens.
Last year one of the TV stations had every available reporter and intern out in the streets, fanning out over a six city area. They were on the air from 5:30 until 9:00am and not one flake of snow fell. Literally, not a flake and the entire broadcast was made up of hopeless speculation and cutaways to the hapless reporters who had to say something but had nothing to talk about. It was like Waiting For Godot remade as a morning show. If that's not a microcosm of all that's wrong with TV news I don't know what is.
I figure the station managers strongly encourage the weather folks to call for snow if there's even a remote possibility so their the advertising reps can ring up the grocery stores, tell them the station's calling for snow on Friday, then sell them an enhanced ad package. Then again, people think I'm cynical.
Don't get me wrong - I love snow especially around Christmas and the last days of Chanukah. It's just that they're wrong 70% of the time they call for a winter event. But I'll be looking forward to seeing the white stuff fall, if and when - it's so rare these days, not like when I was young and we got 3 or 4 good snows (and a few light ones) a year on average.
Here's something to keep you warm this weekend no matter where you are - the Yule Log!
Friday, December 18, 2009 7:50am
WOULD YOU LIKE TO RESPOND?
THIS 'N' THAT
Susan Walker writes: "A Charlie Brown Christmas" aired last night, as I'm sure you know. I DVR'd it just in case my little grandchildren didn't have a chance to watch. But it made me rather sad. Here's why.

This lovely little show came out in 1965 - about the same time as the other legendary Christmas kids' shows were premiered. I was nine and my brother was four. Now, quite a few of our Christmases were spent at my grandparents' home in Kannapolis, NC. They had one of those huge Magnavox consoles with the radio, turntable, and 25 inch color television (complete with a Channel Master remote and antenna control, which my brother and I thought was just cool as hell). If we happened to be at their home when a holiday special came on, we would lie on our stomachs in front of the TV, watching avidly. (Same thing with Batman!) I particularly remember the CBS interstitials that used to air during Christmas - for instance, the woodman playing "God Rest Ye Merry Gentlemen" on his saw as the birds sang along - playing on their TV.

I have a 20-inch Emerson sitting about four feet up in an entertainment center. We have yet to purchase an HDTV. I just wish consoles could still be purchased so that my little granddaughters could know the fun of lying on their little stomachs in front of a big old "Magnificent Magnavox", watching Linus teach Charlie Brown the real meaning of Christmas. Sigh.

Here's an article from The Collectors Weekly - a new interview with Smithsonian pop culture curator Dwight Blocker Bowers.
And now back to the holiday tunes - 'I Believe in Father Christmas' by Greg Lake of Emerson, Lake & Palmer makes my list of post-modern Christmas tunes. Released in 1975, this song takes a more cynical view of the holiday but there's something about the overly bombastic orchestration that gets me - along with the line "The Christmas we get we deserve." Here's a lovely live version from 1994.
Thursday, December 17, 2009 6:20am
WOULD YOU LIKE TO RESPOND?
CHRISTMAS CHEER
One more - I'm running out already - of my fave holiday songs recorded since 1964. David Bowie's duet with Bing Crosby, the quintessential holiday crooner, is also one of my likes. Recorded for Crosby's very last Christmas special in 1977 (it aired after he died) it was an odd pairing - Der Bingle had no idea who Bowie was! Heck, Bowie didn't know who Bowie was during this period, his 'Thin White Duke' phase. But the ying and yang aspect of this medley somehow made it click. For some reason this tune started getting airplay in the 1980s, took America by storm and has become an overplayed Christmas classic in its own right.
Here's some holidays funny from Jim Gaffigan.
Wednesday, December 16, 2009 7:35am
WOULD YOU LIKE TO RESPOND?
Read more Blog entries here!