* Classic & Current Television Blog *
THURSDAY STUFF
Apparently Jamie Oliver's Food Revolution didn't take on this side of the pond, this article chronicles what happened in West Virginia's Central City Elementary School after Jamie left, it's not terribly surprising. The show's ratings are lousy too.
This is clever - someone has spun together the openings for TV programs from Thursday nights in 1959, a surprisingly strong lineup. Better than what's on the networks tonight, I'd stay home to watch most of these shows.
Thursday, April 8, 2010 9:46am
WOULD YOU LIKE TO RESPOND?
THE BETTY WHITE SHOW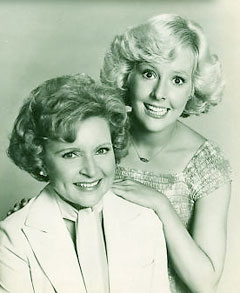 One of my favorite shows of the 1977 fall season - and there were some pretty decent shows that year that met their demise that year - was The Betty White Show.
Traditionally, the 'Queen of Television' title goes to Lucille Ball but since she's gone I believe the mantle has been passed to Betty White; no other TV actor of her generation has enjoyed so much success over the last 40 years.
Additionally, she's a true television pioneer. They threw Betty in front of the TV cameras in 1949 when very few people in the nation had a set that could receive the signal. She remained a fixture on the new medium during the 1950s. During the 1960s and early-1970s she was mostly relegated to appearing on game and talk shows where her impressive game play and sparkling wit made her a highly sought after guest.
But there was little or no interest in her for primetime fare until she was cast as caustic Sue Anne Niven the Happy Homemaker on The Mary Tyler Moore Show in 1973. Her character caught fire and before long she became a regular, one of the biggest laugh getters on the show.
After The Mary Tyler Moore Show ended in 1977, and flush off the (initial) success of Rhoda and Phyllis, it was Betty's turn to star in her own series. The premise: Joyce Whitman (Betty) is the star of Undercover Woman, a send up of Angie Dickinson in Police Woman; the show is directed by her contentious ex-husband played by John Hillerman (Magnum P.I.), Georgia Engel plays her best friend.
Granted, this sitcom felt a bit diluted compared to the best of Mary's shows, the MTM team was stretched pretty thin by the fall of 1977, many of their best writers had gotten production deals elsewhere and the studio had the one hour drama, Lou Grant, debuting that fall as well as The Bob Newhart Show, Rhoda, and The Tony Randall Show on the air (only Lou Grant survived the season).

For Betty's show the writers began to fall back on too familiar patterns as you'll see in this clip from the last (not the best) episode - Betty's character is obsessed with cancellation; "Where can we find a typical TV viewer?" while that person is trying to get their attention; transplanting the Georgette character from Mary's show to milk whatever laughs she had left. Watching this last episode it appears the network toned down the caustic nature of the two leads, thereby eliminating most of the humor.
It didn't help that this was the first MTM sitcom shot on videotape. Film was getting too expensive for the networks, they wanted all of the new sitcoms shot on videotape to save money. The result was a cheaper looking product and some worthy shows went down because of it. (Newhart debuted in 1982 and was shot on videotape for the first season - after the show was a proven success, they moved over to film for the rest of the run.)
At its best The Betty White Show was a worthy vehicle for a great comedy star that could have evolved into something wonderful, taking potshots at the entertainment industry always provides an endless stream of comedy potential, but the production never found its footing and went down after 14 episodes.
Did you know: Betty White won an Emmy in 1996 playing 'herself' as ego maniacal star on The John Larroquette Show.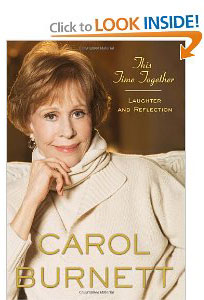 Speaking of television legends - Carol Burnett talked to USA Today about why we don't have variety shows on TV anymore and she names three people who could host such a show today. One of them tried and failed a few years ago, in fact. She has a book out, mostly dealing with The Carol Burnett Show days, called This Time Together: Laughter and Reflection.
Wednesday, April 7, 2010 7:00am
WOULD YOU LIKE TO RESPOND?
AMEN CHORUS
I got a big response to yesterday's rant, I'll share one with you - Deron T. Schreck, Ph.D. adds:
Spot on. Those were the first two words that come to mind after I read your recent commentary regarding the state of television today. I, too, do not watch broadcast television in any shape or form. In fact, I mentioned to one of my classes recently that I happened to watch network news for the first time in about 5 years. And after watching 5 minutes of it, I knew why I had been away from it. I am disappointed with television today. Sometimes when it is on, I get sick to my stomach.
There is hope though. In Chicago, we have two channels that I watch religiously. Channels 23 and 48 (MeTV and MeToo) show classic (and not so classic) comedies and dramas every day. Channel 23 is devoted to the comedies and Channel 48 programs the dramas. These channels are what TVLand used to be. In fact, I haven't watched TVLand in quite some time as well.
I spend most of my time with my family picking out films from Netflix or watching bits and pieces of clips off of YouTube or through your site. I will also watch old shows off of Hulu when I have the time.
When it was first posted, I listened to Bob Einstein's interview with you. I even told my wife about it when it first posted. I shared with her how humble Mr. Einstein was about his success and I am grateful that you could share that with the viewers to your site. Your interview was fascinating to hear, as it brought to mind the scene in Network right after Howard Beale was read the riot act by Arthur Jensen. Beale then shares his newly found wisdom with his audience and it's a sad state of affairs. As exciting as it was to hear about the good old days from Bob Einstein, it was sad to note that those days will never be back again.
Sure, there are pockets of entertainment out there, but as there are only six pockets on a billiard table, I'm afraid that there may be less than that out there.
I really do appreciate your time, energy, and creativity that you put into your website.
It has always been one of my must reads for the last 12 years. I started reading it in 1998 when I lived in Forest City, NC.
Chicago has a rich history of broadcasting so it's good news to note there's still good TV in the Windy City.
Don't get me wrong, friends I think TV programs themselves - the one's I like - are better than ever.
It's funny, I bought one of those digital converters for my TV set in the office. In case we have a weather event, you know? Local TV is good at that although I swear they were better at predicting the weather before the super doppler era but I could be wrong.
Anyhoo, with rabbit ears, before the digital conversion, I could get around 12 stations. Now I get 9 signals but 3 are religious programming and three are clones of an existing station that air rap videos and weather reports 24 hours a day. And commercials. So 9 of the 12 I previously received are gone. I no longer get the local NBC affiliate a half hour away - which, coincidentally, airs some unusual classic TV shows late at night (Sea Hunt is one) on one of their clone channels. I watched channel 12 for decades growing up here but thanks to the new and improved TV signal I can't pick it up to save my life! Basically, I can get all the Jerry Springer and Maury I can stand (twice a day!) but no more PBS, NBC or the independents that came in kinda fuzzy from a couple of hours away.
Thank goodness I'm not dependant on that TV for entertainment, I'd be sitting in a dingy motel room with a bottle of Muscatel and a handful of seconals for that to happen.
Tuesday, April 6, 2010 11:19am
WOULD YOU LIKE TO RESPOND?
THE TOWN WHOOAA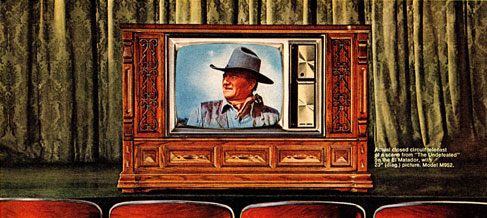 Those of us who grew up with television in the 1950s, 1960s and/or the 1970s were so lucky to be watching in an era when the medium was still finding its way and doing so with a galaxy of enormous talents that dwarfs our current crop of celebrities masquerading as stars.
There will never be another Jack Benny, Edgar Bergen, Redd Foxx, Jackie Gleason, or Johnny Carson - you may say, "Obviously, but others just as talented will follow." Perhaps as talented but they will never reach into our lives the way those old school performers did, they were a product of their times - vaudeville entertainers; radio (before there was TV) stars; studio system movie actors; and performers who ran the brutal gauntlet of live TV like Betty White, Carroll O'Connor, Paul Newman and Jack Palance. They created the media, the media didn't create them.
These singular individuals found their way into America's heart not by being forced on the populace - with multi-million dollar PR campaigns, product endorsements and coordinated blitzes spread across a multi-national, monolithic media platform - but by entertaining the masses with original material decade after decade.
Then again, we connected in a more intimate way with the tube then; much of the programming outside of the nighttime was local and the local personalities stuck around for decades if they found favor with the folks at home. Those trusted, long-time residents of the community have been replaced by a collection of transients who, if they're not moving down the media chain, are thumbing a ride to the next biggest city.
Today is a time when interconnectivity and personal interaction are of primary importance to video gamesters and social network designers, programmers on the cutting edge of technology, and yet the TV will no longer get intimate with us.
Like the cheating husband who gets his thrills elsewhere, Television only comes into our homes now to do the laundry and see what's in the fridge. There was a time when we were frequently invited over to Television's home and encouraged to bring the kids for hot dogs and cokes. Now the place is like a compound, surrounded by barbed wire - and, say, isn't that old Captain Channel 7 working security? It's no longer the kind of place you'd want to take the kids, even if they were invited - which, by the way, they aren't.
No, the loyal housemate that used to baby sit the kids responsibly, introduced us to leaders in the community, took us to the opera and ballet, and gave us the information we needed to stay somewhat informed now throws its garbage on the floor, hurls innuendo and slander like it was the gospel, brings cheap whores into the home, and fills the kid's heads up with nonsense and literally encourages them to consume poison just to make a few extra bucks on the side.
TV gets paid very handsomely for throwing up in the living room and then has the nerve to stick its hand out and demand a check at the end of the month for the privilege!
That's why I swore off Broadcast Television years ago. Happily, I never run into it anymore unless I'm at a friend's house or I see it over in the corner in some bar, flashing its blue eye, trying desperately to get my - or anyone else's - attention.
Monday, April 5, 2010 11:16am
WOULD YOU LIKE TO RESPOND?