* Classic & Current Television Blog *
BURIED MANILOW
Susan Walker writes in regard to an earlier post: Thanks for the link to the Bronson Pinchot interview. That was a fun read! Though I'm not so shocked by the revelations about Bette Midler and Tom Cruise, the bit regarding Denzel Washington was sort of a stunner.
You made a comment regarding Barry Manilow's first special, and I have to say that I agree with you. I've been a fan of his for many years, but lately I'm almost saddened by his releases...The Greatest Songs of the 50s, 60s, 70s, and now he's doing Barry Manilow Sings the Greatest Love Songs of All Time - apparently Clive Davis talked him into it.
He HAS been collaborating lately with Enoch Anderson on another CD. Enoch is a very gifted songwriter who wrote several of the songs on "Barry Manilow II" - one of my favorite releases. Let's hope Barry gets back to the basics. I'd hate to see him, sometime in the future, co-hosting a Time-Life CD infomercial (poor Bobby Rydell looks horrendous).
Okay, here's where I reveal my secret, inner geek - I actually liked Barry Manilow and bought his first three albums. There, I said it. That's right, I liked Mandy, Tryin' To Get The Feeling Again, Could It Be Magic, Friends, and It's a Miracle.
It was after he covered the American Bandstand theme that I left the reservation - I Write The Songs, This One's for You, Daybreak, and all the rest left me completely cold. There was something slightly vulnerable about the 1973-74 Manilow, especially when he was singing the more bombastic songs like Could It Be Magic and Flashy Lady. Apparently he went in and re-recorded those songs (and more) from the first album to eliminate that rawness. What a shame. A couple of years after my brief flirtation with Barry Manilow I was listening to nothing but hardcore, eschewing pop music altogether - for a while, anyway.
What I'm listening to now? Mostly college radio, we have two great stations here - but primarily I'm tuning in to old time gospel music in preparation for a film role I'm playing. Love that old stuff.
Thursday, October 22, 2009 7:45am
WOULD YOU LIKE TO RESPOND?
THE ANSWER
Steve Schwetman just answered his own question (see below):
I got to thinking about it and on a hunch, I typed Jim Henson's name into the search engine at IMDB.com. Lo and behold, I found it:"The Great Santa Claus Switch"! It was produced by Ed Sullivan, who was an early supporter of Henson's Muppets. The special first aired in 1970 and again the following year. It starred Art Carney in a dual role: Santa and Cosmo the wizard. Carney was the only human actor on screen. The special has never been for sale on DVD or VHS due to legal issues, but can be found on Youtube! This is a real find! Please share this with everyone!
Let's face it - it'll be Christmas any day now...
Wednesday, October 21, 2009 1:00pm
WOULD YOU LIKE TO RESPOND?
NOT MUCH HERE
Steve Schwetman asks: I need your help. I'm usually pretty good at remembering obscure TV shows and specials, but this one is really tough. I recall CBS airing a Christmas special that featured Jim Henson's Muppets. This was waaayyy before "The Muppet Show". The plot featured Santa getting ready for his Christmas Eve trip, but was captured by an evil wizard, who turned himself into an exact duplicate of Old St. Nick. I seem to recall that the naughty Santa was going to steal all the toys that were loaded onto the sleigh. The real Santa escapes and makes it back to his workshop only so see his twin getting ready for takeoff. One of the elves, who bore a strong resemblance to Ernie from "Sesame Street", saved the day by cutting the reindeer loose from the sleigh with a pair of scissors just as they were taking off. I also remember that this special was video-taped rather than filmed. Any idea you or someone out there knows what I'm talking about? Any help would be greatly appreciated. Thanks, and keep up the great work!
Anyone have an answer?
Snap! Bronson Pinchot gave A/V Club a very revealing interview; in it he disses the dirt on some of his former co-stars like Tom Cruise, Bette Midler and Denzel Washington and talks about his role on Perfect Strangers. Great stuff!
There's also an interview there with Teri Garr where she talks very briefly about her days on The Sonny & Cher Comedy Hour:
Ugh. That genius show. You know, I just thought of something yesterday, because I was in this documentary about the Villa Capri, a pizza place in Hollywood where James Dean used to hang out, and Sinatra. Anyway, on Sonny And Cher there was a pizza sketch we did called "Sonny's Pizza," and I remember when we did our first read-through, Sonny [Bono] looks at the script and he goes, "Okay, I'll see you guys later. Chai-ay-oh!" And I said, "It's ciao! Aren't you Italian? C-i-a-o doesn't spell 'chai-ay-oh.'" [Laughs.] Sonny's dead, so he won't be embarrassed if I tell that story.
Wednesday, October 21, 2009 11:26am
WOULD YOU LIKE TO RESPOND?
RANDOM STUFF
Sean Dougherty reminds us of this GREAT event: The Friends of Old Time Radio Convention is this week, October 22-25 at the Holiday Inn North in Newark, NJ. Good seats are still available. See www.fotr.net for details. Meet Chuck McCann, Richard Herd and Simon Jones at a fraction of the cost of other conventions!
Ever wonder what the top 30 TV shows are based only on DVR usage?
1. Grey's Anatomy (ABC)
2. The Mentalist (CBS)
3. House (Fox)
4. CSI (CBS)
5. Fringe (Fox)
6. NCIS (CBS)
7. Criminal Minds (CBS)
8. Bones (Fox)
9. FlashForward (ABC)
10. The Office (NBC)
11. Private Practice (ABC)
12. Castle (ABC)
13. The Big Bang Theory (CBS)
14. Glee (Fox)
15. NCIS: Los Angeles (CBS)
16. The Good Wife (CBS)
17. CSI: Miami (CBS)
18. Heroes (NBC)
19. Desperate Housewives (ABC)
20. Two and a Half Men (CBS)
21. CSI: NY (CBS)
22. Law & Order: SVU (NBC)
23. Lie To Me (Fox)
24. Numbers (CBS)
25. Modern Family (ABC)
26. Brothers & Sisters (ABC)
27. So You Think You Can Dance - Wednesday (Fox)
28. Ghost Whisperer (CBS)
29. Medium (CBS)
30. Family Guy (Fox)
Kevin Butler has less than good news: Classic TV theme music has suffered a sad loss - Mr. Vic Mizzy, the man who gave us "The Addams Family" TV theme song has died. Mr. Mizzy succumbed to heart failure at his Bel Air home on Saturday October 17, 2009, he was 93.

Born in Brooklyn on January 9, 1916, he learned how to play the piano and accordion as a boy and developed his own highly distinctive musical style in his songs and arrangements.
Mr. Mizzy wrote songs during his stint in The US Navy during WWII but it was not until the 1960s that he began his successful career as a songwriter, composer and orchestrater. Mizzy wrote the theme music for "Moments Of Fear" and from there composed the themes for "Kentucky Jones" and "The Shirley Temple Show". He also composed the theme songs for "Captain Nice", "The Double Life Of Henry Phyfe", "Klondike" and "Green Acres" and movie themes like "The Caper Of The Golden Bulls", "Did You Hear The One About the Traveling Saleslady?" and the music for some Don Knotts films.
Mr. Mizzy also wrote the underscores for "The Richard Boone Show" and "Quincy M.E." but the tune for which he will always be remembered is "The Addams Family".
He was interviewed last year on CBS TV's "Sunday Morning" program where he talked about his long and successful career in music. He joked during that interview that his theme song for the TV version of Charles Addams' surreal comic strip made his famous and very wealthy.
His last project was the score for the second "Spider Man" feature film. He is survived by his daughter,two grandchildren and his brother Sol, a second daughter songwriter Patty Keeler died in 1995.
Tuesday, October 20, 2009 9:26am
WOULD YOU LIKE TO RESPOND?
NEW STUFF
There are a couple of new DVD releases you might be interested in.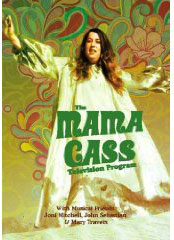 First, The Mama Cass Television Program is a 1969 pilot for an intended variety series for ABC starring the former singer for the Mamas & The Papas. It didn't get picked up for a weekly series but this hour-long special has some phenomenal musical numbers and a rare opportunity to see Joni Mitchell.
ABC reasoned that Mama Cass might be a natural variety show host. Indeed, she was wonderful when she appeared on other performer's programs like The Carol Burnett Show and This Is Tom Jones and ABC was at the forefront of the whole demographics movement of the late-1960s. They knew that hitting age specific targets was even more important than raw numbers, that's how Tom Jones, Englebert Humperdink and the Smothers Brothers all ended up with variety hours on the network around this period.
Here's a bit from that special with Buddy Hackett, Barbara Bain and Martin Landau. Cass Elliot died in 1974.
Also released are the first five (there were more?) TV specials starring Barry Manilow. I remember watching the first few, the initial one in 1977 is the only one I remembered liking because Manilow hadn't yet become the over-inflated, over-hyped pop sensation he would rapidly become. As a result you had an ernest hour with a terrific talent who wasn't too big to do that medley of commercial jingles he wrote before the hits came. I'm going to netflix that one.
Monday, October 19, 2009 10:36am
WOULD YOU LIKE TO RESPOND?
NUMBER ONE
Barbara Streisand made her primetime variety show debut on The Garry Moore Show in 1962. To say she blew everyone away would be an understatement and you can see for yourself why she was propelled to TV stardom in the two solo numbers she performed on that show.
The first is 'When The Sun Comes Out' followed by 'Happy Days Are Here Again.'
Did'ya know Streisand has had a number one album in every decade since the sixties? She's the only artist ever to do so and it's because of her latest album hitting the top mark a week or so ago - if Cher has a hit in the next couple of months she'll tie Babs but that's not likely.
Sunday, October 18, 2009 1:50pm
WOULD YOU LIKE TO RESPOND?
Read more Blog entries here!